2017.08.25
An interview with P.M.Ken: Behind the scenes of what is possible with photomontage and its production
Sponsored
Photographer P.M.Ken has been working on photomontage that made use of Photoshop since the dawn of digital photography. What are this thoughts now technology has evolved and the landscape surrounding photography constantly changing, and what sort of approach does he take when making work. The source of what he creates are explored while going behind the scenes of visual production for Penfield's latest work.
Photo, Masataka Nakada (STUH) | Edit & Text, Issey Enomoto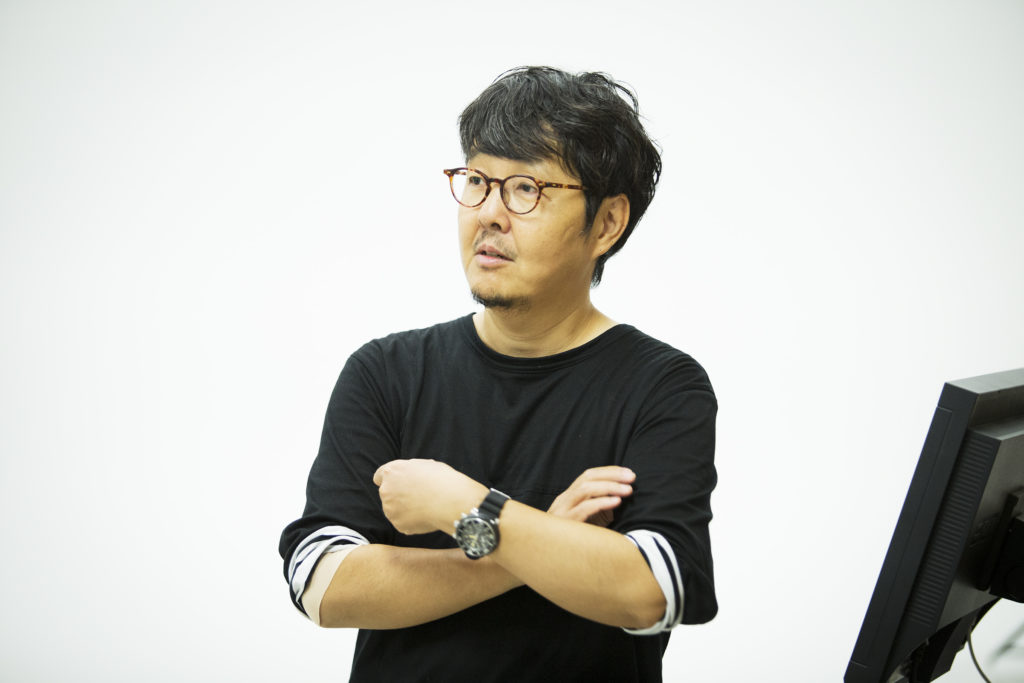 P.M.Ken
Graduated from Tokyo Zokei University in 1990. The same year, he became a freelance photographer. He starts using the Mackintosh and Photoshop to work on photomontage digitally from this point on. Since then he has worked with numerous curatives beyond the photographic frame and a unique set of skills and ideas. In 2010, he published the 'Crosspoint' series, a completely new type of landscape photograph combining the cityscape of cities overseas with Tokyo, attracting a great deal of attention at home and aboard.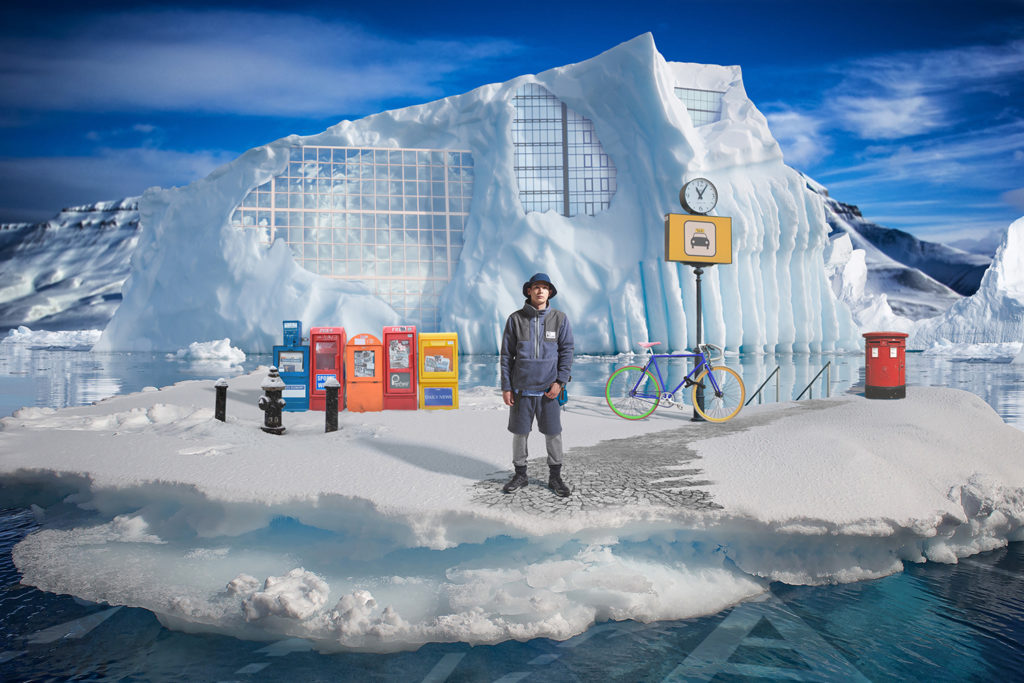 The above two works are the latest Penfield 2017 AW visuals worked on by P.M Ken. 'Nature' and 'City' are skillfully manipulated by his sense and technique, expressing a strange world of 'reality' and 'fiction' all blended together.
— Could you tell me what sparked the decision to work on Penfield visuals?
The spark was accepting the offer "to make a visual that expresses the combination of the urban and rural as a concept of Penfield's rebirth" from Kajiwara (Yoshikage) involved with Penfield's rebranding. Naturally, I said yes straight away. I guess I'm the only one who can do it (lol).
— What sorts of things were you thinking about in creating images that combine the city with nature?
I've been addicted to mounting climbing myself for about 10 years and been around nature on a daily basis, and as I often bought gear I wear for mountain climbing in the city, fusing the two came naturally to me without feeling out of place.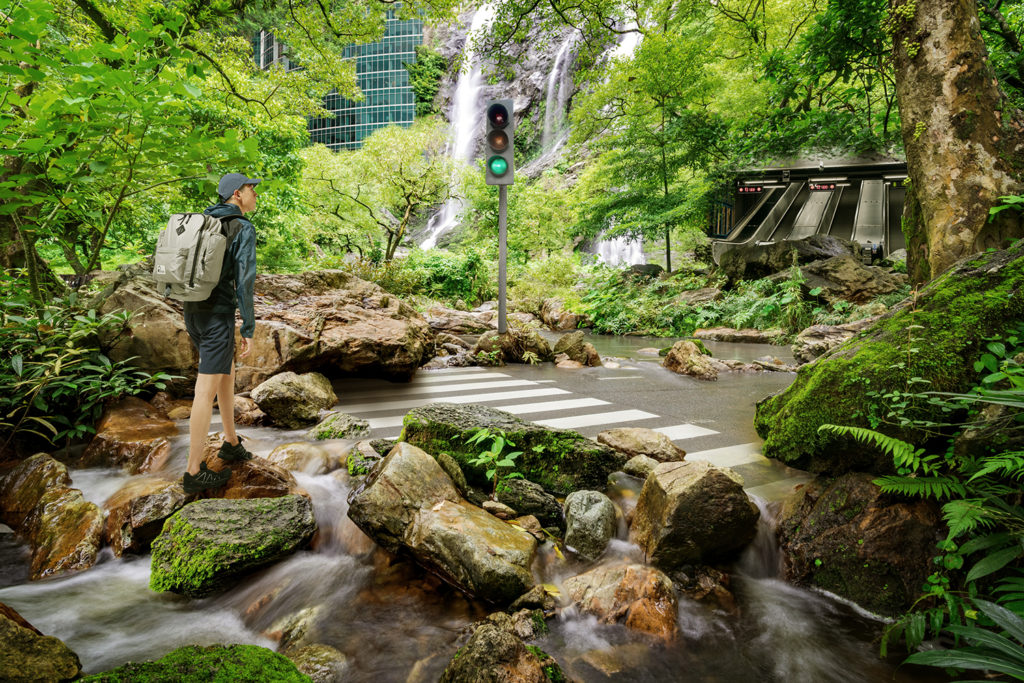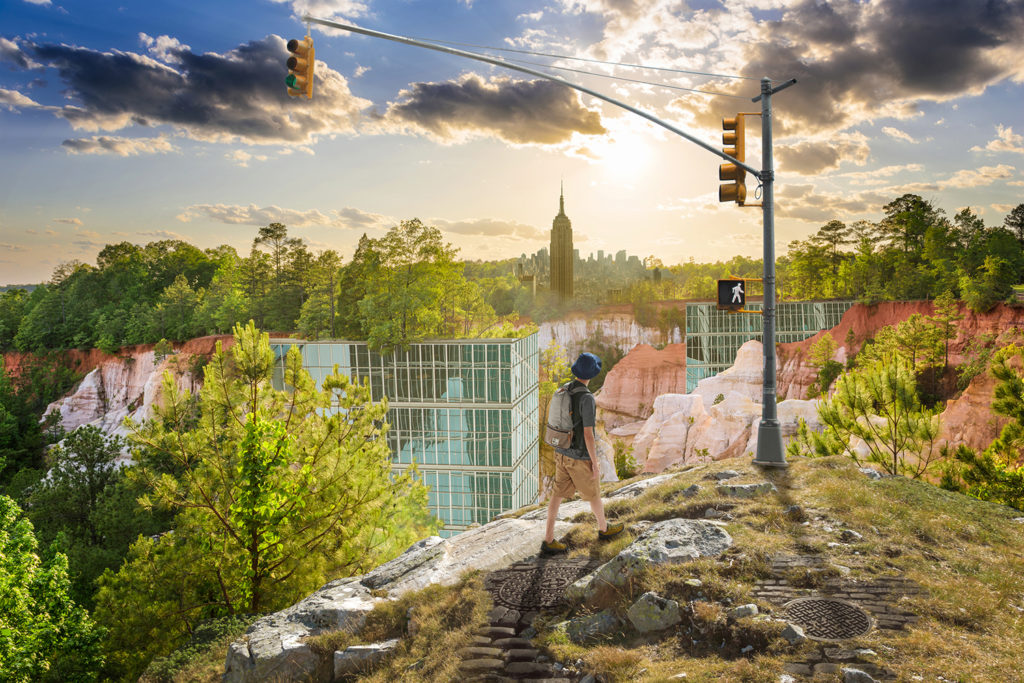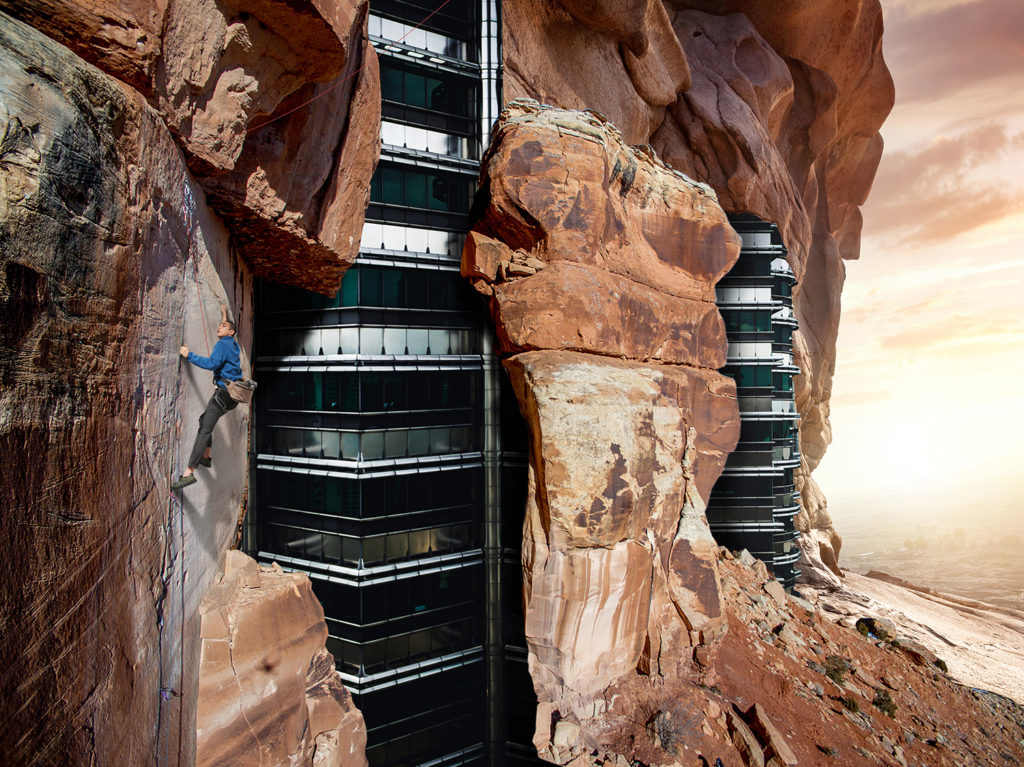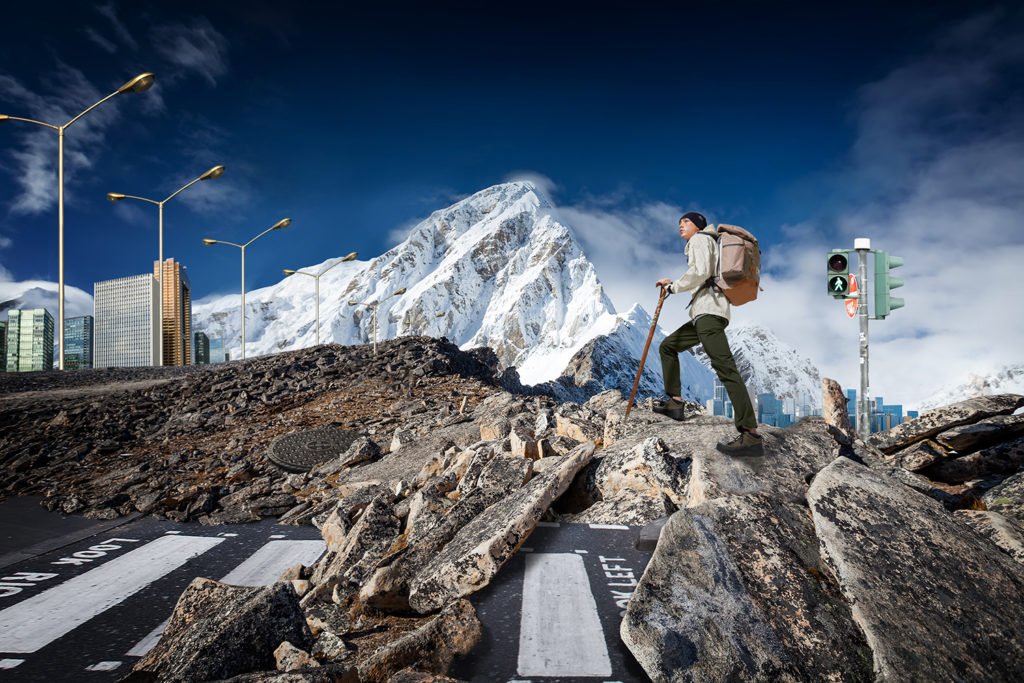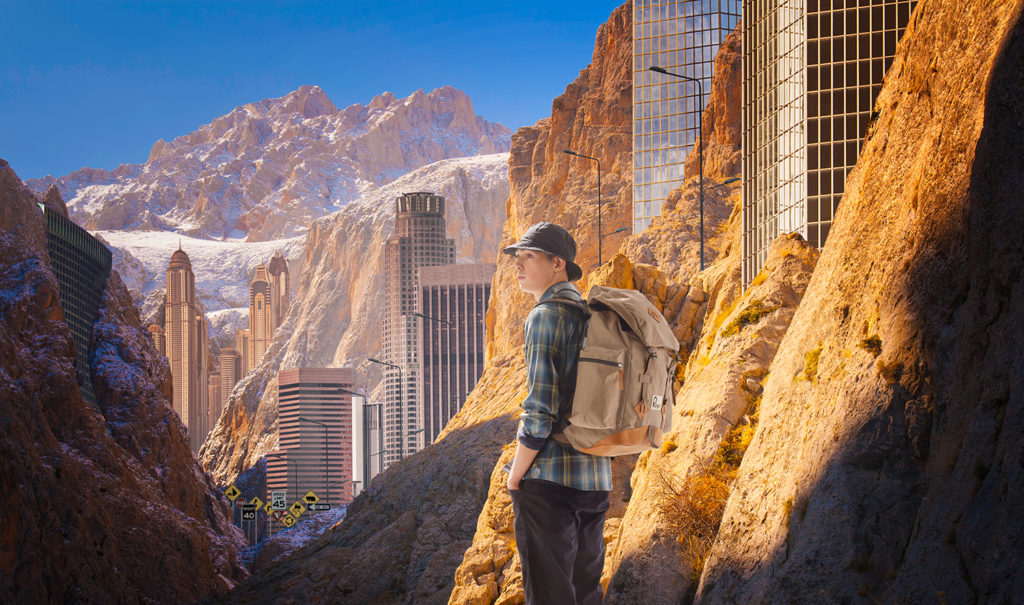 The above five works are the latest 2017 visuals produced in accordance with Penfield's rebranding.
— The series 'Crosspoint' your most important work, is the same in terms of combining different landscapes to create a single world view, but what kind of things were you conscious of with the visual production for Penfield?
'Crosspoint' only really deals with man-made objects, even when it's the same landscape. On the other hand, Penfield visuals are made combining man-made objects with nature. In that respect they're similar in appearance though in reality quite different. Perhaps it comes from regularly going around the mountains in that area myself but actually there are quite a few things there man-made that everyone believes to be natural. Like the countryside. For example, rice fields are not entirely natural but artificial, based on nature and made by human hands. Even for mountain paths, the path is hand-made by humans while the mountain itself is natural. With Penfield visuals, a single image is finished by coupling the shape that pure nature creates with advanced civilization as opposite to one another. It was an aim in the production of Penfield's visual image to try and bring out a feeling of strangeness by overlapping both of these extreme icons together like so.​ ​
* Images below are taken from P.M Ken's signature work, 'Crosspoint'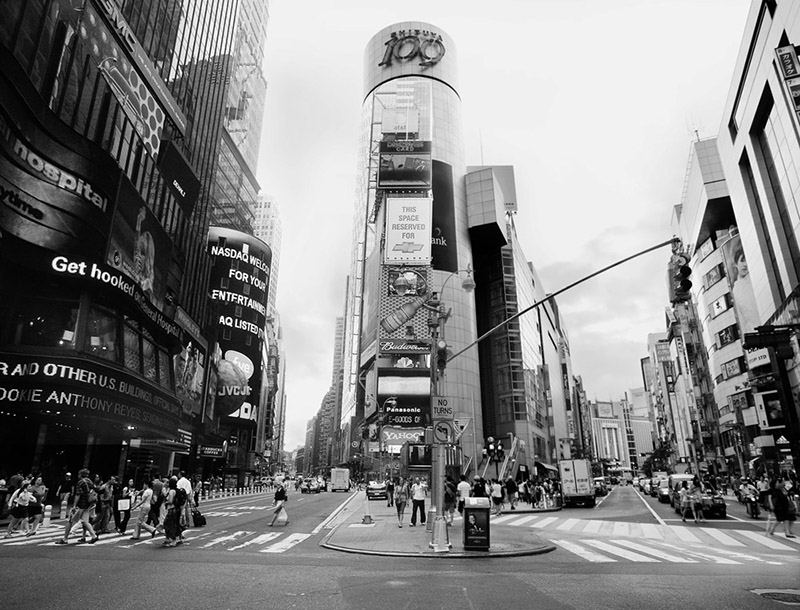 Times Square, 109 (2010) / New York, Tokyo © P.M.Ken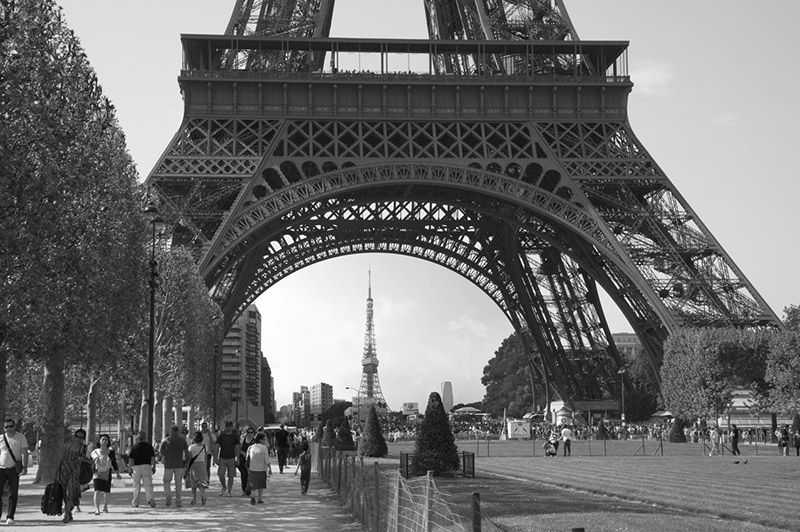 La Tour Eiffel, Tokyo Tower (2011) / Paris, Tokyo © P.M.Ken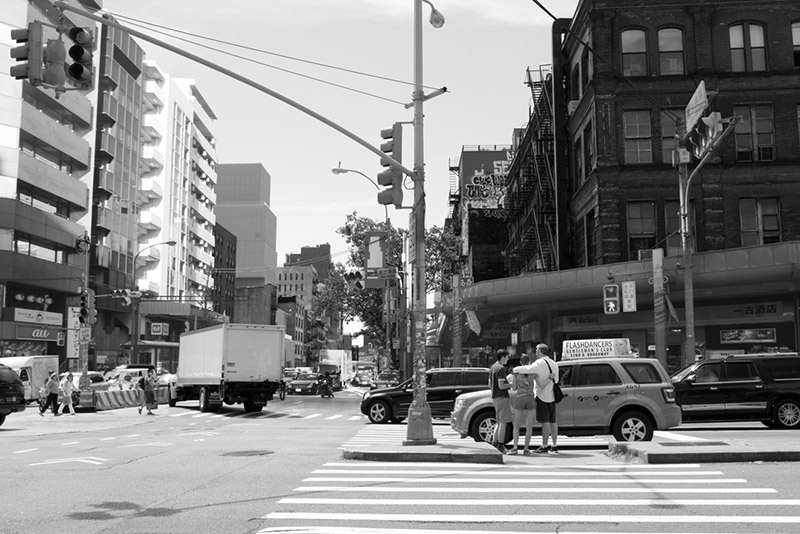 Bowery / NYC, Ebisu / Tokyo (2014) / New York, Tokyo © P.M.Ken
— The difference between Penfield visuals and 'Crosspoint' is also the absence, or presence, of people. Models have been used for Penfield visuals, but how is shooting done?
We shoot the model in the studio after making the complete background image in advance. Since the position where the model should stand has already been decided by that point, the Mac is brought into the studio and I will shoot while inlaying their picture on the screen there and then.
— With regular fashion shoots the feel is quite different when everything happens in the studio, right?
Yes, you're right. It's like putting in the last piece of the puzzle. Like adding the eyes on a Daruma doll (lol)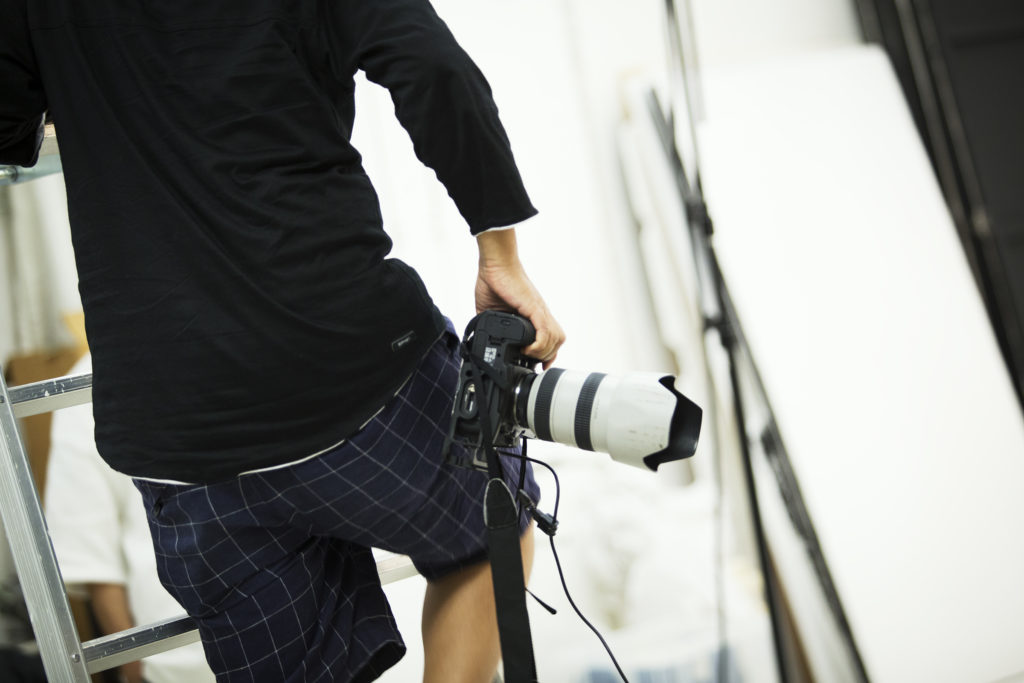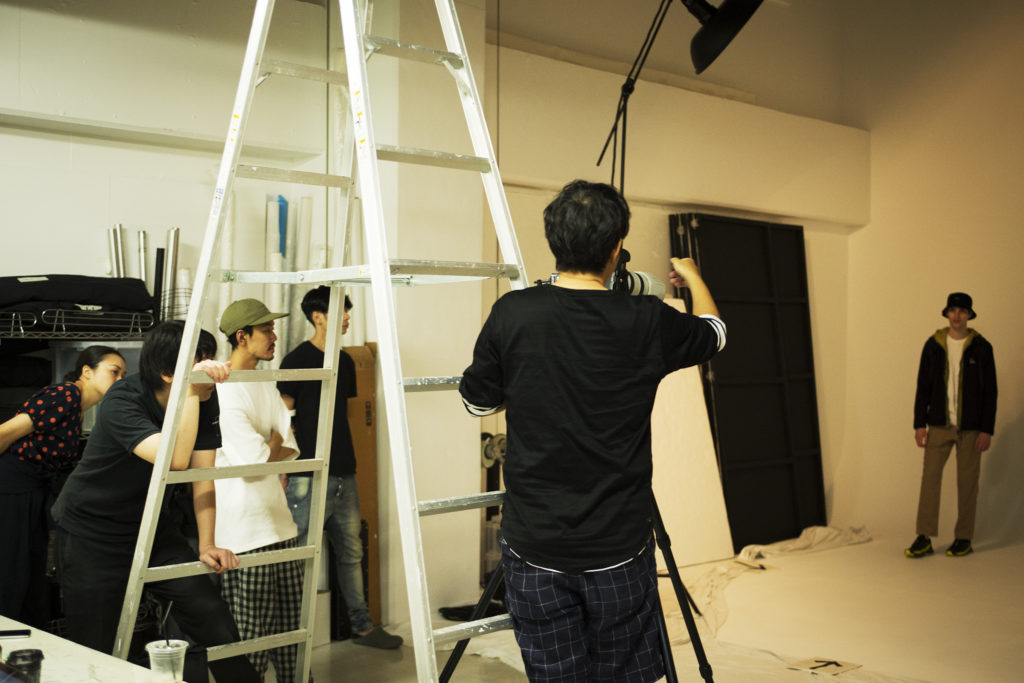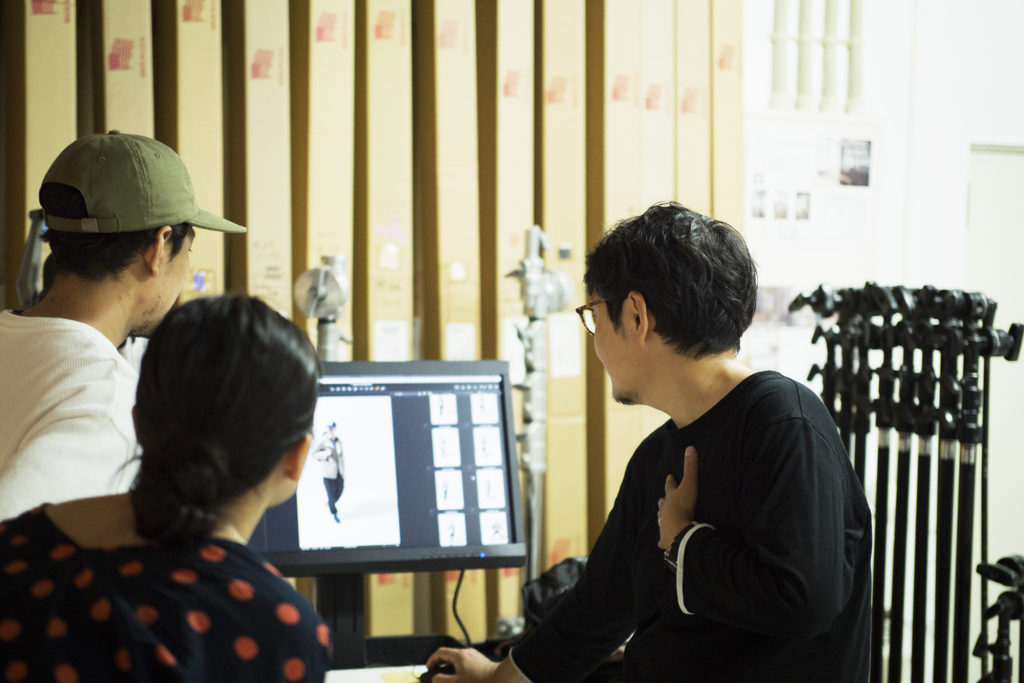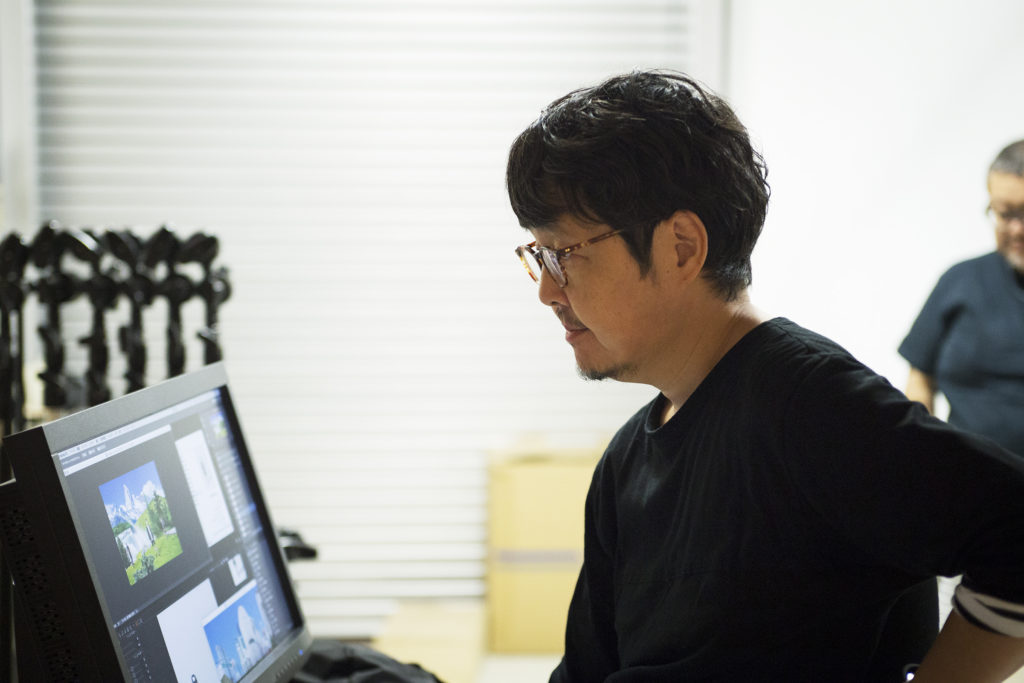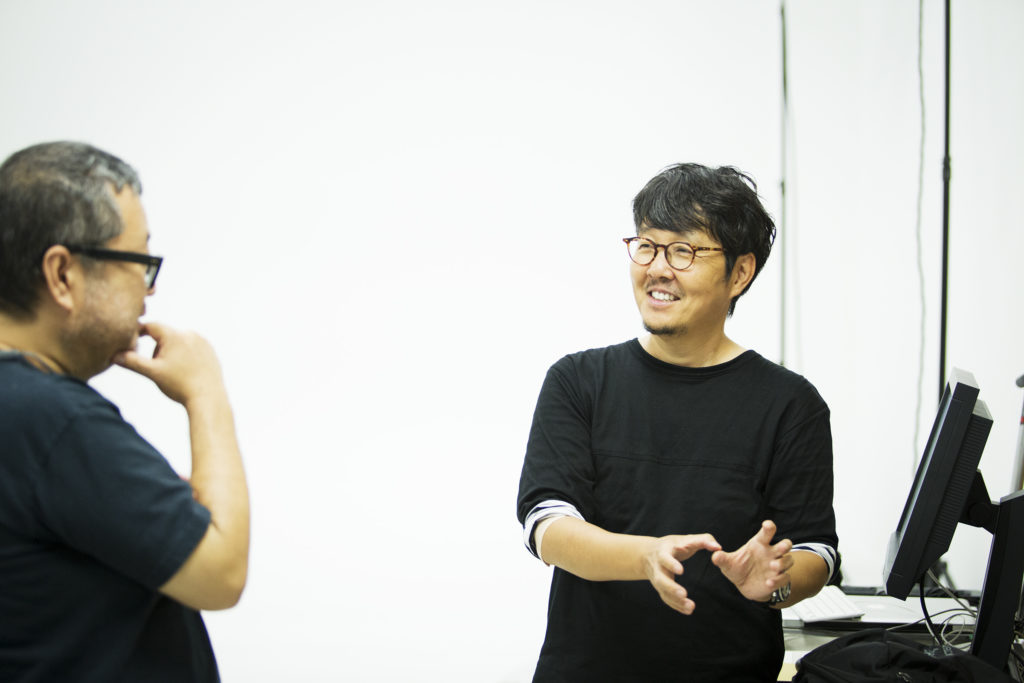 At the photo shoot for the clipping model. By this point the desired shot has already been decided. The model is told how to pose and we continue shooting while actually inlaying them on a Mac screen behind.
— By the way, as it's been over 20 years since you began working as P.M. Ken, the photography world then and now is very different, and technology like cameras and computers have dramatically evolved. What kind of impact has this had on the work you make?
In the early days I was scanning film and then slicing it together. I began using a digital camera from 1999. It was when the Nikon D1 came out. As far as technology is concerned, the difference between now and then is the evolution of the digital SLR. And as for the number of pixels, they have massively increased. Regarding computers, the processing speed has dramatically improved and feel easier to use. However, I think working in Photoshop has not changed that much since then that time in terms of skill. May be that relates more to craftsmanship and is affected less by the evolution of technology.
— Are there plans to follow up with a sequel to the 'Crosspoint' series?
I've devoted my life to continue making work. Since I've accumulated quite a bit I think I will announce the follow-up around at the end of this year or beginning of next.
Penfield Sportswear Inc.
https://penfield-jp.com