2018.10.01
Berlin's FUNKHAUS, where the Underground evokes the former East Germany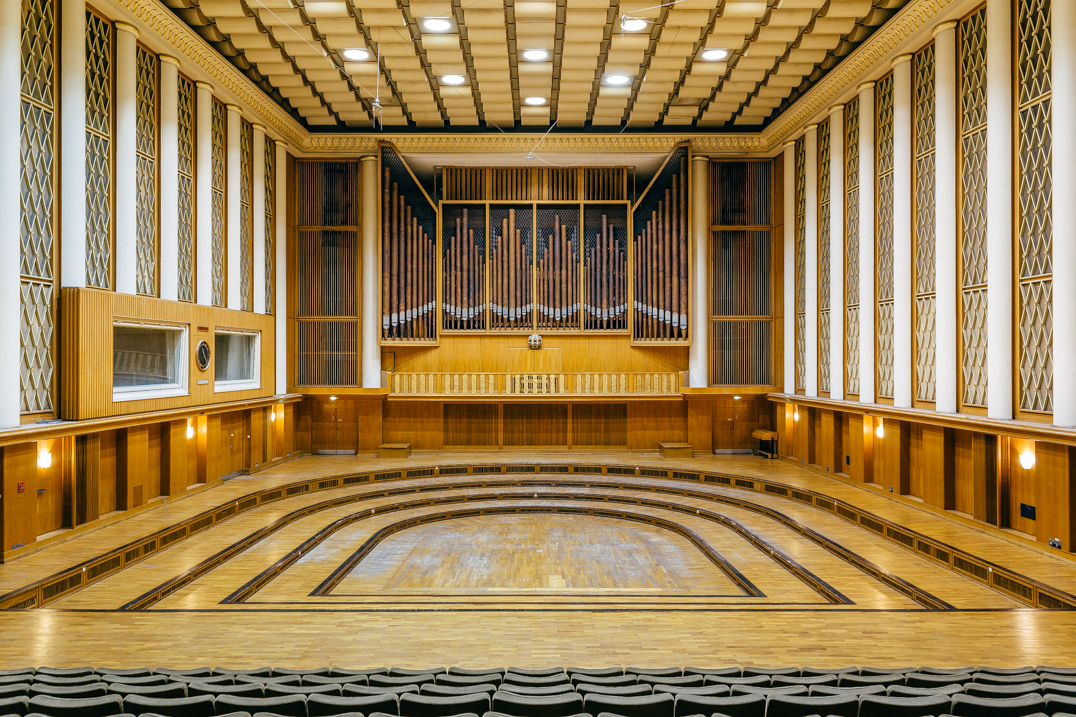 Berlin, 29 years after the collapse of the wall, it still leaves its trace all over the city. The country was divided into east and west in one city, resulting in a​ ​checkered​ ​history, Berlin has transformed itself into a place of understanding underground club culture where it fascinates the world. After the collapse of the wall, it was a "playground" made by young people released from political oppression until then, in the city that had turned into a ghost town. Occupying a building that was in a lawless area just like the city ruins, they made a DJ booth, and bar counter, and started a party. It is the beginning of the underground club culture in Berlin, and an indisputable fact that it subsequently began to bring about a movement worldwide.
Although it became commercial with tight control, it can be said that the underground spirit of the day is fully rooted in the present Berlin club scene. Now as it was then, the place being talked about as the birth place of new culture, the​ ​FUNKHAUS, is what I would like to introduce.
Interview & Text: Kana Miyazawa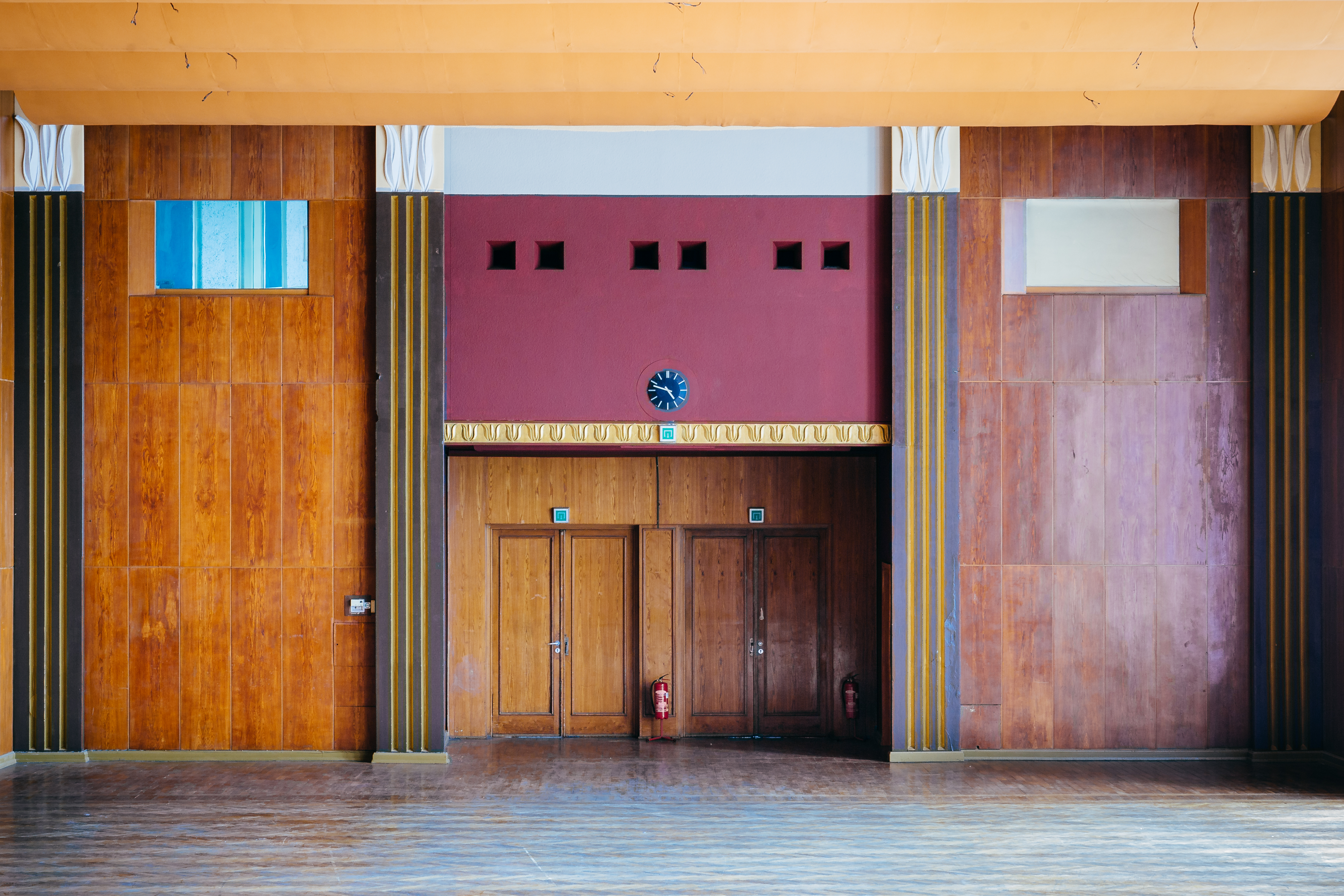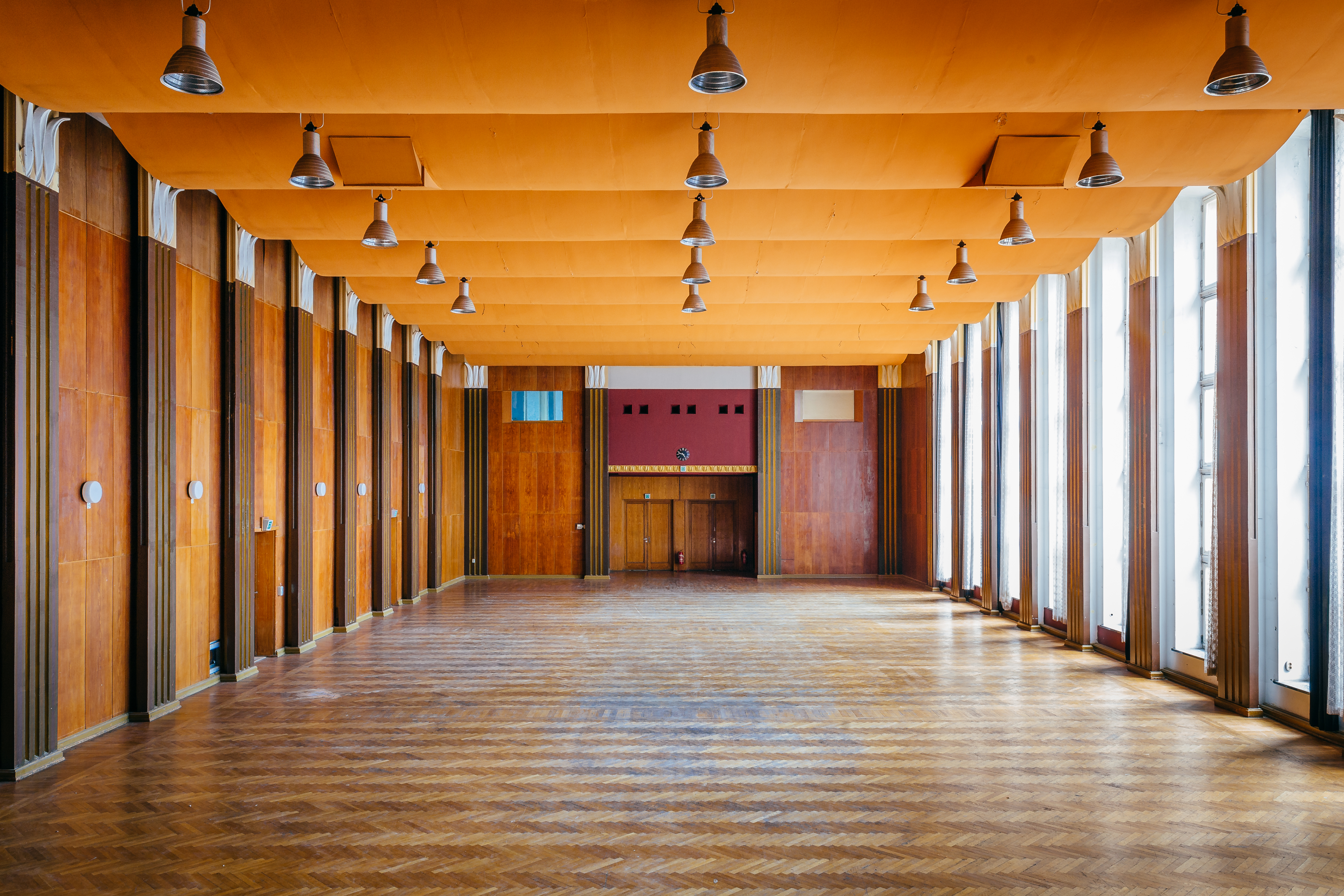 FUNKHAUS is a complex studio facility located along The Spree river in the Köpenick district a little away from the centre of the city, boasting a vast area of over 13 hectares. It is said to be one of the largest multi-studio facilities in the world,​ ​on a site divided into four blocks, A to D,​ ​that are occupied by recording studios, event halls, co-working spaces, cafes, restaurants, and so on. After being bought by entrepreneur Uwe Fabich in 2015, it became widely used in a variety of different ways as it is now, with club events, concerts, fashion shows, IT events and so on. Recently, Ryuichi Sakamoto performed a memorable concert with ally, Alva Noto, but performances of international artists such as Tony Allen and Aphex Twin have also been planned, one after another.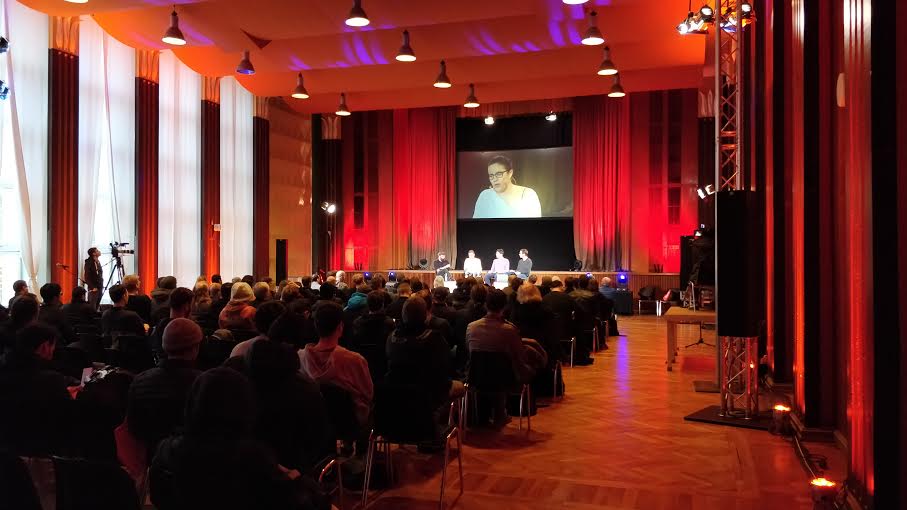 Organized by Red Bull Music as a music school for supporting artists, as well as being selected as the​ ​Red Bull Music Academy 2018 (RBMA)​ ​​ ​venue,​ ​various programs by pioneers invited from around the world for approximately are being held for one month from September 8 to October 12.​ ​​During the period, within Block B, a special area for RBMA is set up, with Berlin gallery​ ​König Galerie​ ​organizing​ ​art exhibitions and design studio​ ​New Tendency​ ​handling the interior,​ ​​ ​creating a museum-like view of the world where the digital is mixed with contemporary art.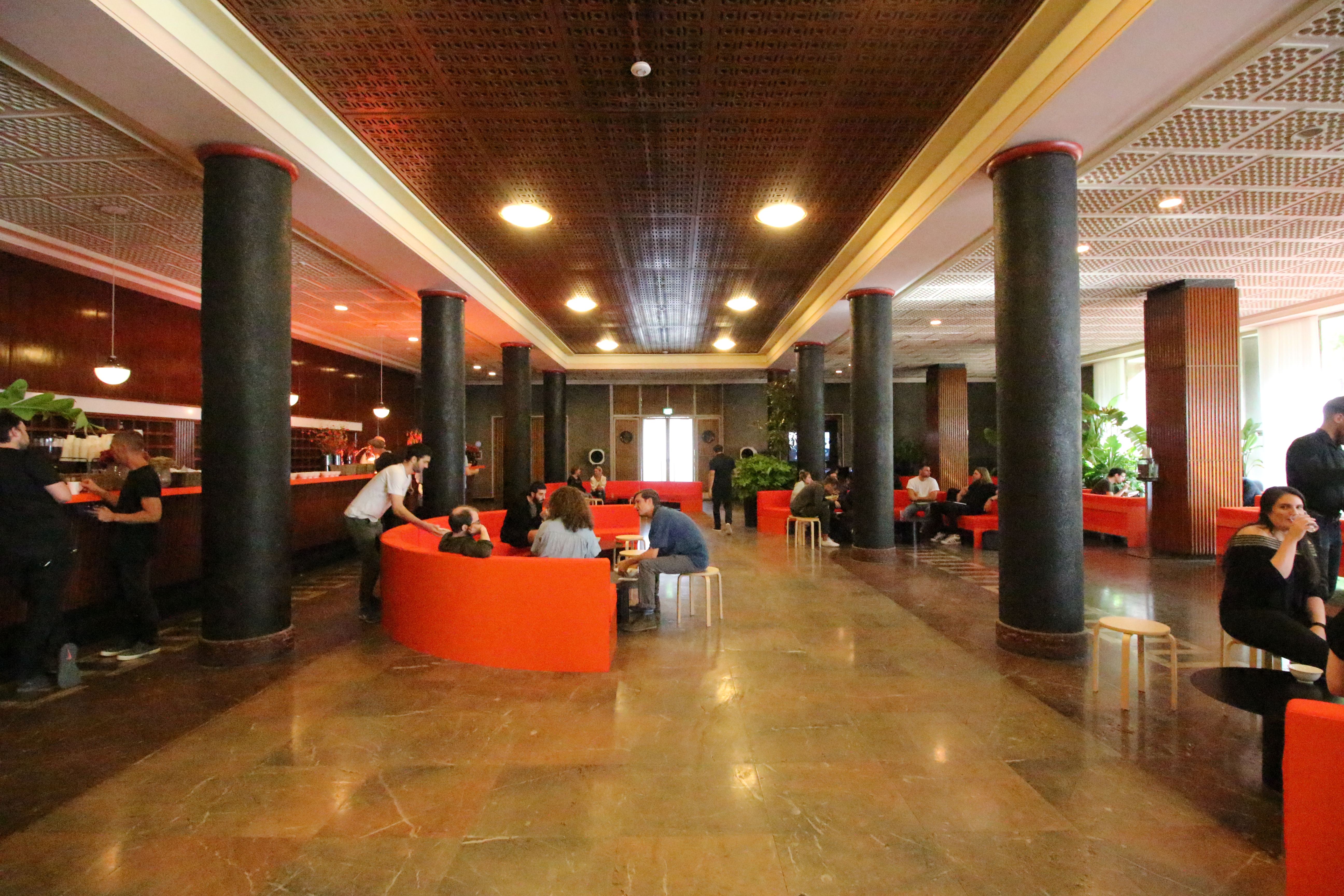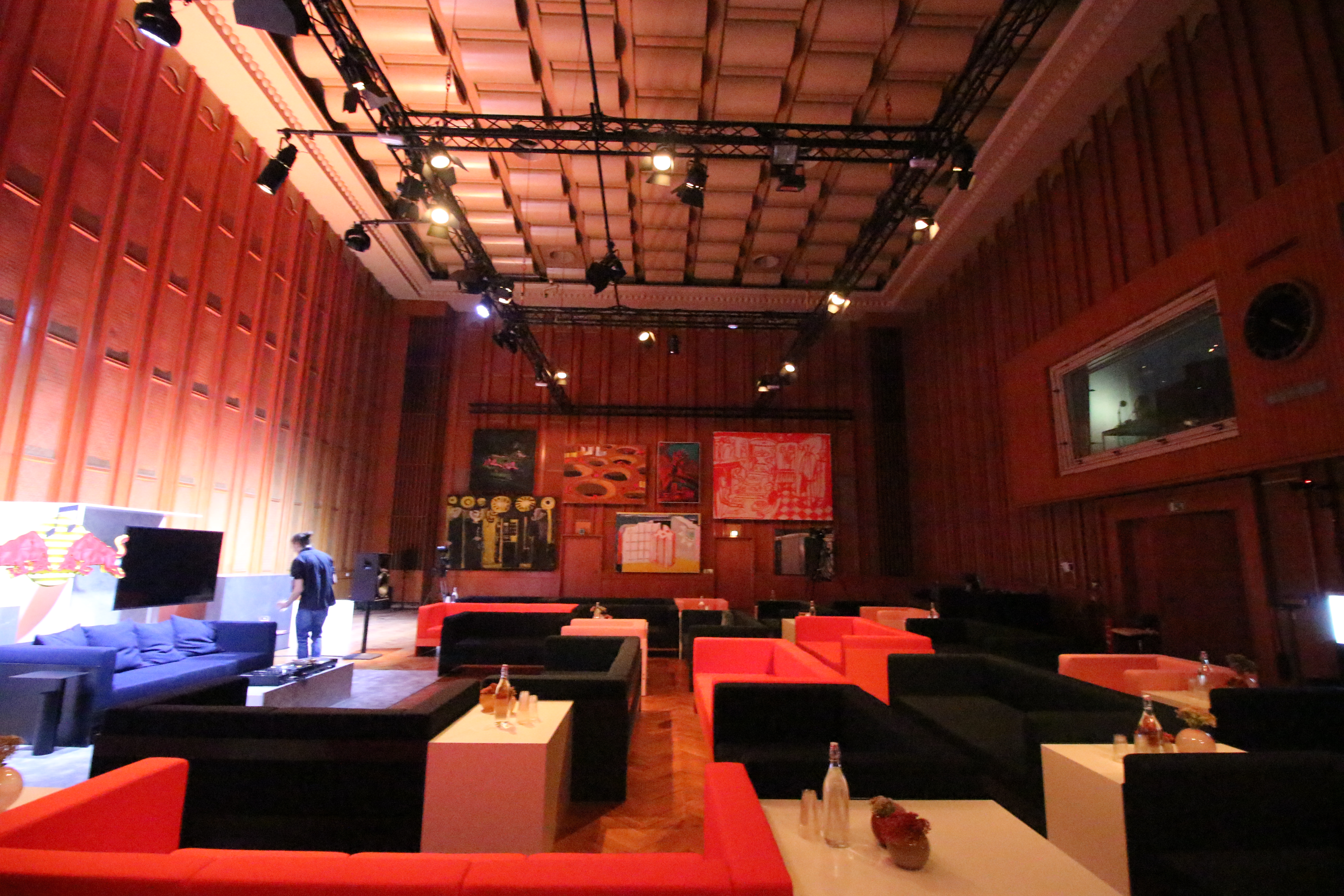 Red Bull Music Academy 2018, communal areas
Although it is now a state-of-the-art cultural facility being utilized by such world top artists and global companies, the subject of Germany's​ ​long history deeply engraved​ ​​ ​in the background is unavoidable. FUNKHAUS is the German Democratic Republic (commonly known as East Germany, DDR) radio station that was under the control of the Soviet Union, and FUNK carries the meaning for 'radio' in German. It is not the high spirited "funk" as observed as a music genre, but a product of the Communist era that leaves a dark and heavy shadow.
Built in 1951 by Franz Ehrlich, known as a modernist architect from the Bauhaus, the facility is now recognized as an important cultural property as a model building symbolizing the former East Germany.​ ​The reinforced concrete architecture that dismissed luxurious and beautiful decoration seen in the medieval Gothic and Baroque style, emphasizes an avant-garde appearance, functionality and rationality all regarded features of modernism,​ ​but in FUNKHAUS, although there is no flashy decoration with exterior walls covered with red bricks with an air of modest elegance, it is a beautiful sight seen together with the banks of The Spree river.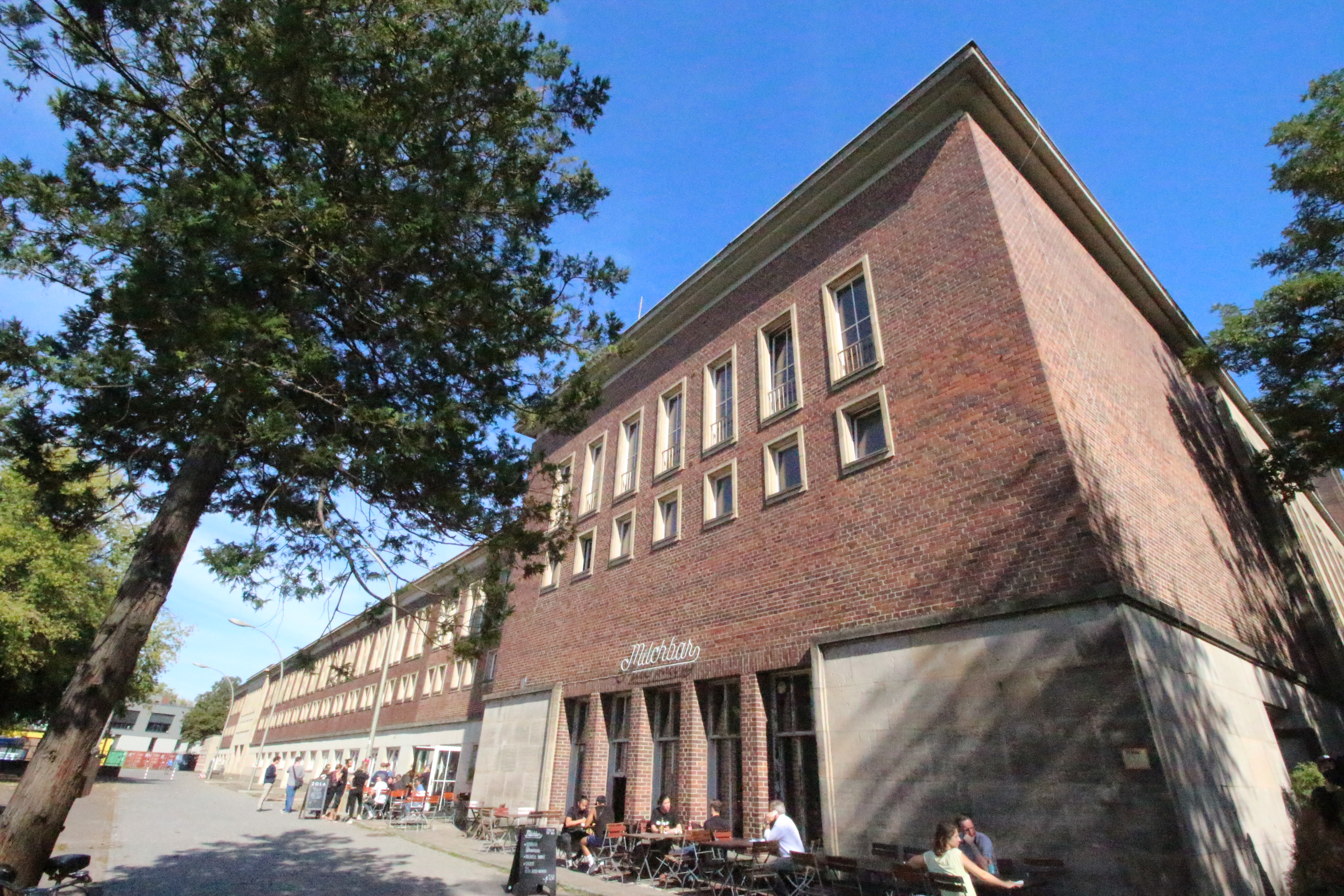 Absolutely essential in talking about FUNKHAUS is the engineer at the time Gerhard Probst​​ ​who was devoted,​ ​building up the four recording studios. Studio 1​ ​(Saal 1)​ ​​ ​in the most famous Block B is a studio built for full orchestra recording boasting 900 m². An arched studio surrounded by luxurious antique wood, everywhere is filled with elegance, with audience and stage set up in a stepwise fashion, and a suspended ceiling lined up uniformly.​ ​Despite everything, the most surprising is the mechanical studio they have, where sound absorption can be adjusted with a mechanism that rotates vertically by reflecting reverberating sound and a wall composed of triangular prism panels made of different kinds of wood​ ​for​ ​Carsten Nickolai,​ ​a contemporary artist working as a musician under the name Alva Noto.​ ​Moreover, even if the airplane flew overhead it can't be heard and completely soundproofed. It is astonishing that there was such technology in the 1950s and you can't help but sense the​ ​ultimate​ ​political ideology that only exists in communist countries.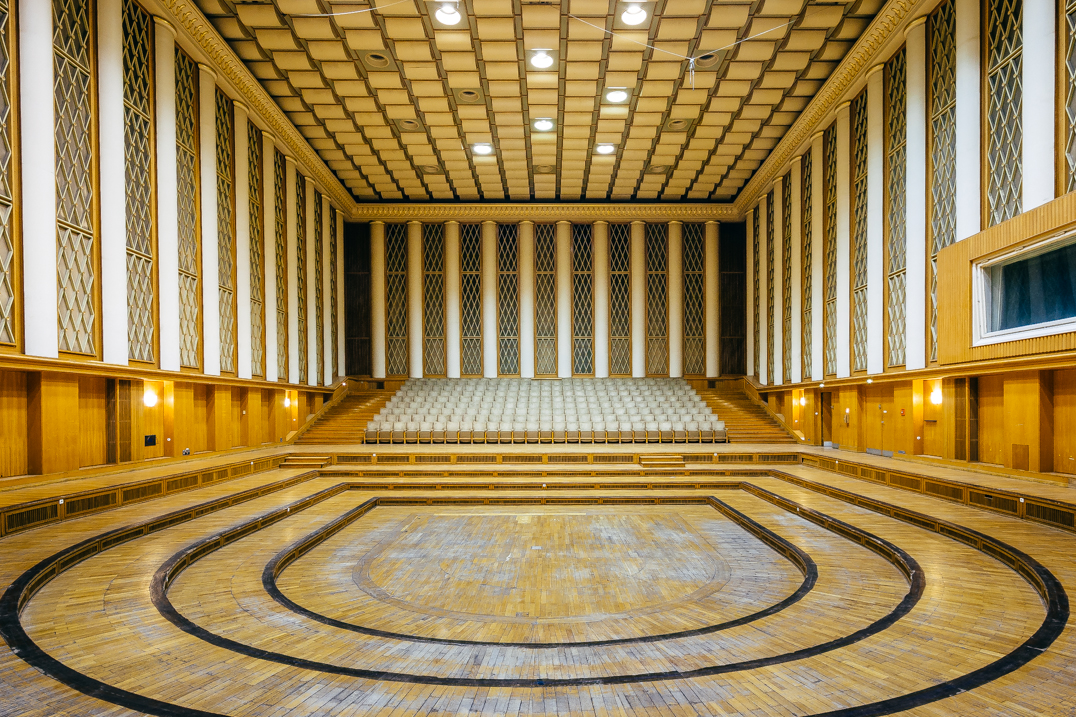 Studio1 (Saal1)
Indeed, Erich was a Communist who was heavily influenced by Joseph Stalin's ideas and has a history of being in an internment camp for ten years. On the floor of the front entrance of Block B, Reich Chancellery marble is used symbolizing the Nazis destruction during the Second World War, and has an unusual presence together with a huge cylinder painted black.​ ​In terms of political thought​ ​it is impossible to understand, but being captivated by the sight of perfect beauty and the unique form of numerous sculptured objects created under dictatorship​ ​is undeniable.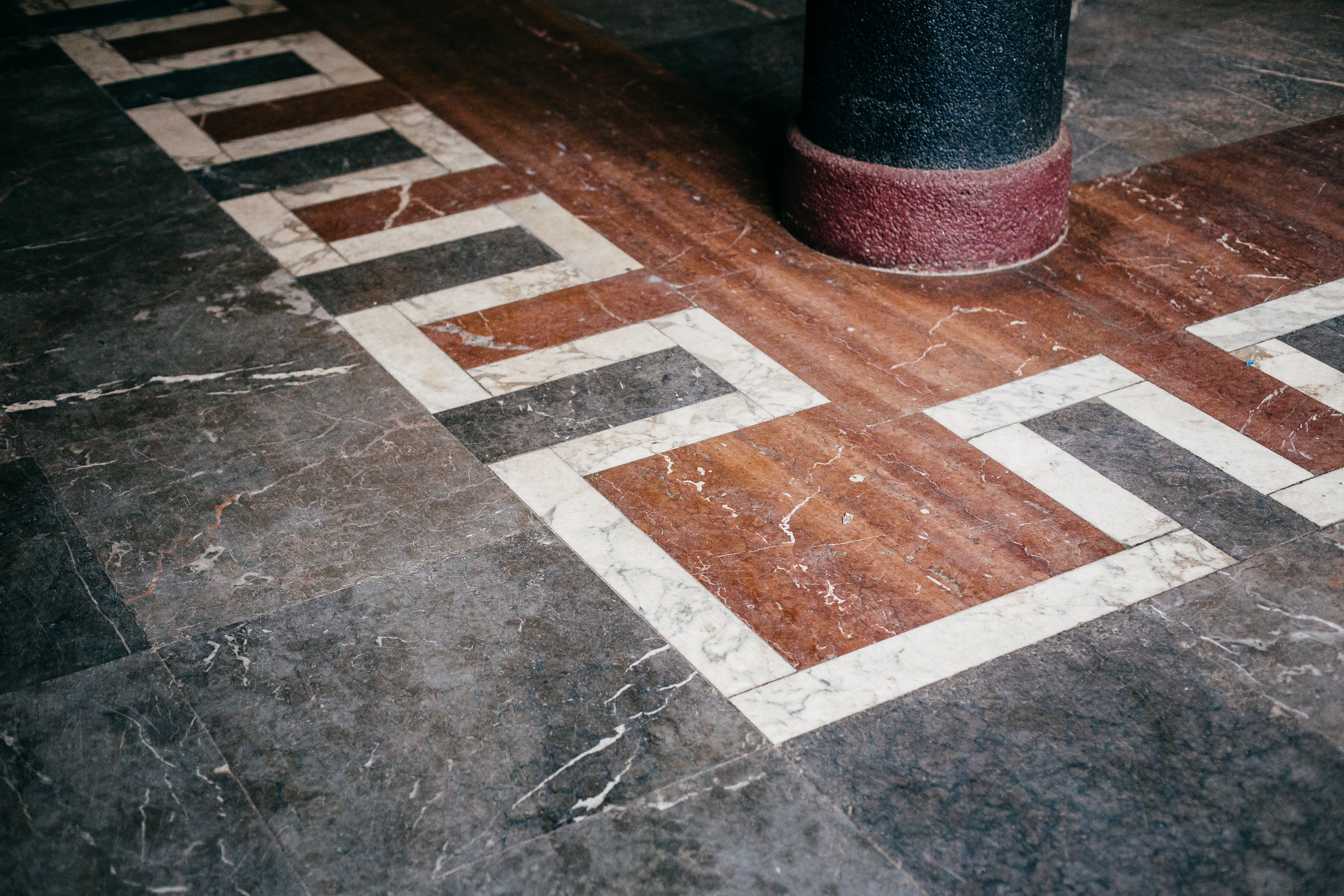 It was a surprise to hear the huge concrete skeleton building Shedhalle​ ​(Block D)​ ​used as one of the above-mentioned RBMA event venues was also a parking lot when it was a radio station. The unique zigzag like roof shape is designed to avoid direct sunlight from the north and let light in uniformly, and the​ ​minimalist​ ​space made of bare concrete with arched ceilings is said to be the best environment for hard techno sound. Sound reverberation reflected off walls in contrast to the recording studio is​ ​intense​ ​and acts like a punch to the whole body.​ ​It is convincing as the main venue for the fierce beat of electronic music events, but also used for fashion shows and impressive dinner parties, no-one would think that it was just a parking lot.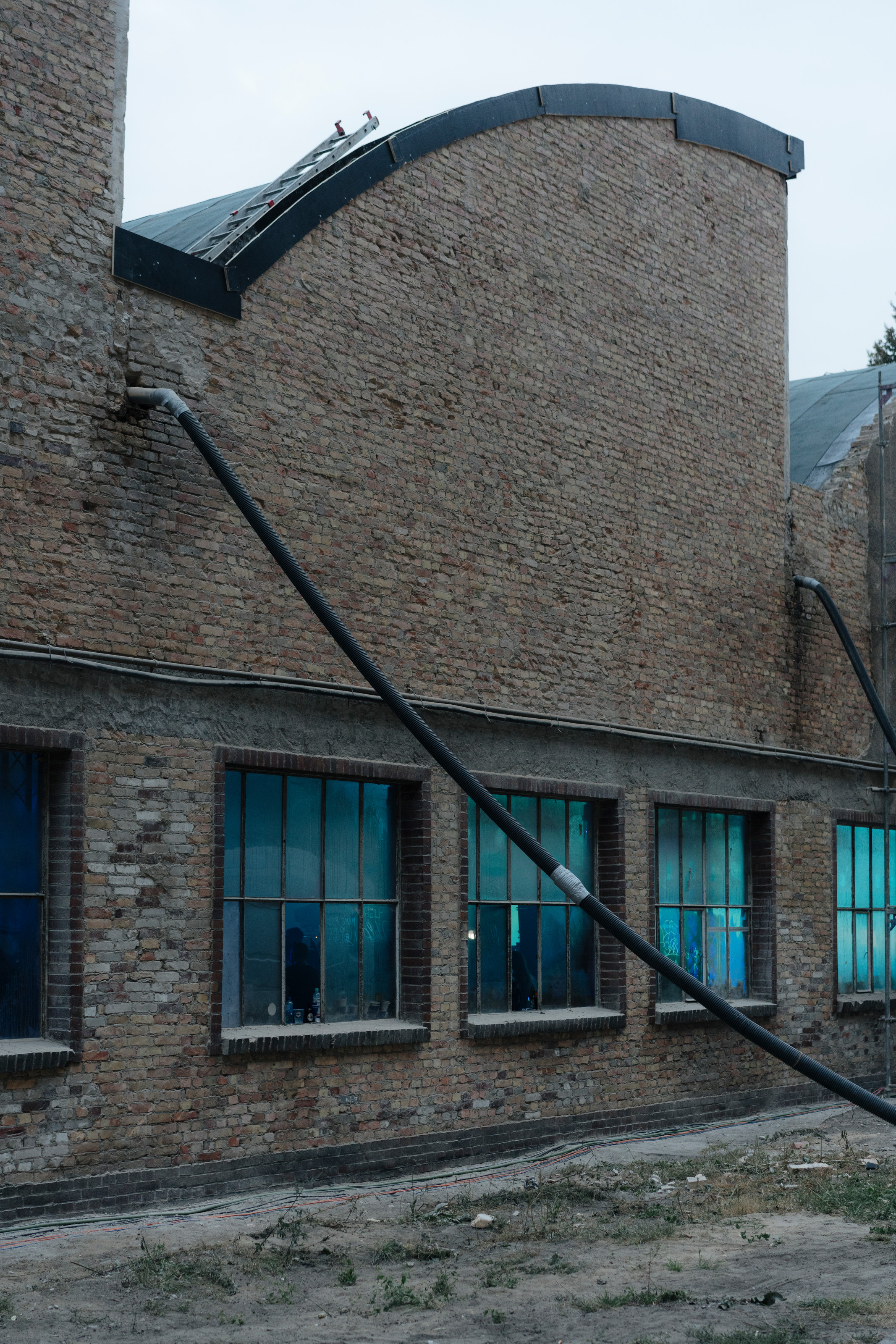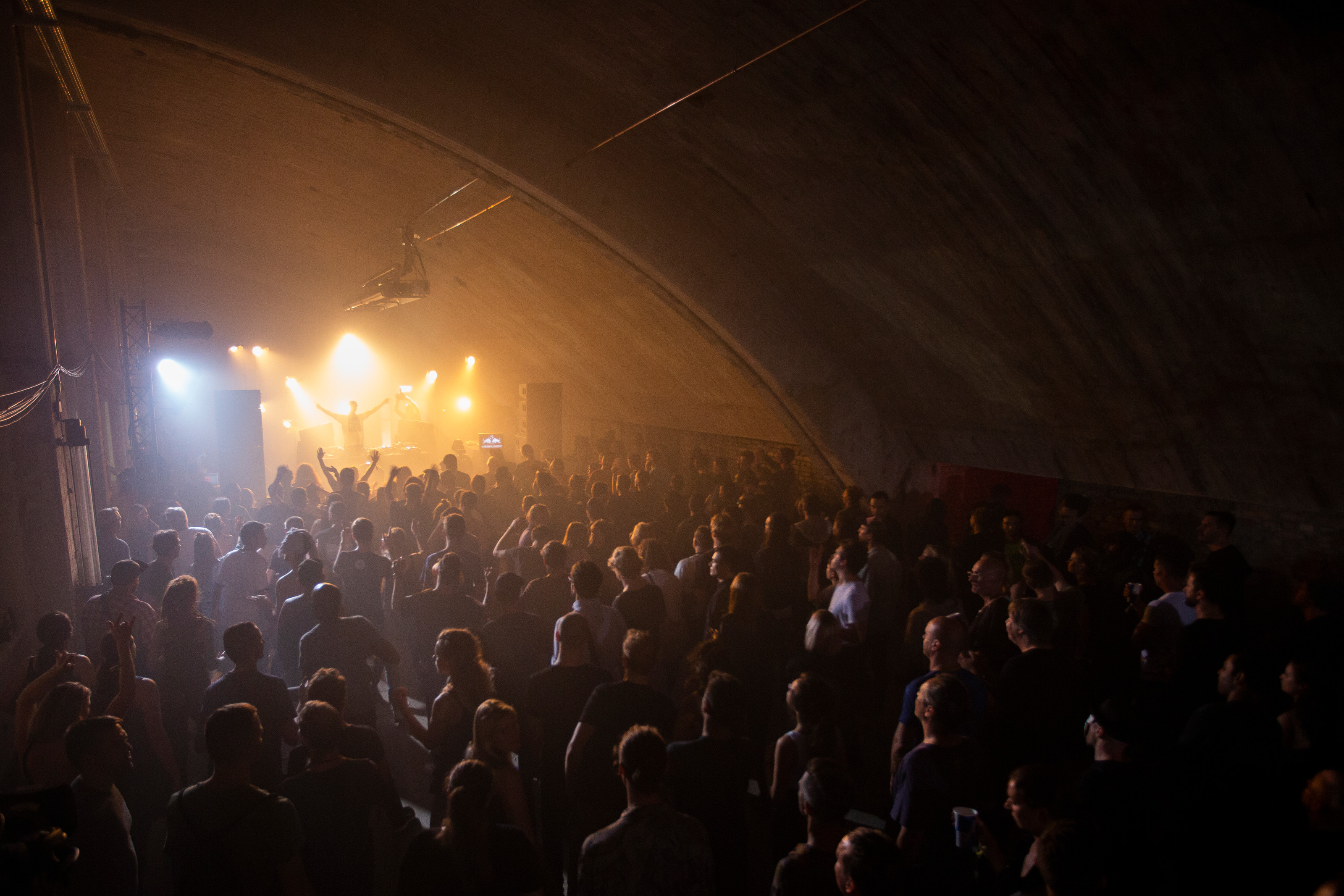 Shedhalle
In the midst of the cold war from 1956 to 1990, radio played a very important role to keep to bring political thought to the people. In the 1970s, there were more than 3,500 employees working at the radio station, with supermarkets, kindergartens, hospitals, banks, hair salons, restaurants, bars, saunas, bookstores and so on as if they it had​ ​almost become an entire city.​ ​It you never heard that life in the Communist era was just frugal and restricted, you would get the impression it seemed free and glamorous, but it mustn't be forgotten that the surveillance state was always listening in.
Radio stations closed down with the end of the Cold War have been custom-made many times by many sound engineers, artists, and over time creators have continued to evolve even now transforming themselves into the source of the cutting-edge culture where the world like the present is paying attention. The​ ​9-story main building located in Block A​ ​where there was a recording studio for broadcasting and an office for editors and administrators is now the​ ​dBs Music Berlin​ ​school that just opened as a school for young creators who will be responsible for the music industry of the future.​ ​The young people born after the collapse of the Berlin wall will build their own culture while learning cutting-edge digital technology in facilities where remnants of the former East Germany are still very evident.​ ​It may also be the beginning of a new movement.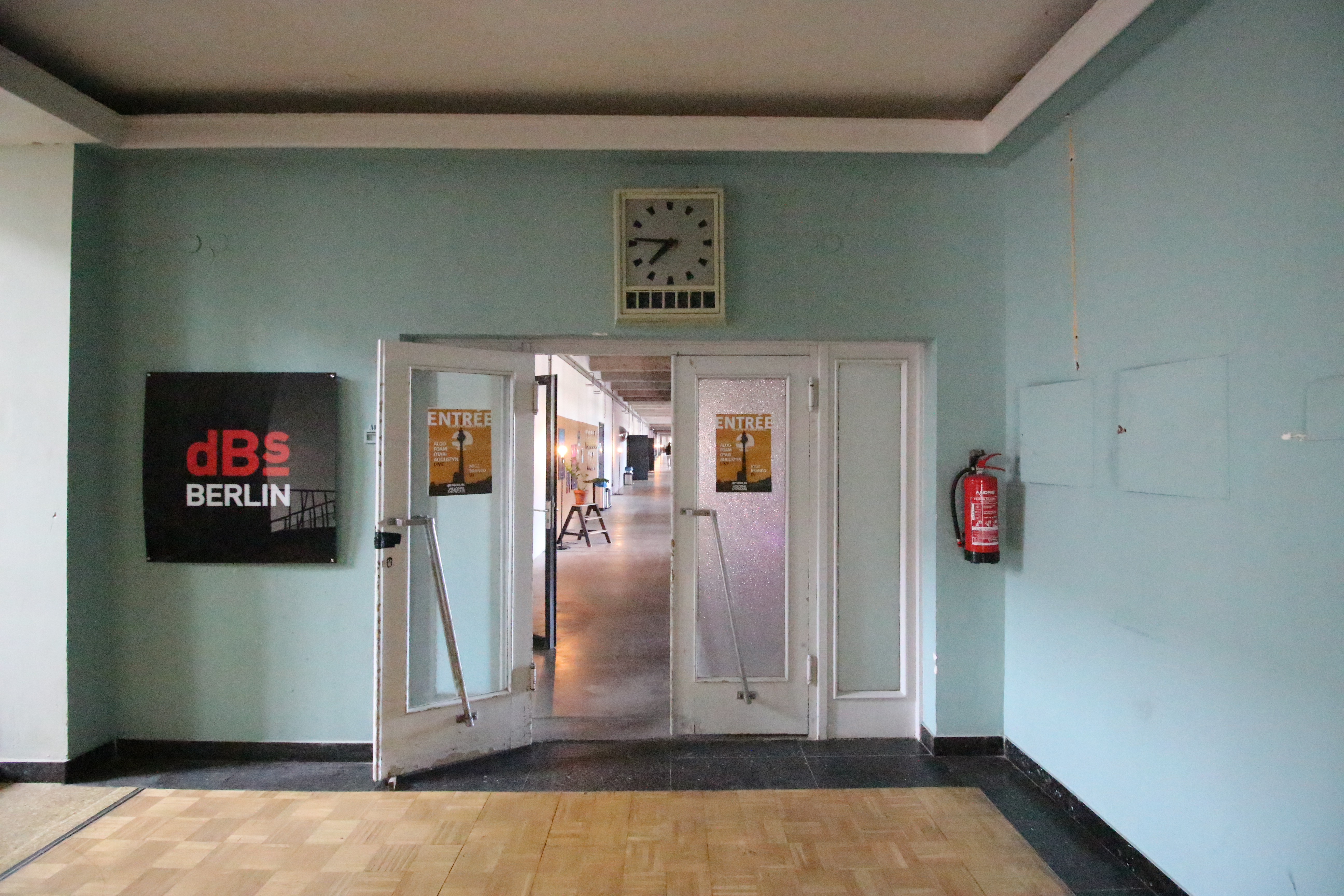 ■ FUNKHAUS Berlin
Address: Nalepastraße 18, 12459 Berlin, Germany
URL:​ ​http://www.funkhaus-berlin.net/
Photography: FUNKHAUS official, Red Bull Content Pool, Takafumi Tsukamoto