2016.03.11
Customizing Levis® 501® according to Masahiko Sakata.
Sponsored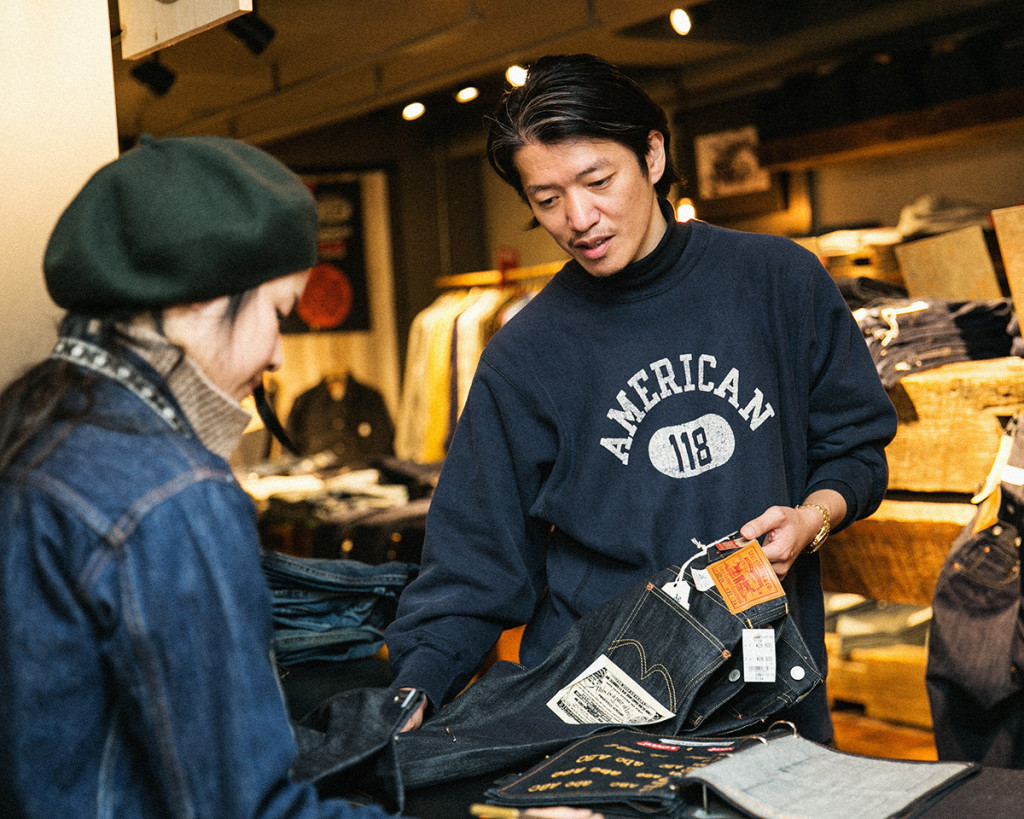 Did you know that Levis® has rolled out a personalised customisation service? The 'Tailor Shop' has been established on the 3rd floor of Levis® Store Shinjuku, so after talking carefully with a professional full-time tailor, you can have your own pair made that are completely unique and unavailable anywhere else in the world. For Levi's® fans the service is like dream, but how will it be seen by Masahiko Sakata, himself having a deep knowledge of denim culture? After being asked to actually experience it, we speak about his impression.
Photo, Osamu Matsuo | Text, Shuhei Sato | Edit, Issey Enomoto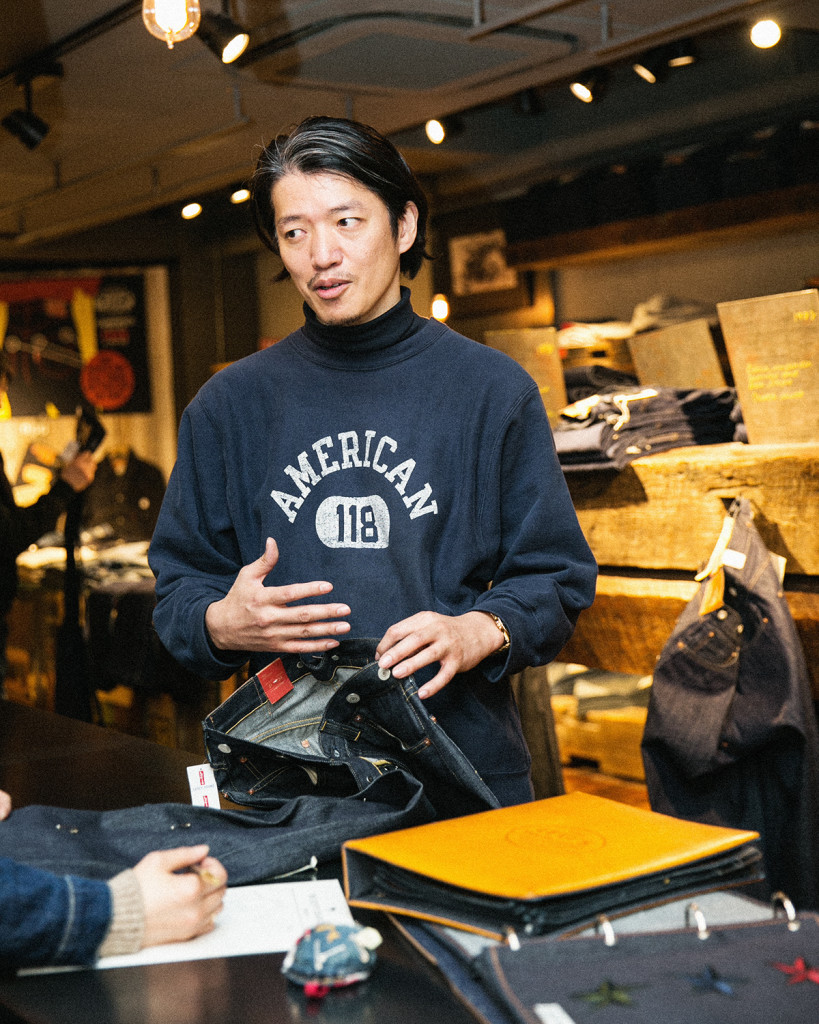 Masahiko Sakata / Archive&Style
Born in 1970. While serving as director of a number of well known brands, he also served as owner of the vintage shop "Archive&Style" between 2006 and 2013, also famous for its large amount of used clothing.
A shape fearlessly altered and based on the basic 501® 1933 model.
— Sakata, did you know Levi's® had rolled out a customise service?
Yes, I have used it before. Back then, I had some embroidery applied like a Sukajan jacket under the theme of 'Souvenir', but without altering the silhouette.
— This time what were you thinking of customising?
I plan to try and really alter the silhouette. Before it was the norm to leave the shape alone, and like now was fun to show it in terms of size and how to wear, but now the mood is different. As we are in an era hailed as being all about minimal simplicity, I am in the mood for the complete opposite, and a silhouette with a twist like Levi's® RED. Wide and straight with the drape then diagonally tapered below the knee, and a hem-line that I want cut and stepped, before and after.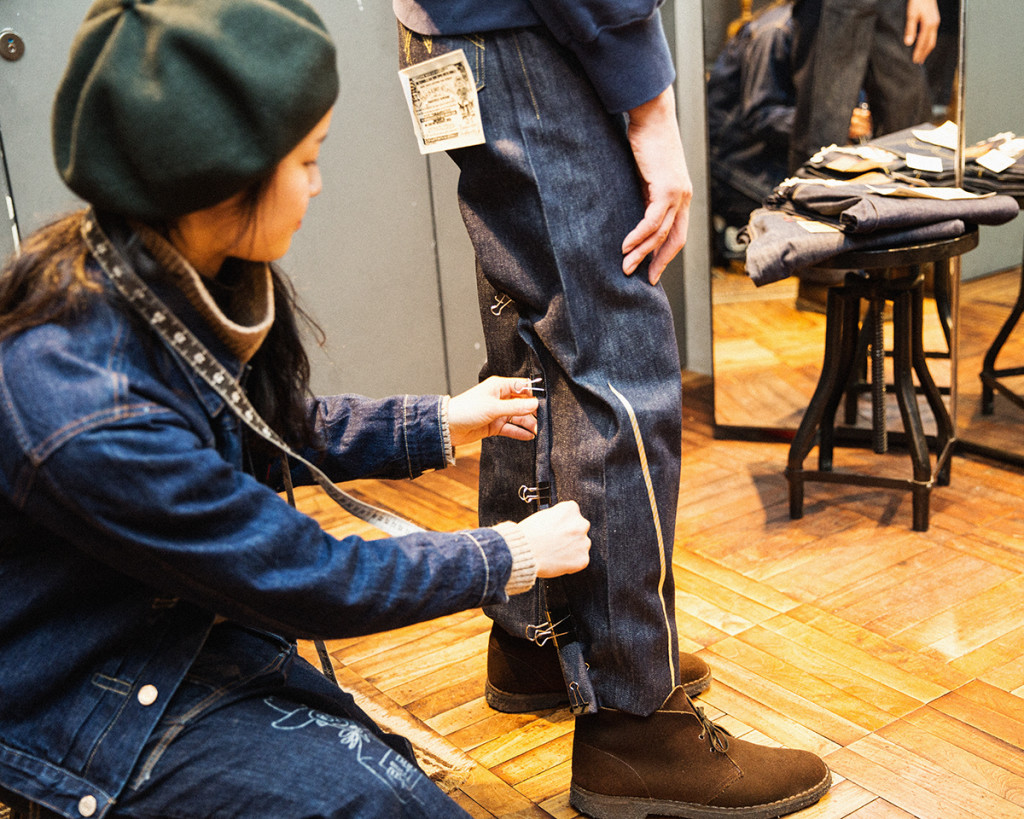 — Which basic model would you choose?
With room around the waist, it is better if the hem line stands out with a reasonable amount of drape. If that is the case, the ounce quality of the Levi's® Vintage Clothing prewar model is moderately thin enough, and just the right kind of original 'thick' workwear shape. However, seeing as they are to be worn everyday, and since it is better to have belt loops, I think I will try the 1933 501® model.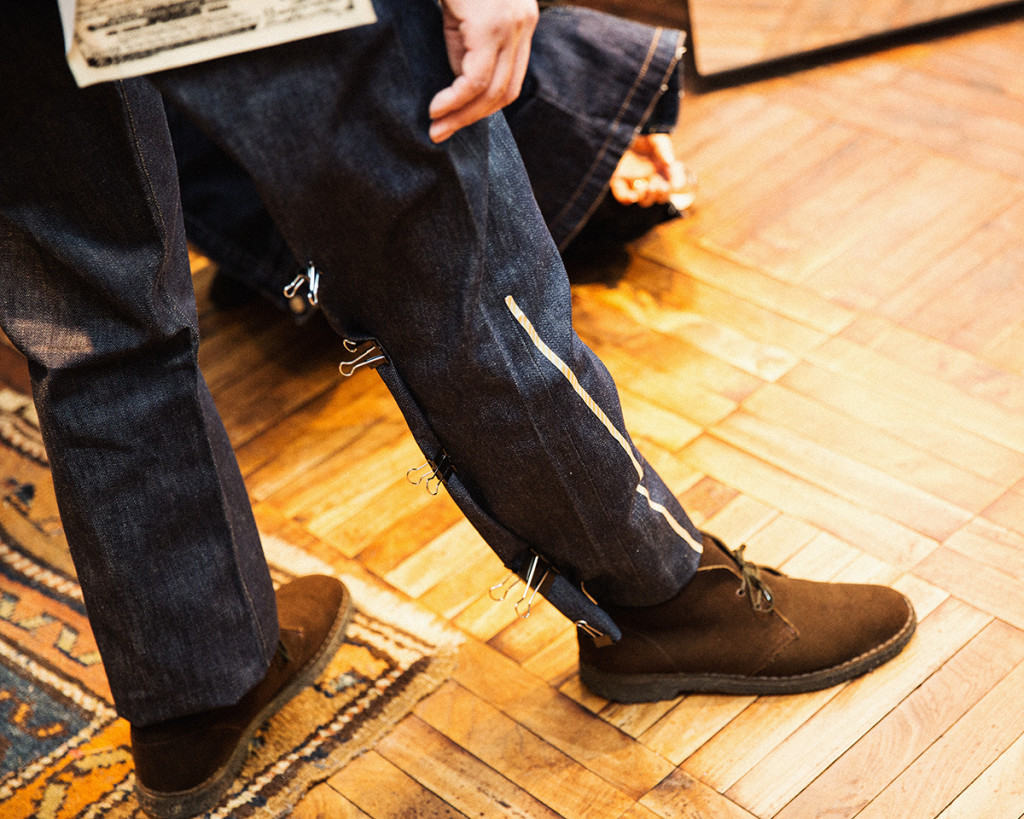 — Base models certainly seem to dominate the design of the Vintage line, so it seems more than likely that your custom pair will stand out.
I think the back cinch on the former Levi's® RED is well modified. On the other hand, I think it also revitalises particular vintage detailing like bare riveting on the back pocket and single 'arcuate' stitching, for example. The width of trouser bottoms, is reduced to 17cm, which has now become the norm for a tapered shape. As the silhouette base is relaxed, there is room around the hips even if the fit is snug, and seems possible to express the shape I want.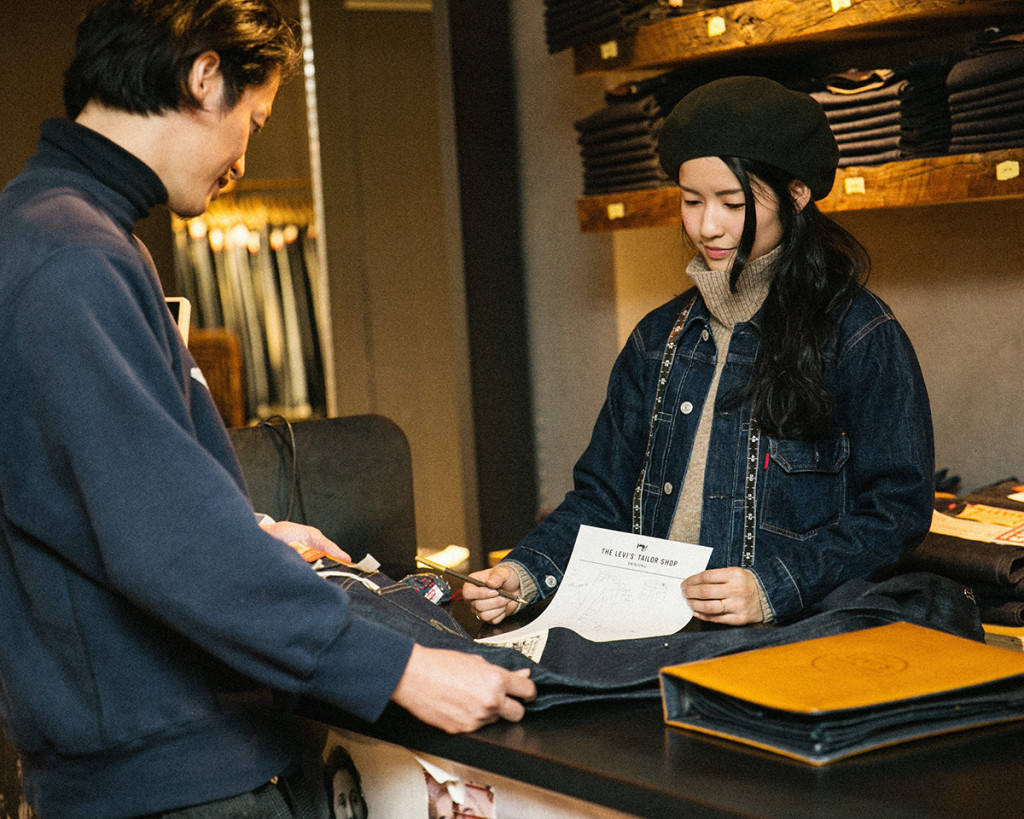 Customising details are decided on in direct consultation with the tailor and artisan familiar with denim.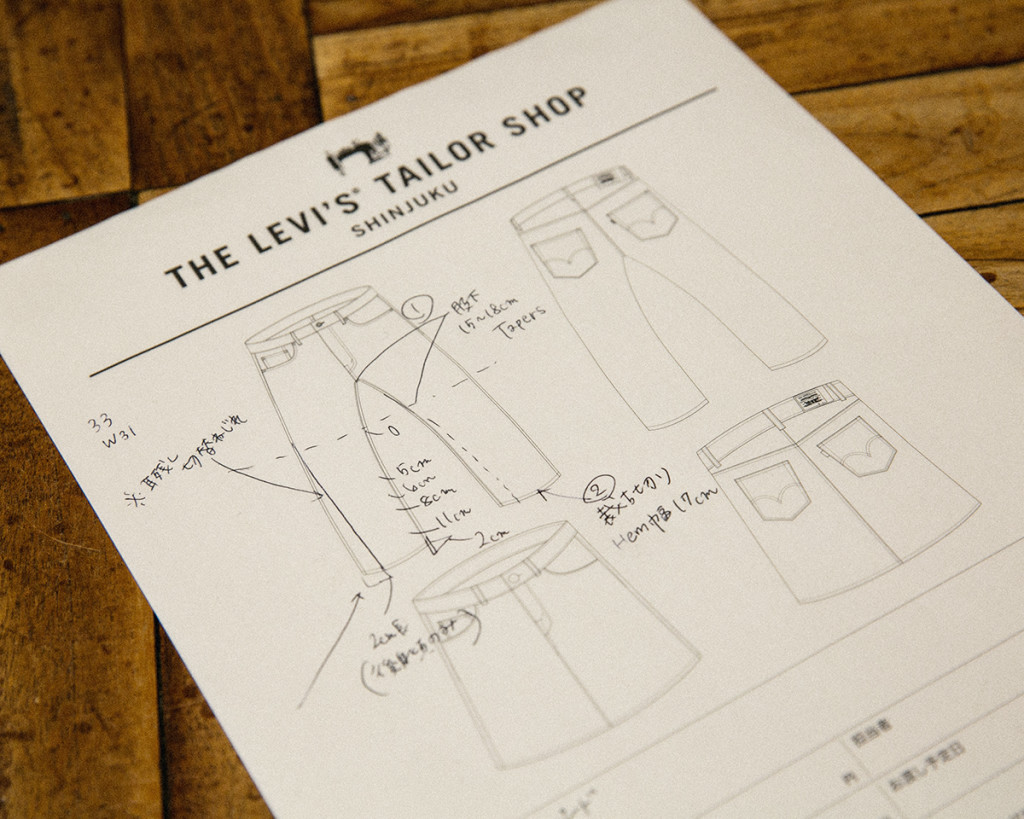 Sakata's detailed request is noted and recorded on an order sheet.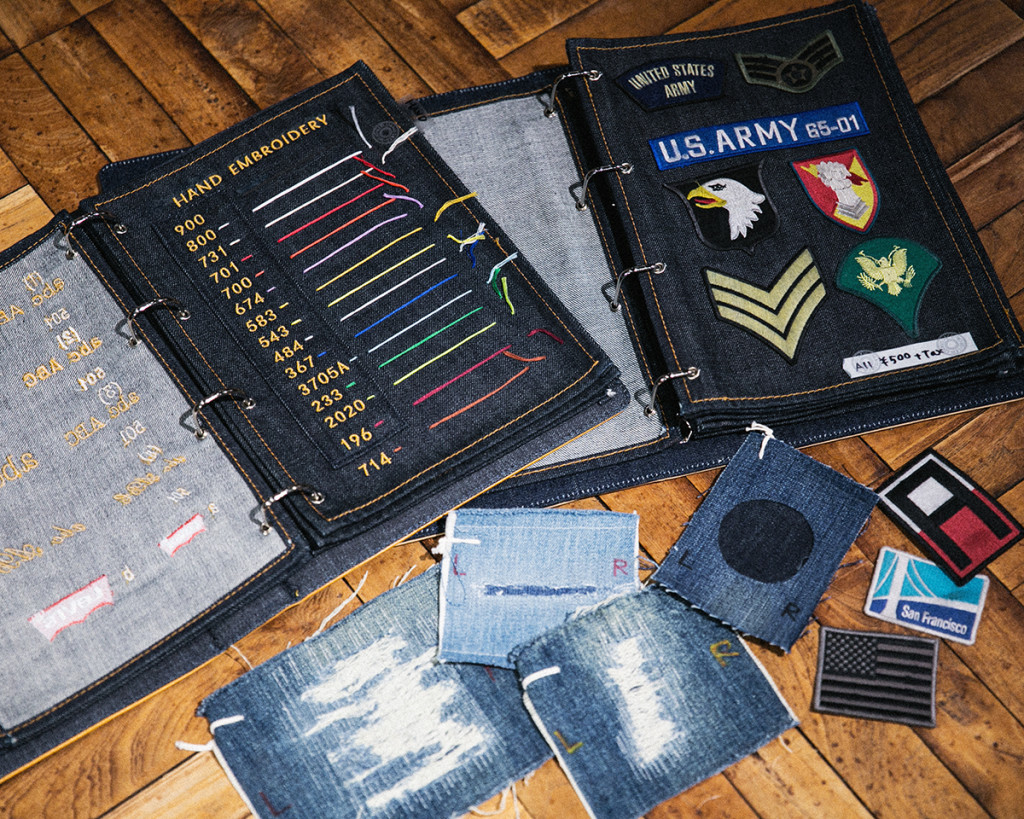 The customise menu is full of options. First of all a model is selected, then changes to can be added to the silhouette such as tapering, and a variety of other processes like damaging, hand-stitching, and even creasing. Delivery time depends on how detailed the request, but usually it takes around 3~4 weeks.
To customise Levi's® is the ultimate in luxury.
Sakata received his customised denim roughly 3 weeks after ordering.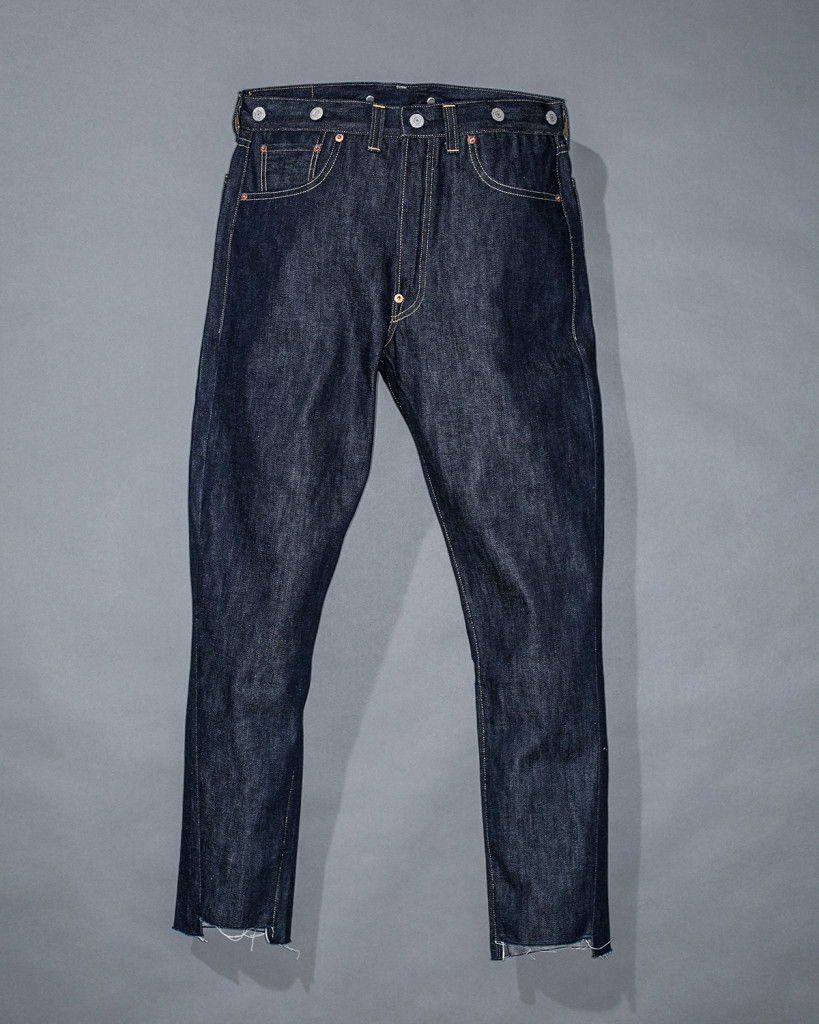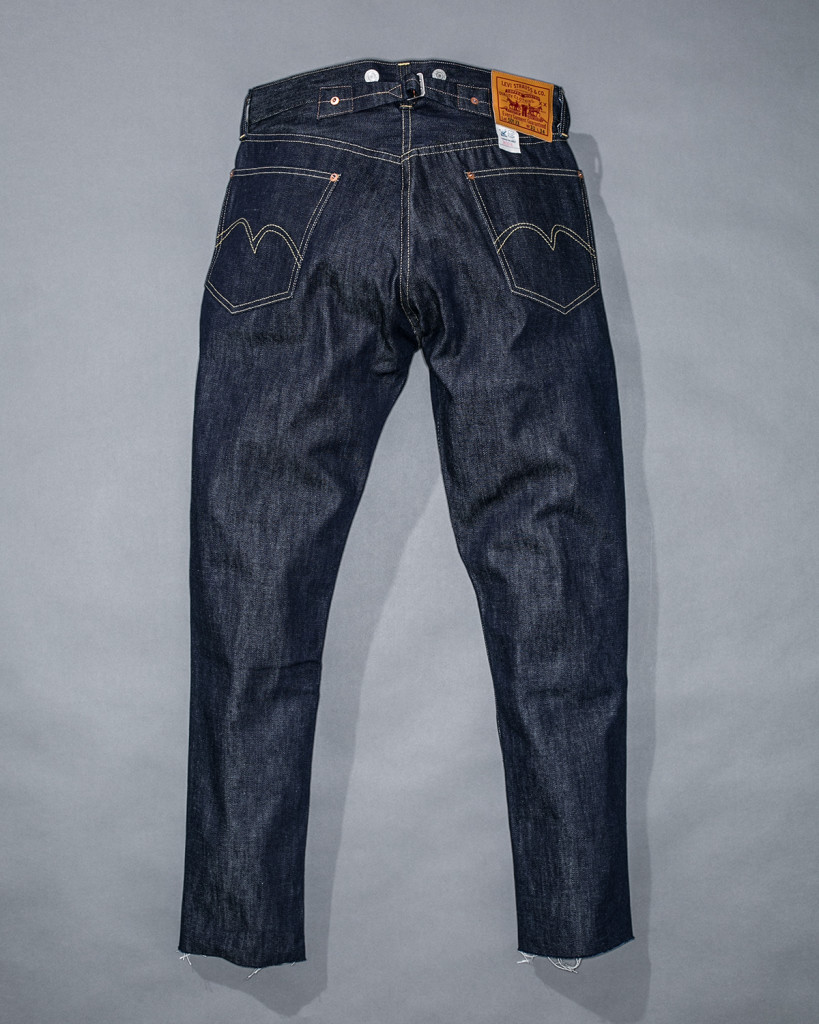 501®XX 1933 Model ¥30,000, customised tapered fit, from ¥5000
The 1933 model is modernised by Sakata's sensibility, and finished according to his request for a shape that is "wide and straight with the drape then diagonally tapered below the knee, and a hem-line that I want cut and stepped, before and after." Let's hear his impression.
— How does it feel to have customised your own pair of jeans?
I like it very much. I am grateful to be a designer as creating something new is fun, as well as an archive made with my own taste in mind, you know. I think for designers, including myself, the underlying feeling is that we want to mess around with something real and tangible. In fact, even famous designers that remake clothes should definitely feel the same way.
— What kind outfit would you expect to wear them with?
Since they are about ankle length, they are good to match this coming season with sandals and even wear them with hi-cut sneakers. I think a nice and simple top compliments them, and vice versa. I think they go well with knitwear that is a little loose fitting.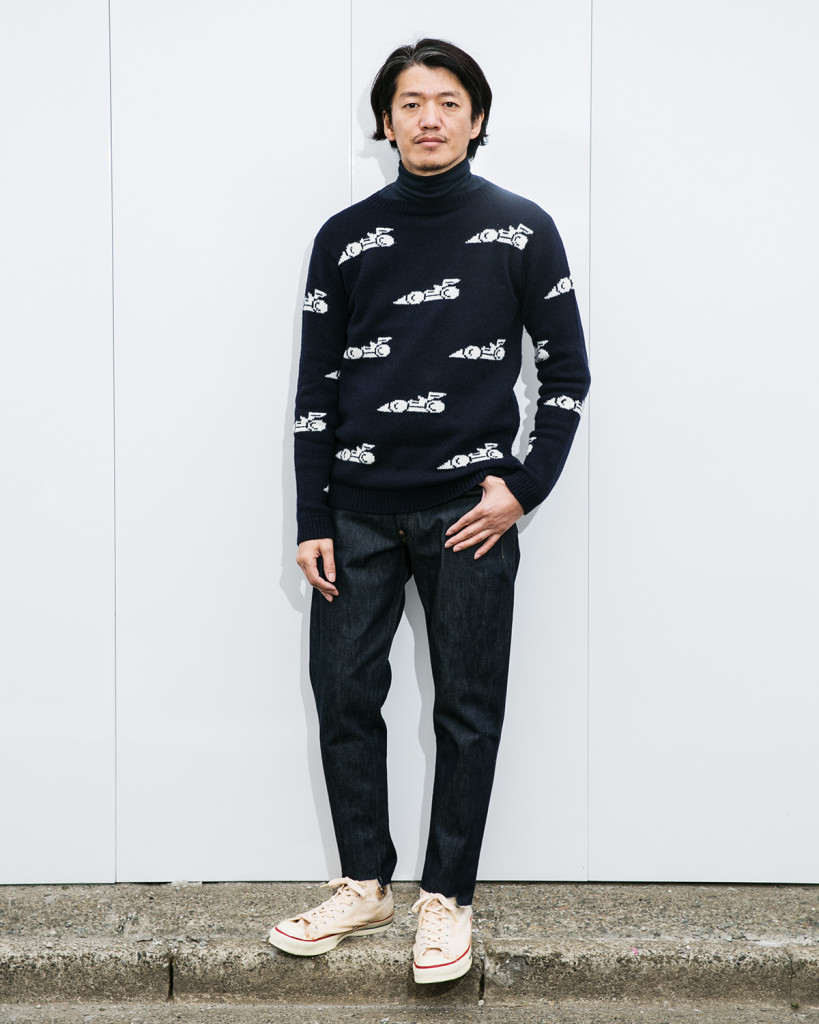 — What was it like to experience the Levi's® customising service?
As Levi's® is the world's leading jeans brand, making something so personal, I believe, is the ultimately luxury. The attention to detail as with my request for deep pockets is also great. And is made possible precisely due to the technical excellence that is backed by a wealth of tradition. Again, I felt the the jeans brand's underlying strength was how serious it is towards Levi's® denim.
It should be noted that in Japan the customising service is only available at the 'Tailor Shop' on the 3rd floor (Ground floor plus 2) of Levi's® Store Shinjuku. Overseas, the service has been rolled-out across each store in New York, San Francisco, Paris and London. I wonder how many people want to try and make their own pair?
Levis® Store SHINJUKU
3-29-12 Shinjuku, Shinjuku-ku, Tokyo
Tel.03-5363-4501
Levi Strauss Japan