2018.04.11
Daytona Ultimatum 2
And so, to Part 2 — In addition, there is also a line-up of enthusiast models they prefer. In fact, you wouldn't expect anything else from Phillips, having put together a variety of Daytona so far.
Since 32 pieces exhibited this time are the world's best models, their price is understandably an unknown. However, the important thing here is the auction price sets a trend that will spread throughout the market.
For example, the auction house plan-of-action is obvious just by looking at the exhibition and estimate list. What models are they going to focus on in the future, and what kind of price are they going to lead by later on? The outcome of successful bidding is important as well of course. What kind of condition is good for the current market; how will the historically compatible of serial numbers and dials be evaluated; what colour Tropical is rated highly; which is stronger—a black PN or white PN; what's the price difference between stainless and plastic bezels; and so on. Being able to predict to some extent future market trends like that, is what makes the auction interesting.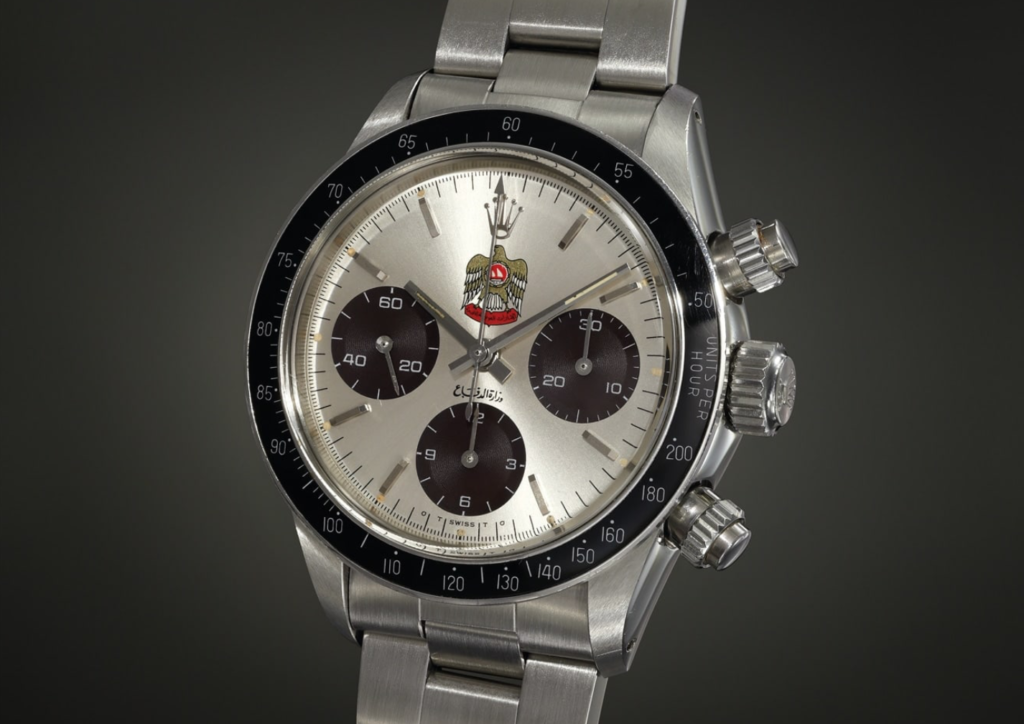 Lot.13 / 6263 UAE / 200-400K CHF
The UAE army Daytona is referred to as Desert Eagle, in contrast with the Oman army' 'Red Sword' Daytona. It only exists with a silver dial, and the case this time is serial number 4.13. A few Tropical (aged brown) come with In-dials.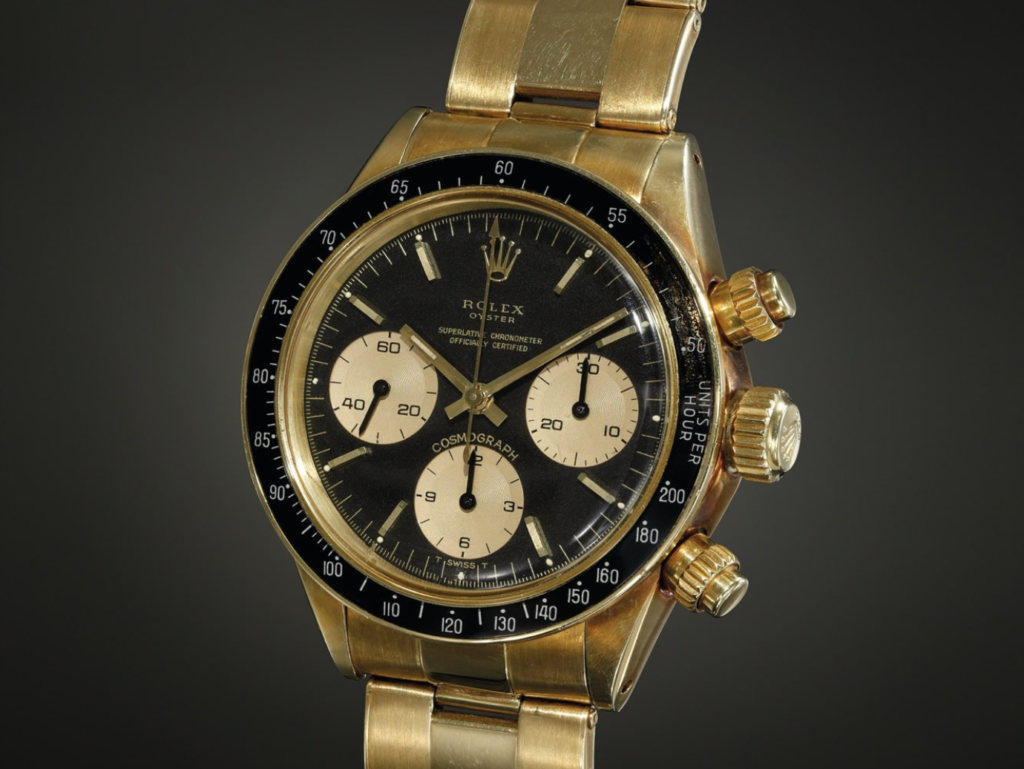 Lot.28 / 6263 14K Oyster Split / 180-360K CHF
This is referred to as the OysterSplit, a rare dial divided top and bottom by a centered 4Line notation. The 14-carat case is serial number 3.60. Although there's dirt in the In-dial, it's in quite good condition with decent enough luminescence. The 3Line Mk1 Pure Gold Ref.6263 is now on the up and one of the models expected to do well.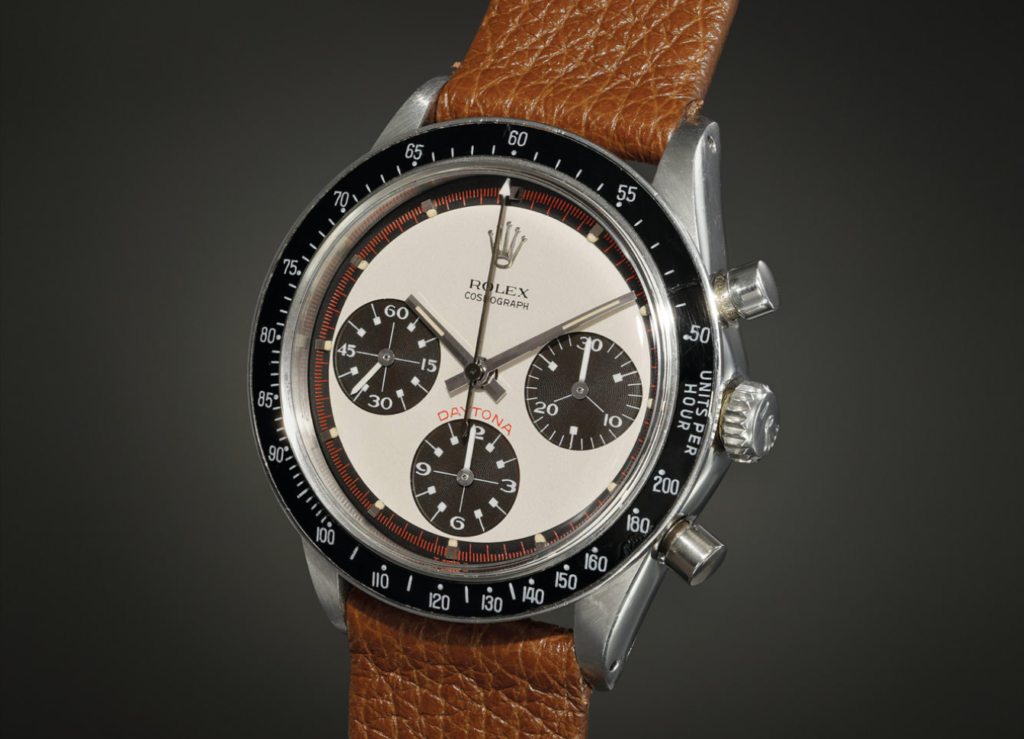 Lot.6 / 6241 PaulNewman Tropical / 180-360K CHF
A 3-colour Ref.6241 Brown In-dial PN. Even if it's only slightly brown, it might be a bit difficult as a Tropical. Be that as it may, the estimate is more bullish than normal Paul Newman.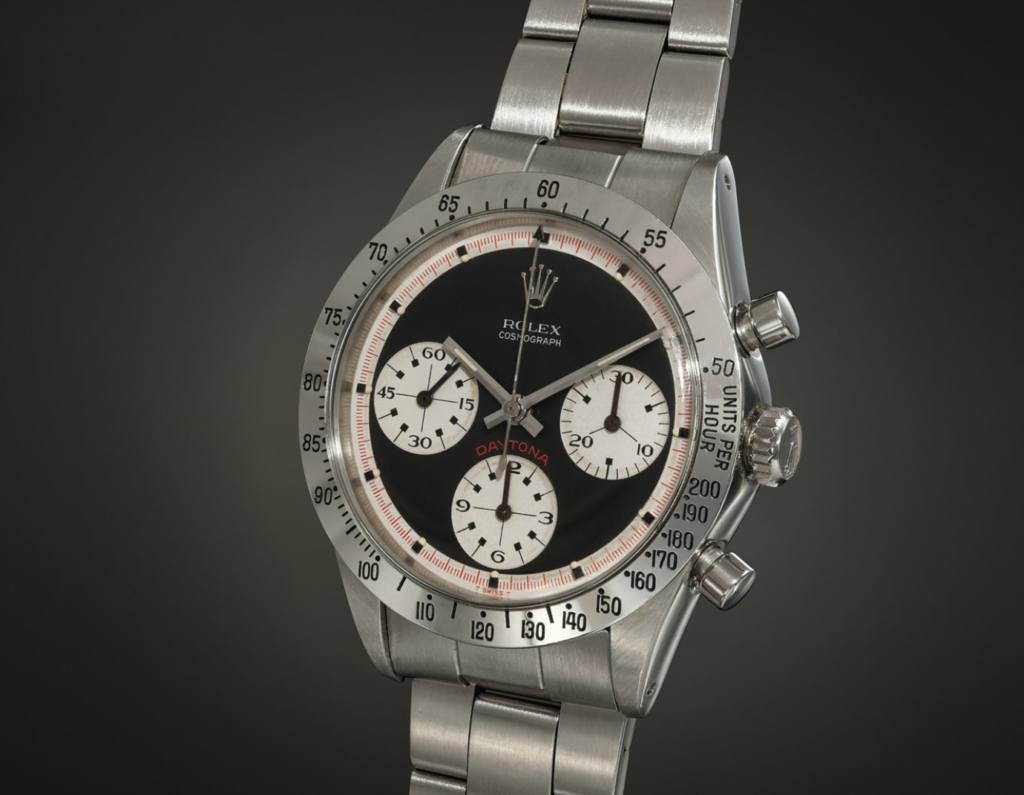 Lot.20 / 6262 PaulNewman FlatDial / 180-360K CHF
This is a black Ref.6262 PaulNewman, but the model dial has more of a flat In-dial, different from Ref.6239/41. The serial number is 2.73. In recent years, because black PaulNewman are rising more clearly than white in Ref.6239/41, this rare Ref.6262 Black PN has also been given a solid estimate.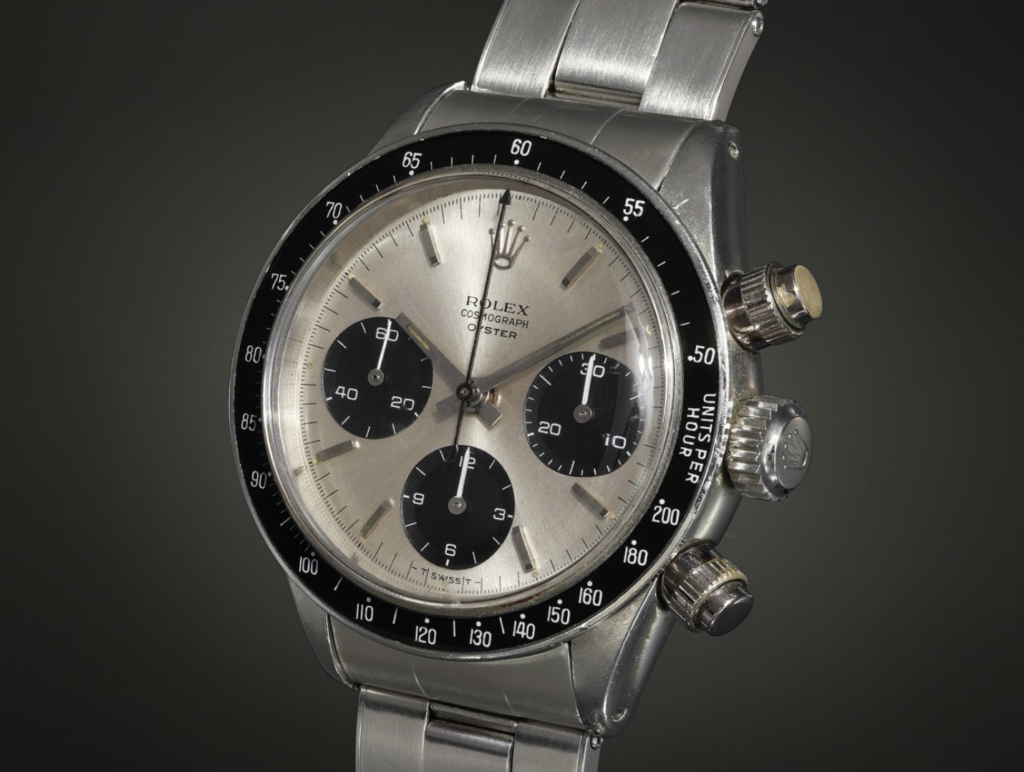 Lot.31 / 6240 Oyster Alpina Mk1 / 150-300K CHF
This model has the features of an OysterDown, even thought it's not a PaulNewman. The famous one came with a Mk2 dial, serial number 1.4, but the piece this time came in a 1.206 Mk1 Oyster Alpine case. However, since the dial condition is not that good, the serial has been set low. It's said that only a few silver dials exist.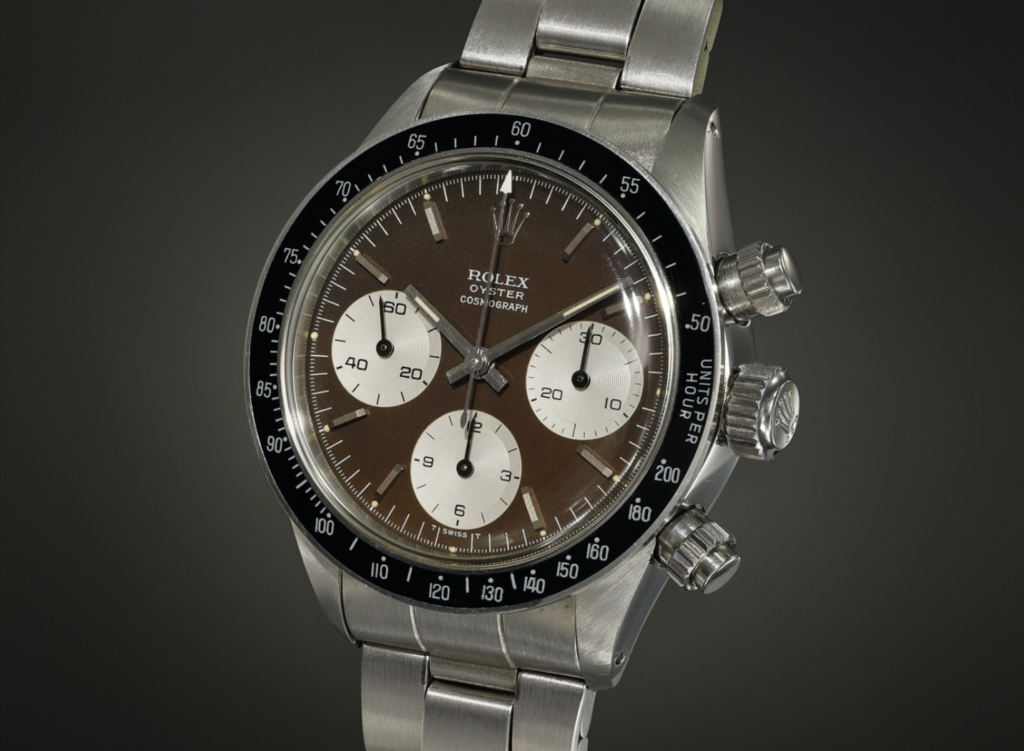 Lot.16 / 6263 Mk1 Tropical / 150-300K CHF
The popularity of Mk1 Ref. 6263 has risen sharply lately, but this time has a Tropical dial. However, it's in a slightly interesting place despite the case serial number for this piece being 3.99. But even so, it has this estimate, for some reason. Ref.6263 Black Mk1 and Sigma will probably change a great deal either side of this auction.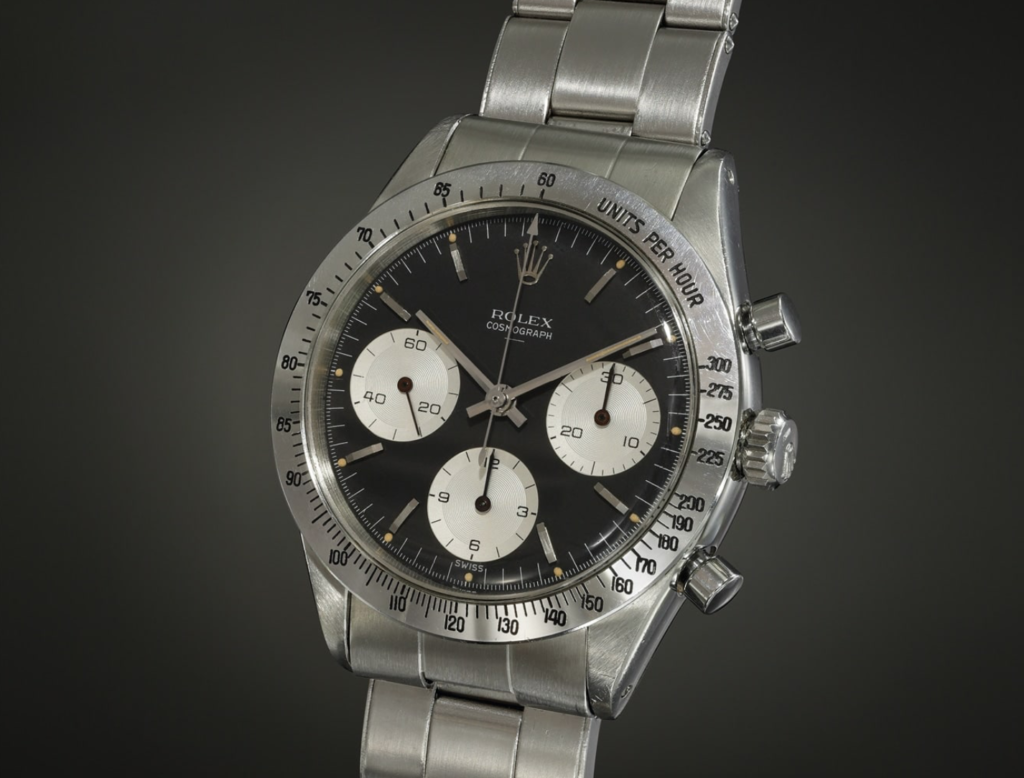 Lot.23 / 6239 DoubleSwiss Underline / 100-200K CHF
The Double-Swiss, a good example of an early Daytona famed for it's white dial, but I wonder if it not unusual having something in such good condition after all this time, even with a black dial. Of course, the case serial number is 0.92, and the straight left side In-dial and long hour hand are typical. The Double-Swiss is said to be more in white, and wonder how far will it go.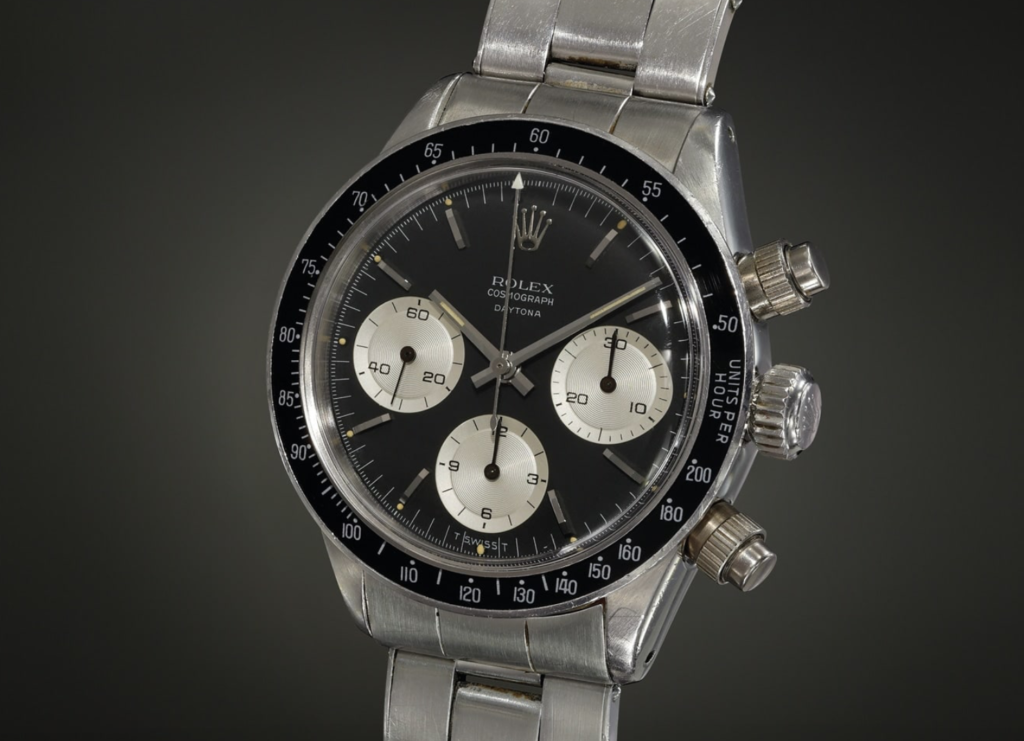 Lot.11 / 6240 Small Daytona / 80-160K CHF
Just as a comprehensive guide to Ref.6240 is coming together (except for whether a Black PaulNewman will fit in a 1.6 case) a good piece with small notation and 1.4 serial case comes along. It's logical that Ref.6240 should always have a Mk0 Pusher, so for that reason the market value has moved a little above the Mk1 Ref.6263. A new normal dial Ref.6240 this time has the possibility of appearing and exceeding 200,000CHF like never before. It's likely to be piece worth watching out for, in the way that it might reflect the trend for normal dial Ref.6240/6263 in the future.