2020.12.29
Hender Scheme and G-SHOCK collaborate to create a round-faced watch with leather that matures with time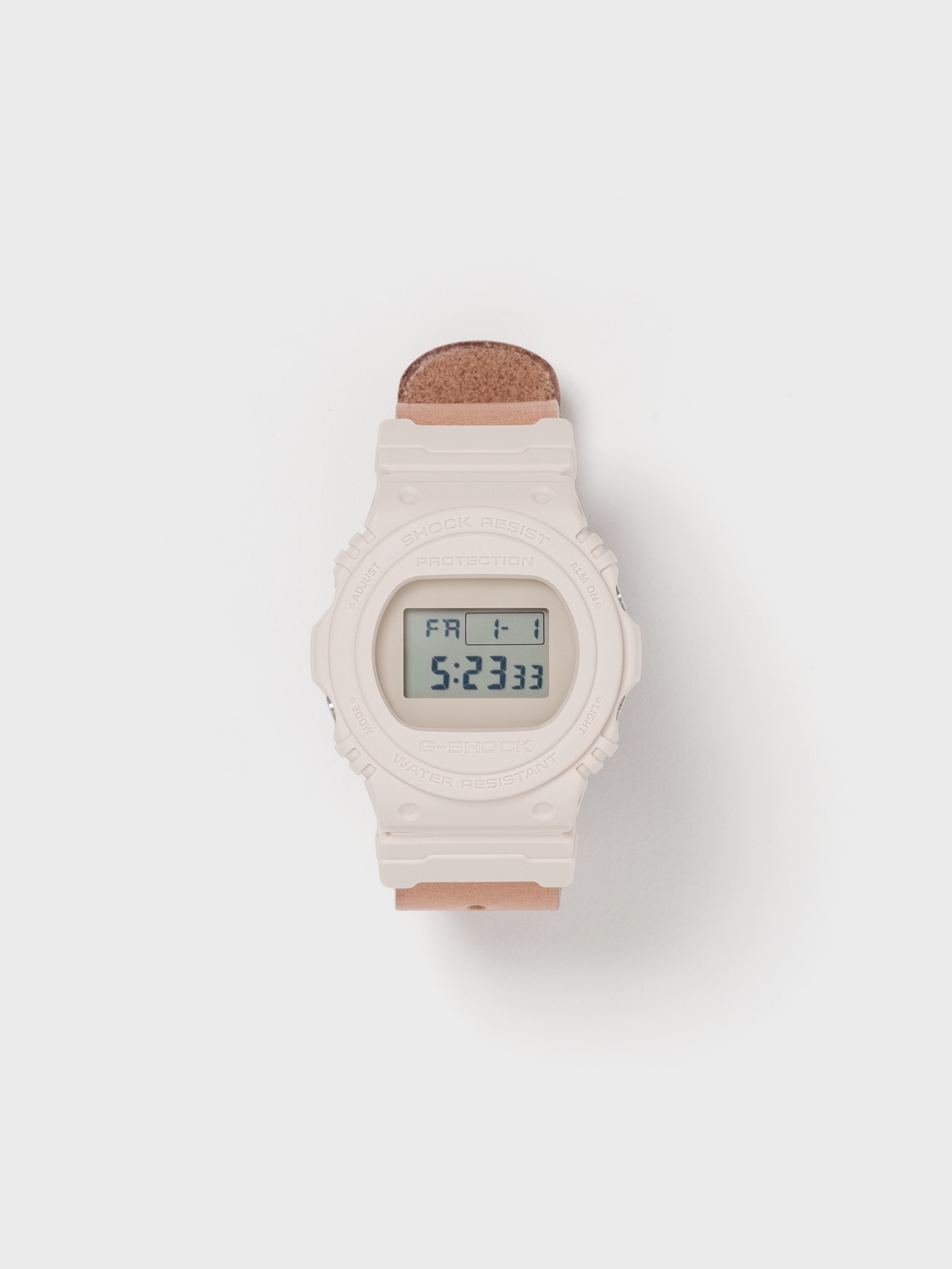 The collaboration between "Hender Scheme" and "G-SHOCK" has been realized for the first time in two years. Following the previous collaboration of Square Skin, this time, the second edition, the classic model "DW-5750" with circular skin has been rebuilt. In addition to accepting lottery applications until December 31, it will also be on sale at the official online store on January 9, 2021. The price is 27,000 (excluding tax).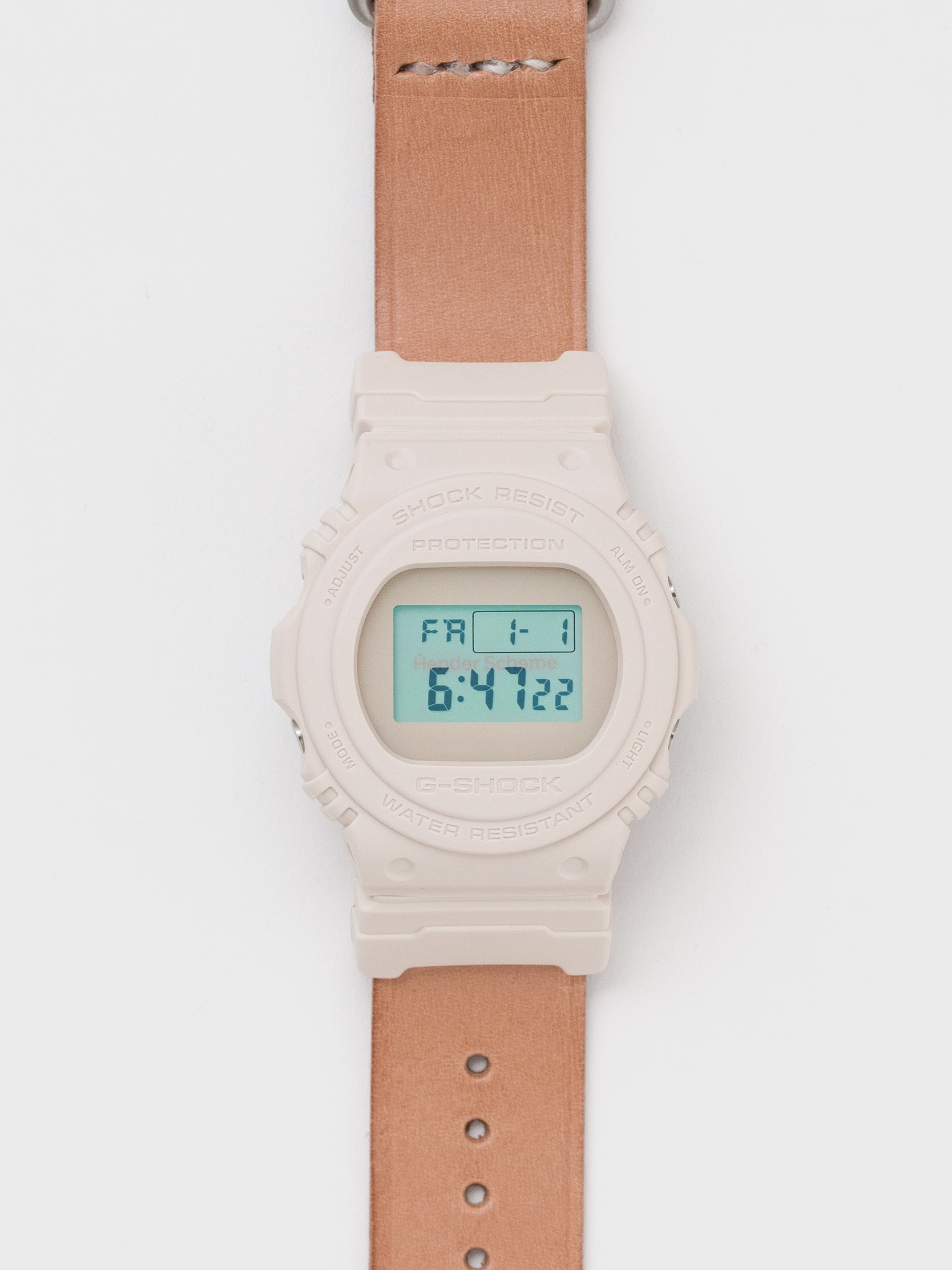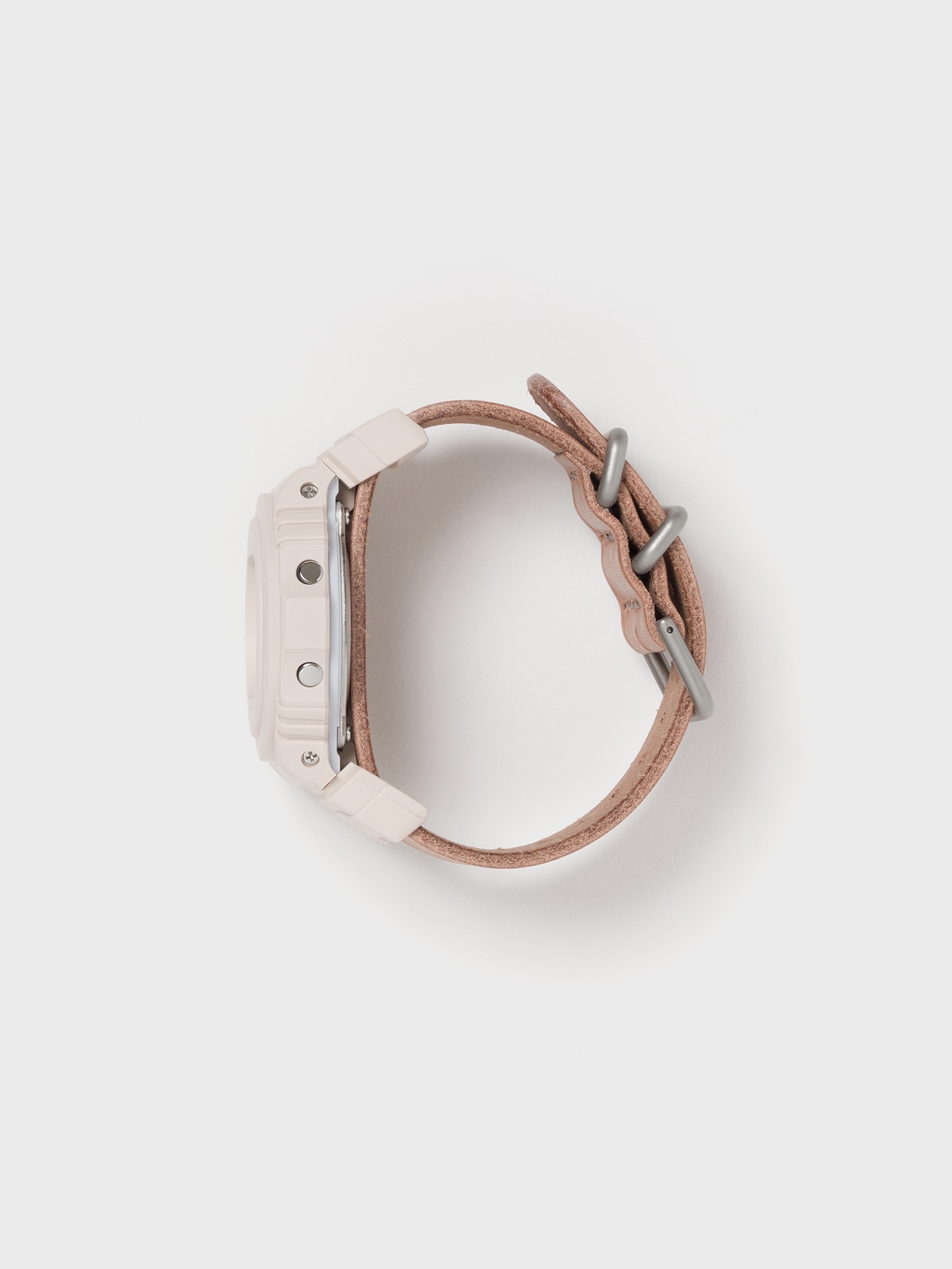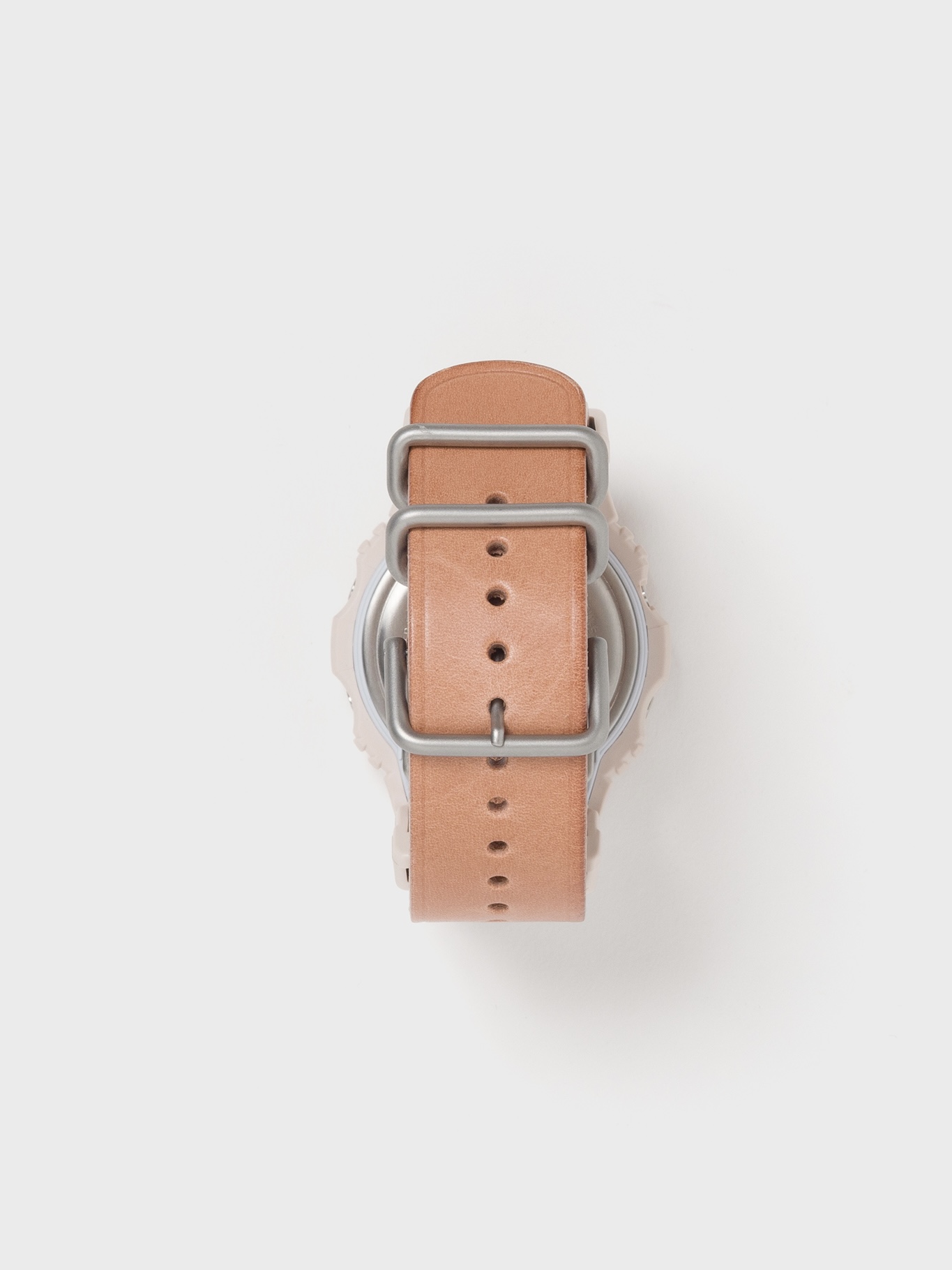 The second is a minimalist design that is unified with a light beige tone that is reminiscent of vegetable tannin leather. As with the first collaboration, the belt is made of cow leather that has been "pit tanned" in Himeji's tanner. It has a durable finish filled with fibers, and you can enjoy the taste and texture that increase as you use it. It can also be replaced with the included resin band.
The delicate time that the digital display of "G-SHOCK" engraves and the personal time that the aging of the leather of "Hender Scheme" conveys. It is one that shows two time axes.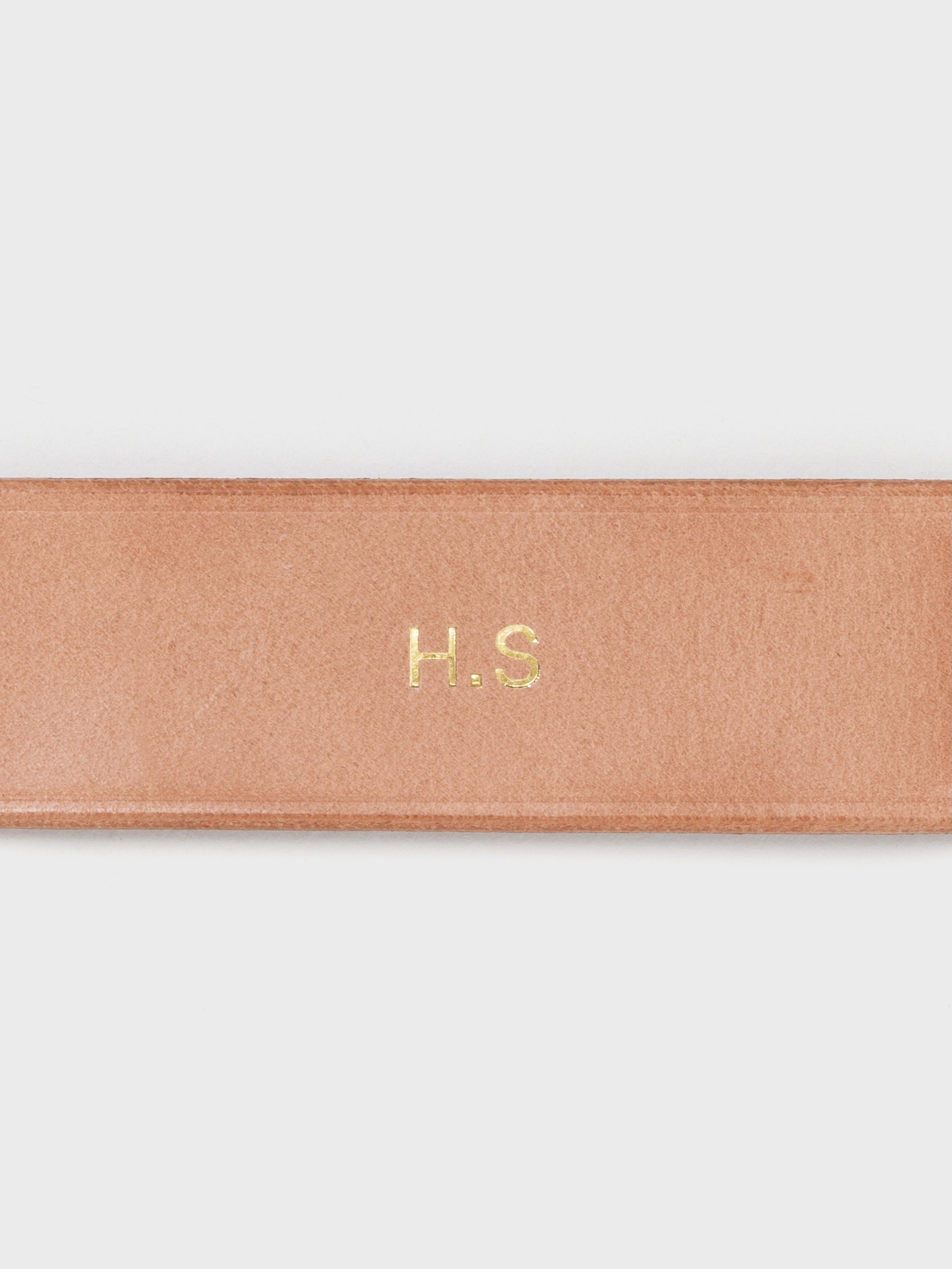 If you bring the product to "Skima Aibabashi", which is directly managed by "Hender Scheme", you can order the stamp on the belt. For characters, select up to 15 alphanumeric characters and symbols from two font sizes, large and small. It supports 3 patterns of untouched, gold leaf, and silver leaf, and the fee is 2,000 yen (excluding tax).
■ Hender Scheme × G-SHOCKDW-5750HS20-4JF
Lottery acceptance period: Until 20:00 on Thursday, December 31st
Lottery result notification: Winning emails will be delivered sequentially from Saturday, January 2, 2021
Product shipping date: Shipped sequentially from Saturday, January 9, 2021
General sale date: January 9, 2021 12: 00-
Online Store : Clearance special online site
■ Inquiries
Sukima Ebisu (Closed from December 28th to January 1st) Hasegawa Building 1F, 2-17-20 Ebisu, Shibuya-ku, Tokyo
TEL : 03-6447-7448
Business hours: 14: 00 ~ 20: 00
* Contact information for the period from December 28th to December 31st
Skimming Miyashita Park (1/1 is closed The year-end and New Year business hours are based on facility information)
6-20-10 Jingumae, Shibuya-ku, Tokyo RAYARD MIYASHITA PARK North 2F
TEL : 03-6434-1197
Business hours: 12/28 ~ 30 is 11: 00 ~ 21: 00, 12/31 is 11: 00 ~ 18: 00