2019.09.03
FASHION WEEK IN TBILISI-What is its charm? Hiroshi Fujiwara asks the creator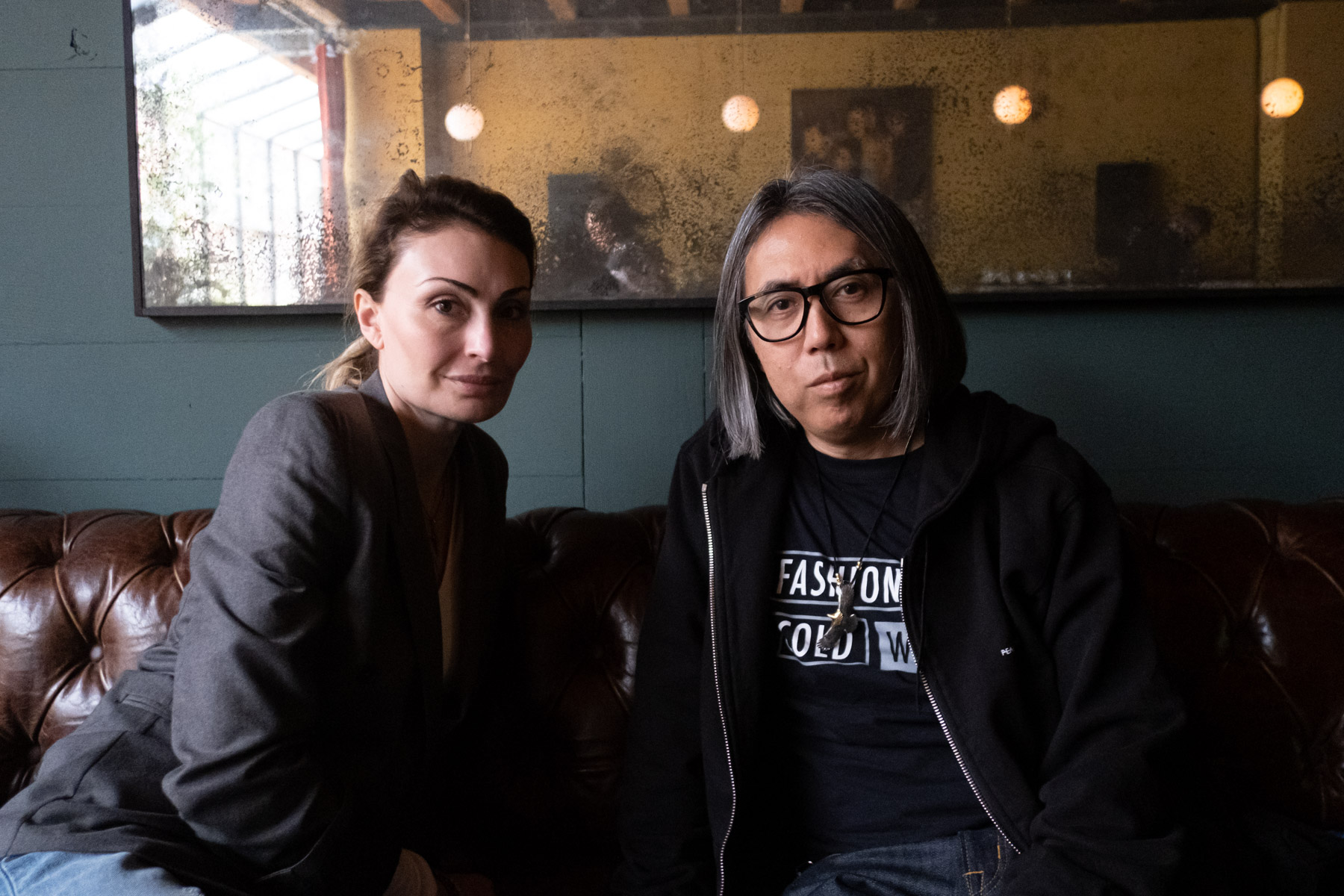 Mercedes Benz Fashion Week Tbilisi in Georgia's capital Tbilisi​ ​He visited Tbilisi in May with Hiroshi Fujiwara, who was invited as a guest following November. Tbilisi's fashion scene has begun to attract attention not only from Europe but also from buyers from Japan and the USA in the past few years. To support and spread the sceneMercedes Benz Fashion Week TbilisiHiroshi Fujiwara talked to Sofia Tsukonia, who produced the video.
Photo & Text: Shoichi Kajino
Sofia Tchkonia(Less thanST):Actually, another fashion week was held before us. However, it was limited to one season and was not very good in terms of quality. That is why we2015A yearMercedes Benz Fashion Week TbilisiHas started.
Hiroshi Fujiwara (belowHF):Has Sophia been in fashion business for a long time?
ST:I'm currently based in Paris, but previously organized a contest for young designers who needed financial support. Since then, I was running a festival, planning exhibitions for young photographers as well as fashion designers. So2015That year, I decided to start a fashion week here in Tbilisi. Many talented designers were starting to appear. But they understood that there was no platform and that it was time to get started. A few months ago in ParisVetementsHad a presentation and it happened to be the same time.
HF:I think young designers are more motivated.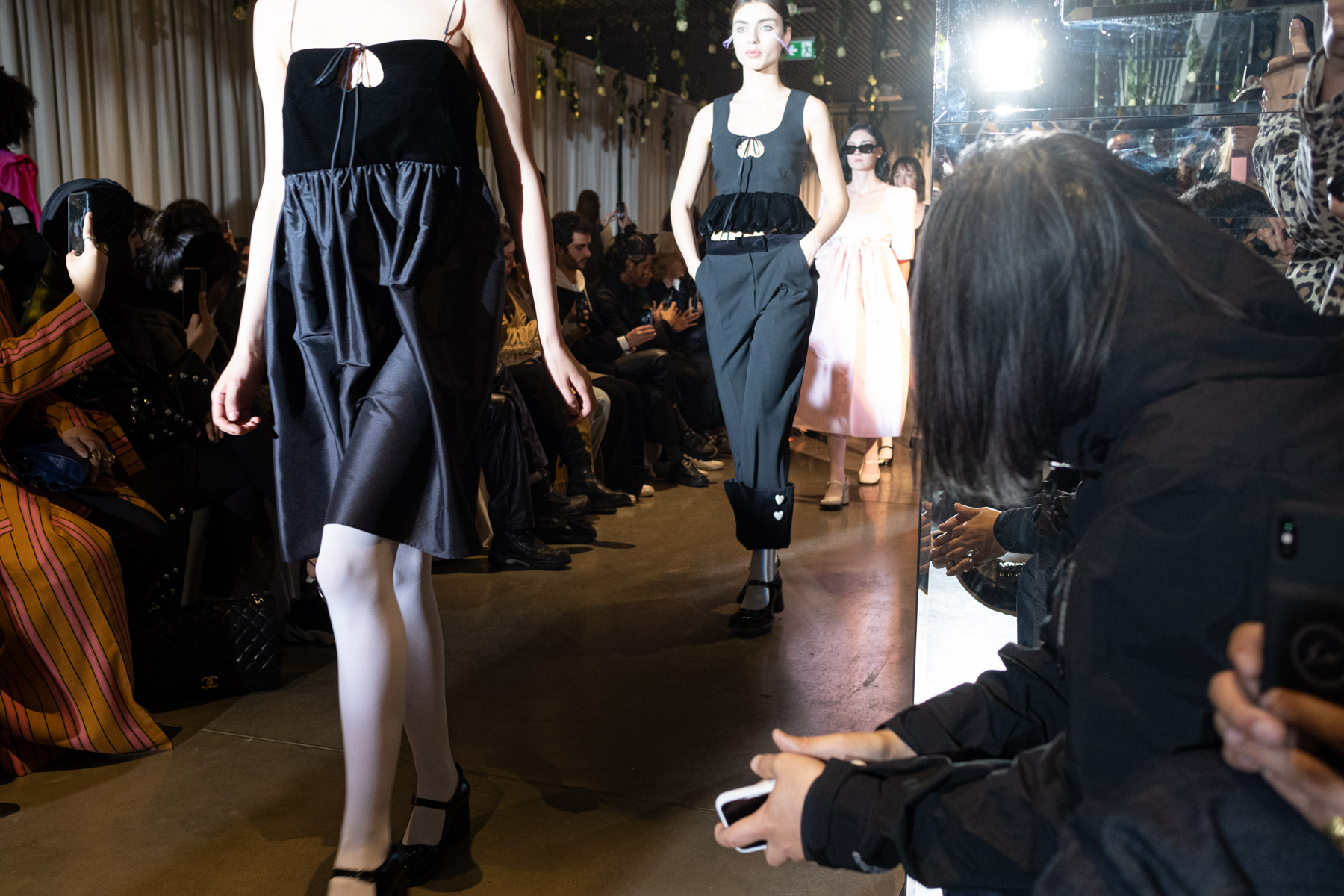 ST: I think so. Now, many young designers come from Paris twice a year with presses and buyers. NowPRBut before, that was not possible and they didn't even know how to work. It's important to meet people who work internationally to know what is necessary for success. Then it's very important to know that someone is looking at your job so you don't think you are isolated.2015At that time, the designers who participated10It was only a group, but now40It became a pair.
HF:Mercedes Benz Fashion Week TbilisiIs it for the international? Or is it for the domestic market?
ST:Of course I want it to be international. There is no big market in Georgia. The country of Georgia is now becoming very popular and everyone is coming to buy things from this country, but there will be few buyers here.
HF:I found a select shop called "Chaos" in the same building as this hotel. Are there other shops like this?
ST:Just this week there is a concept store that opened in a wine brewery, not far from here. This is the only shop in the South area that offers a variety of Georgian designer clothes.
HF:Is the main of this fashion week women?
ST: That's right. But this11Men are also scheduled to start in the month. Actually, I want to hold women and men separately, but it seems difficult for designers to express different tastes. But someday I want to do a separate men's collection. In the past, there weren't many designers who made men.
HF:For example, is there an opportunity for a designer who is active in the world to do a show here? Or is it already done?
ST:I hope there will be an opportunity to invite internationally famous designers. This is because even though you know many designers and brands here, it is difficult to buy directly by hand. Certainly people may see everything new on the Internet. But I still want to invite designers who are interested in coming to this city.
HF:It may be off-recording, but what type of designer are you looking for? For example, is it a luxury brand?
ST:No, rather brands like Com des Garcons will be surprised. Comme des Garçons are much more popular in this city. And the most famous in Georgia is Yohji Yamamoto. For many years, so many people have been crazy about his clothes. I prefer Yohji Yamamoto and Comme de Garcon over Gucci. Their clothes are also one of the best sellers at the concept shop in this city. Fashion, movies, architecture and food that Japanese people like are very popular. Wearing a Japanese brand will make you feel very cool in this city. It is intelligent.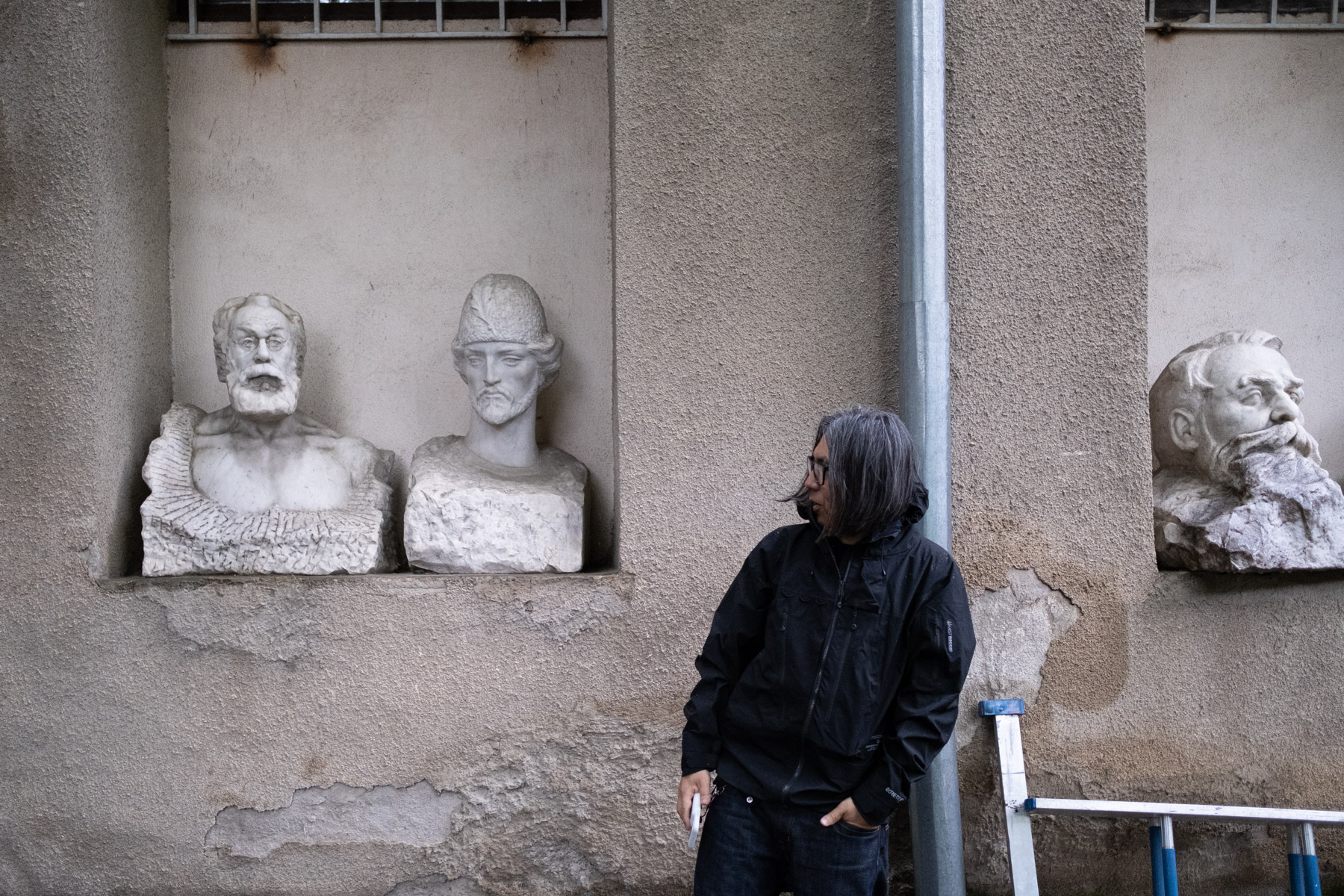 HF:In fact, what kind of Japanese brand do you like?
ST:sacaiI really love you. I really love their job.
HF:I am nowsacaiYou may be interested in Tbilisi. ifsacaiCan you expect to come to Tbilisi?
ST:If they come, wouldn't it be possible to enthuse people who live in this city?11The show scheduled to be held in the month is not only a cocktail party and dinner, but also a tour around the city. Many of the guests have very few opportunities to see the city just by moving from show to show. In that way, I would like to create an opportunity to convey all the attractions of this city. For example, Georgia's traditional ballet is different from the so-called classic ballet, but there are plans to show it off.
HF:By the way, in Tbilisi, there seems to be a mix of new fashion and architecture, traditional architecture, cultural heritage, and ethnic costumes.

ST:I think this city is becoming more attractive in that sense, but it's also getting ugly. Traditional architecture is being destroyed. The place to be destroyed in this way is not an interesting place even for the people who live in this city, but it knows the history of the place. I don't know. Every architecture and building has its own history and story, which is really interesting.
HF:You showed us several shows this time. Which brand do you think has the strongest impression this season?
ST:also"SITUATIONIST​ ​Is not it. I like this brand.
HF:Actually, I missed his show this time, so I was wondering if I could meet him if I visited the atelier. I arrived too late.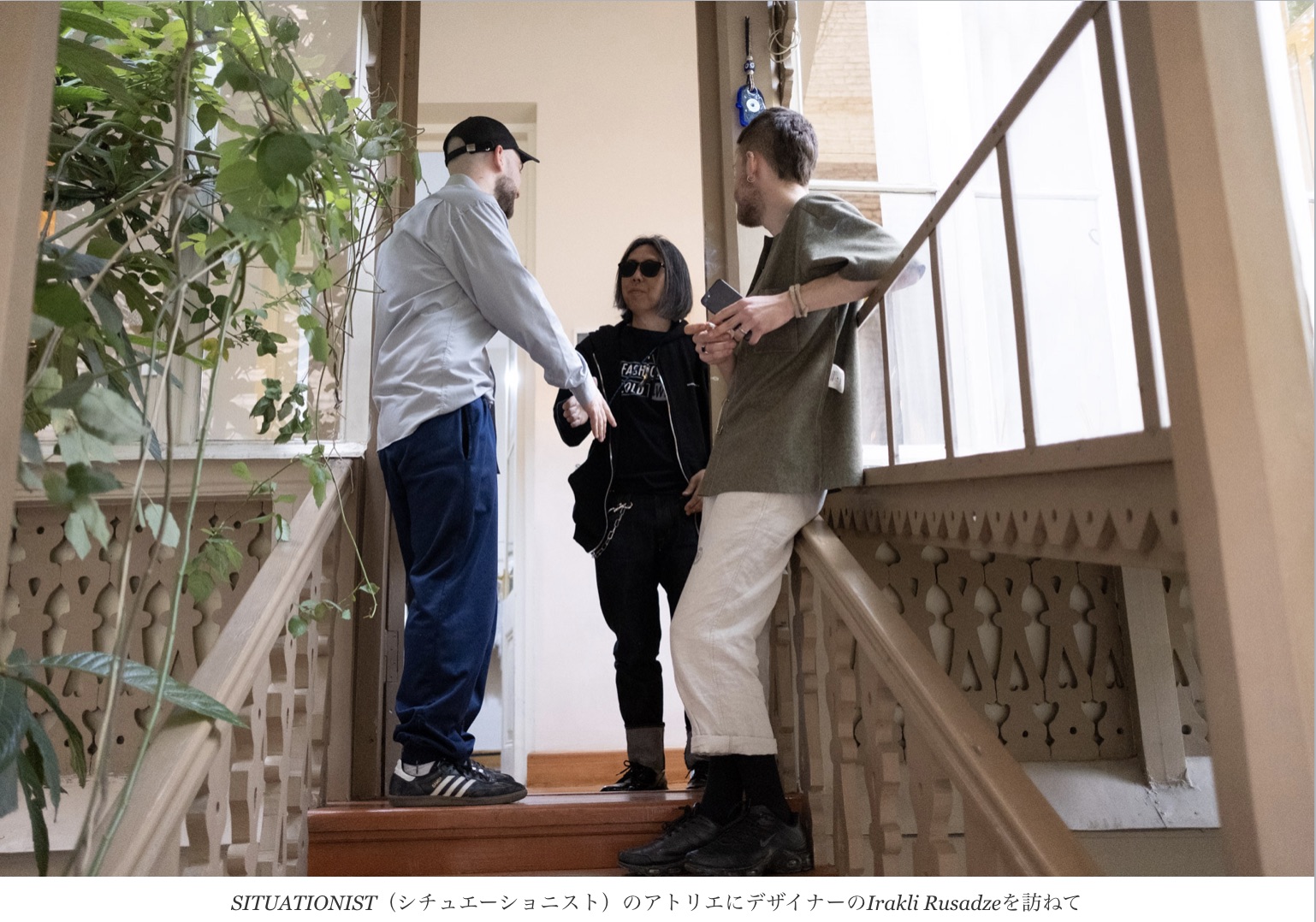 By the way, I noticed that there were so many Japanese buyers and journalists.
ST:To usPRI don't have any agency and there are no people working to invite guests, so I've been doing everything so far. I tried to approach it several times, but it was refused. Now, a Japanese woman living in London, Nana-san, has helped me and invited Japanese buyers and journalists.
HF:Many Japanese buyers will want to buy something popular in Europe.
ST:That's right. That's not the only reason, but before, I didn't think about actively inviting Japanese buyers. But now I want to increase it little by little. Because the designers are ready and I think it makes sense to invite buyers.
HF:The museum (which is also the main venue for Fashion Week) had several showrooms, but do designers not have their own showrooms?
ST:Here in Tbilisi, designers have their own showrooms, but during the fashion week they bring them into a museum where buyers and journalists gather. That would be more convenient for the guests, and there would be no time to travel around the city that is not so familiar.
HF:Did you see most of the brands that did the show at the museum?
ST:We don't have all, but we have various kinds of designers. Some designers have won the contest and are new to the market.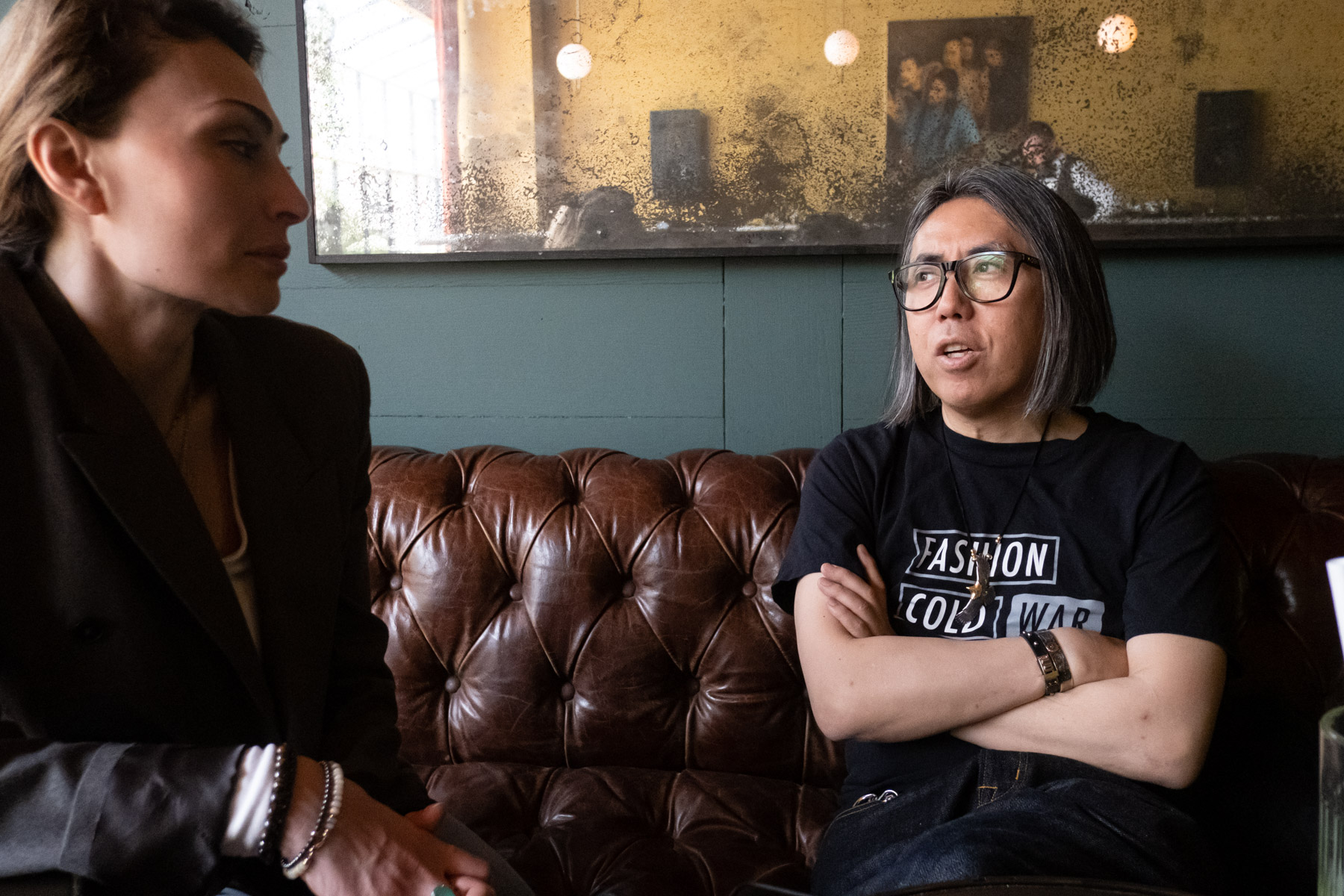 HF:I like street fashion designers, but in Georgia I didn't see many of them.
ST:No, of course many designers like street fashion. I think Vetements has become more popular because of its elements. The younger generation doesn't like to dress up in the city and always wears street fashion.
■Mercedes Benz Fashion Week Tbilisi