2021.02.27
Painter Koji Yamaguchi's landscape paintings and skateboarding "depict a space between memory and records"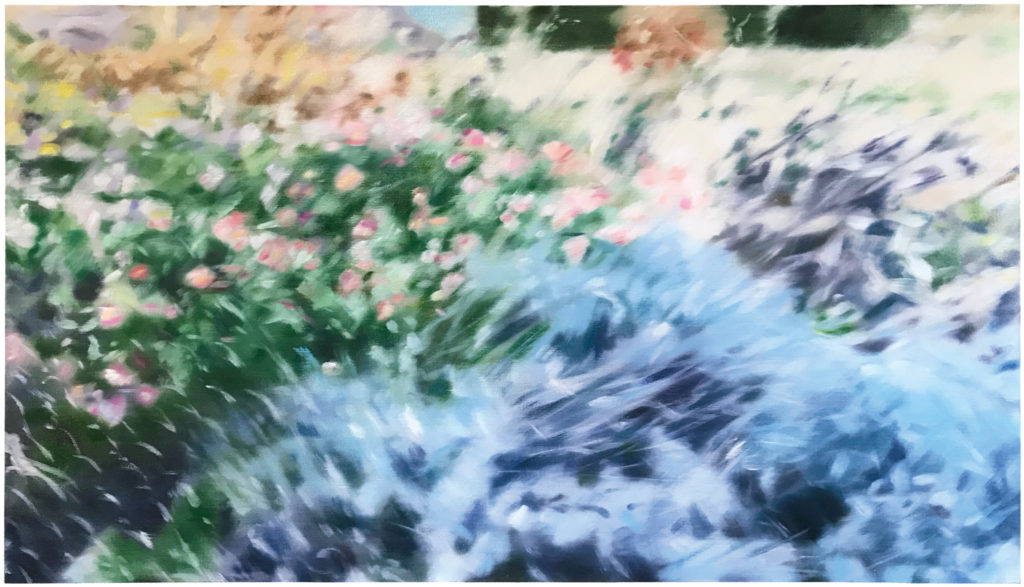 © Koji Yamaguchi 2021
I spend more time at home and more opportunities to look at the scenery around me. In the new solo exhibition "Near and Far" by the painter Koji Yamaguchi, the scenery hidden in such everyday life exists with beautiful and hazy colors. Originally drawn by Yamaguchi, who has a grandfather of a landscape painter, is a sepia-colored memory and place. It is here that I began to draw colorful landscapes with no borders like cutting the wind​It's an event of the year. Listen to the painter's history, which has changed significantly since his injury.
Text_Mio Koumura
■With my grandfather, skateboarding, and the scenery
-When did you become a painter?
My grandfather painted European landscape paintings in oil, and when I was little I went to my grandfather's house and it smelled like that. The pictures were very familiar to me, and I liked drawing, and sometimes I scribbled on my notebook. But I liked skateboarding and graffiti more than that, so I went to college but didn't have the option of art school. However, when I started job hunting, I began to think about my future vaguely, and for the first time I opened a solo exhibition by collecting the paintings I had drawn as a hobby. So I bought some and decided to draw a picture while working part-time.
-You used to draw sepia works, didn't you? Was that also established around this time?
The first solo exhibition was a figure painting with a favorite musician as a motif. When I sat down and faced the painting, I thought that I had to be myself, and my grandfather had an influence.YesDraw a landscapeOnlyI came to want to do it, and with the motif of a spot where I can enjoy skateboarding, I began to draw landscape paintings in sepia shades with the meaning of remembering my important place. The words that came up at that place in colorful colorsletterOr with2011When I went to San Francisco in 2011, I made a piece of garbage that had fallen.​Or collage.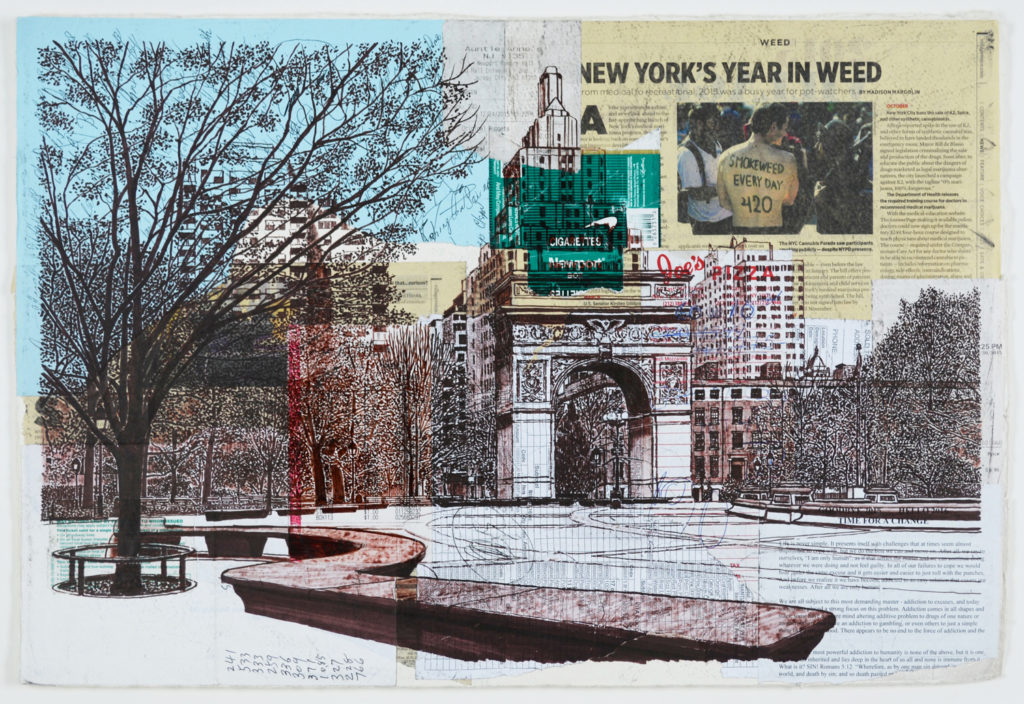 © Koji Yamaguchi / Washington Square Park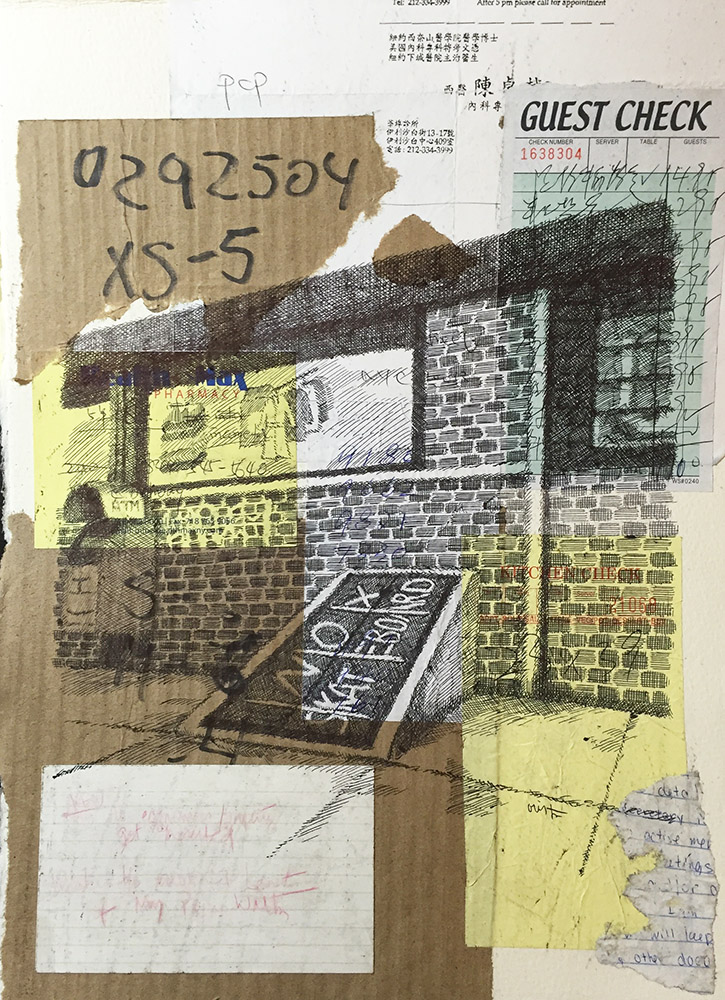 © Koji Yamaguchi / cellar door

-Are you trash?

The city is very dirty compared to Japan, and I travel on a skateboard, so it's very noticeable. It's not a time capsule, but from the image that it also traps the atmosphere of the place.
-Are your creative activities overseas centered on the United States?
Since the United States is the home of skate culture, San Francisco andNYShort stay in the year​​​About times.2015Obtained an artist visa in the year3 yearsNYI was doing production activities at.

■Painter life changed by injury
-It's a smooth sail.NYHas there been any change in your life in Japan?
Go to the United States​A little over a year. I was working as an assistant to contemporary painter Tomokazu Matsuyama.​I accidentally cut my ligaments while skating in the year. Just with my wifeNYIt was time to start living together, but now that I'm living on crutches, my assistants aren't there anymore, and my feelings are steadily moving away from skateboarding.
-What was your writer's activity after you got injured?
I agree. I continued to paint sepia landscape paintings as much as I could, but I thought I should try using oil paints, remembering that my grandfather painted oil paintings. Until then, I used to skateboardEasy to carryI used to draw with ink and pen, but maybe it's because I can't move on my skateboard.SupportAlso changed from watercolor paper to canvas.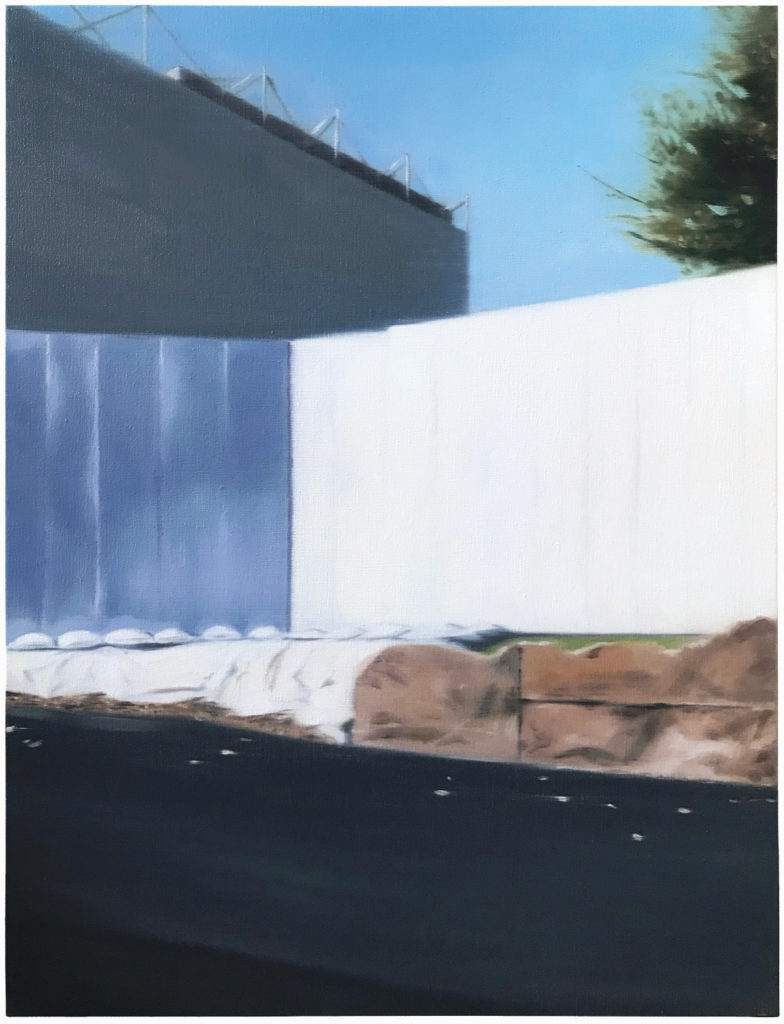 © Koji Yamaguchi 2021

-It was a turning point.
I think I was sticking to skateboards and spots somewhere in my heart, but one day when I asked a local skater, "Is there a skateboard spot around here?", "It's everywhere. It will be, "and from drawing them superficiallyLeave onceIt's also a big decision. It's a skateboarder-like idea to be able to turn the stairs and roads in the city into a playground, and I think it's only necessary to have this spirit rooted in my roots.
■Photo recording and my memoryDraw between
-Did you clarify what you want to draw?
I agree. When I remember my childhood, I remember looking at myself objectively, not in my memory, which is a new memory created by myself, which is a mixture of album photos and my own memory. .. When I think so, my memory is very vague. I'm really interested in the middle of the record in the picture and my memory.
-How do you finish your work now?
I take a picture of the scenery that I thought was good, and then I started to make a picture from there. Since the photo is a record, it is clear, but as I draw it, I like the work of bringing it to my memory and changing it as I wish.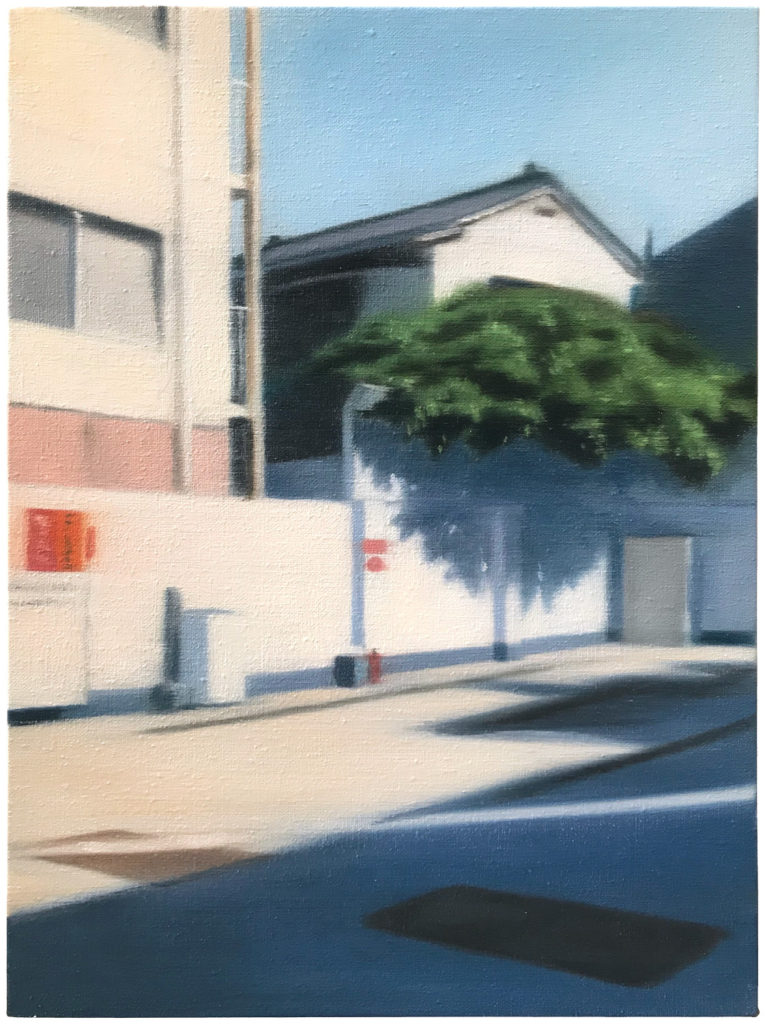 © Koji Yamaguchi 2021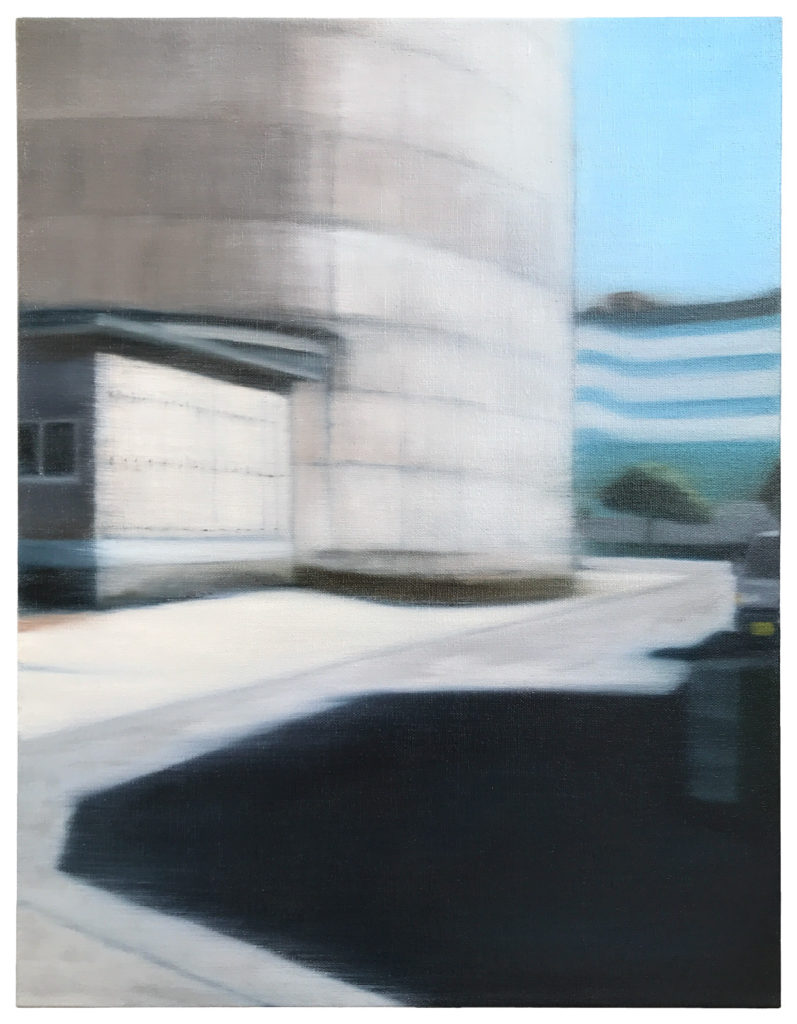 © Koji Yamaguchi 2021
ーWhat is the background to the vague drawing of boundaries?
The scenery is like an afterimage that you can see when you ride a skateboard and look at the city, and because I have bad eyesight, I can't see the perspective when I take off my glasses, and the color boundaries are visually ambiguous. Whether it's a still image or a video, expensive or cheap, all the stereotypes are gone and everything looks flat. The words of one of my favorite painters, Giorgio Morandi, "Nothing is more abstract and unrealistic than what we actually see," links to me in a very skater-like way. However, I want to capture the essential things by drawing from a flat perspective... Somehow landscapeAnd everydayThe beauty that exists inI want to tell you.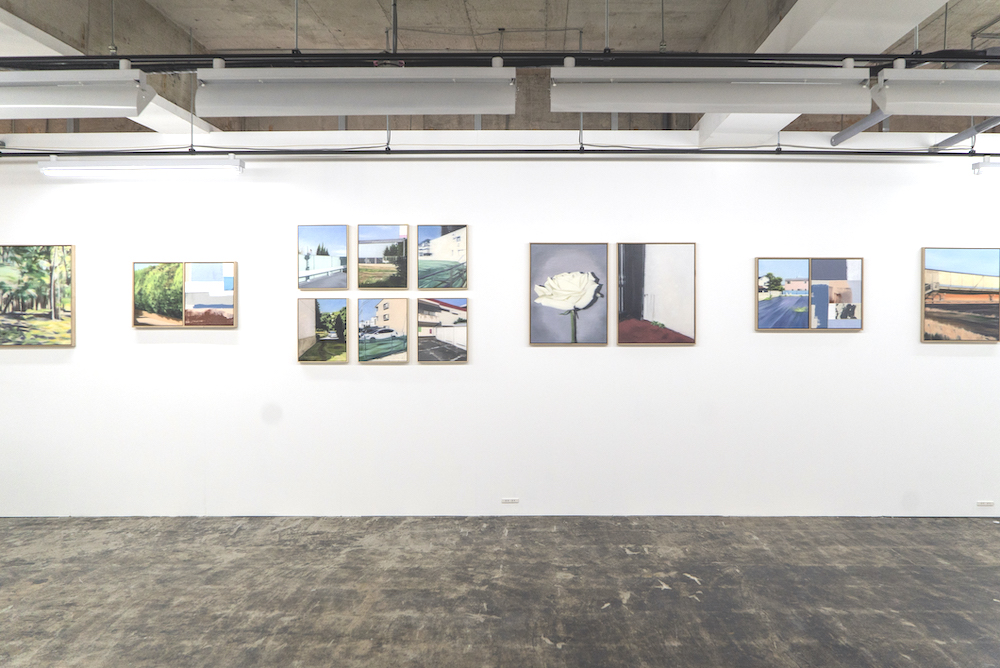 – About the title of this solo exhibition, "Near and Far".
What I'm feeling right now is that I can feel the scenery around me far away because my actions are restricted. Now that it's not natural, I think you can realize the importance of something even more casual.I am. I remember a casual place near my house or a moment when I was looking at past photos. I enjoyed the work of finding such a landscape.
- nowWhat about skateboarding?
I haven't done it. Still, skateboarding is still my starting point.After surgery on the ligaments, I would like to ride again little by little.
■ Koji Yamaguchi's new solo exhibition "Near and Far"
Period:​ ​February 12th to March 6th, 2021
Tuesday-Thursday 15: 00-19: 00 / Friday-Saturday 13: 00-20: 00 / Closed on Sundays, Mondays and public holidays
Duration:​ ​BAF Studio Tokyo
Address:​ ​4th floor, Nihonbashi DM Building, 6-14 Nihonbashi Yokoyamacho, Chuo-ku, Tokyo 103-0003