2019.02.07
About 100 treasures? Erie Omiya 's "Why did you buy this bowl?" Exhibition held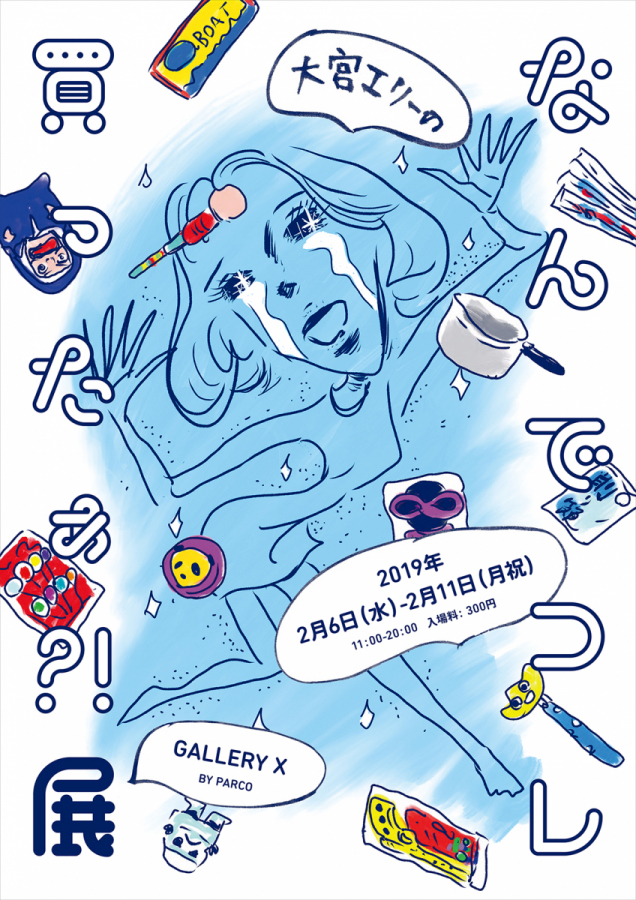 ObiErieHowever, at "GALLERY X BY PARCO" hold an exhibition "Why did you buy this kore?" The session will be held from February 6 (Wednesday) to February 11 (Mon. · Holiday) for 6 days.
In this exhibition, "I have been fascinated and bought it, but I have bought it now, I wonder why I bought it" We introduce items that think Omiya's own thoughts. For the office staff, "Galakta" for the office staff, such as 5 sets of Indian gods Ganesha and 10 Pasmo, sticks where Go Punch jumps out, fireworks seven years ago without being used, but for Omiya it is "a lovely treasure "About 100 points are said to be exhibited.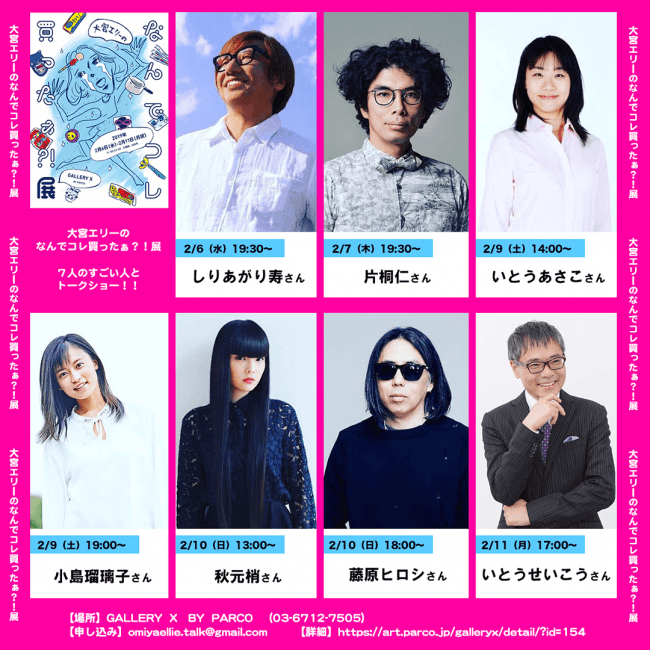 During the exhibition, a talk show was held every day, and a variety of guests such as Hitoshi Katagiri, Ruriko Kojima, Ito Seikei, Hiroshi Fujiwara attended the event. In the talk show, we will talk about the exhibits with the guests, and reveal the "what's a kore!" Item brought by each other and the episodes related to them (event participation fee is 2,000 yen (including tax) + book purchase is necessary at the venue).
■ Why did you buy it? ! Exhibition
Period: February 6, 2019 (Wed) - February 11, 2019 (Monday · Holiday)
Opening Hours: 11: 00-20: 00 ※ Open all sessions
※ The opening hour change schedule at event opening
Admission fee: 300 yen
Venue: GALLERY X BY PARCO (13-17 Udagawa-cho, Shibuya-ku)
Inquiries: 03-6712-7505 (※ During business hours only)
Organized by: Parco · Omiya Ely Office

【Eli Omiya "What is Colle" Talk Session "
2/6 (Wednesday) Shiragari Yusui 19: 30 ~ 21: 00
2/7 (Thursday) Hitoshi Katagiri 19: 30 ~ 21: 00
2/9 (Saturday) As Asuko Ito 14: 00 ~ 15: 00
2/9 (Saturday) Ruriko Kojima 19: 00 ~ 20: 00
2/10 (Sun) Mr. Akimoto Mr. 13: 00 ~ 14: 00
2/10 (Sun) Hiroshi Fujiwara 18: 00 ~ 19: 30
2/11 (Monday · Holiday) Mr. Ito Seiko 17: 00 ~ 18: 30
※ Refer to the official website for participating in events