2018.01.16
New G / AMG LINE
まず外観は「AMG Line」というオプションが。内容はAMGマルチスポークホイールにオーバーフェンダー、ブレーキ、スポーツエギゾースト、AMG20インチホイールなど。やはりオーバーフェンダーはこのオプションでしたね。G500は新型もマフラーは見えないので、スポーツエギゾーストとはサウンドの事かも。3,653EUR。
①AMG wheels 20inch  ②Fender extensions  ③Design elements in bumpers and exterior protection bar ④Brake callipers with Mercedes-Benz lettering ⑤sports exhaust system  ⑥ headtube steering wheel ⑦AMG floor mats and conjunction with black leather / leather nappa red decorative seams and straps contain.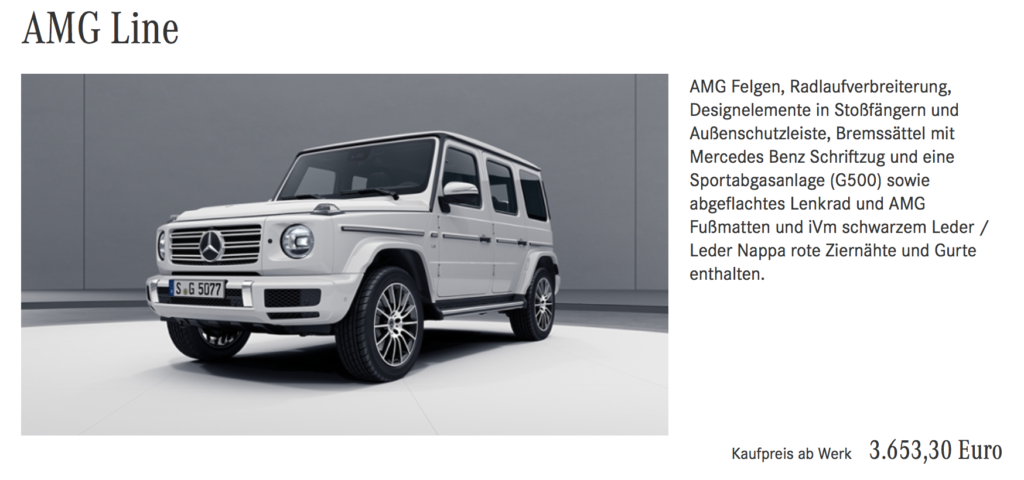 さらに外観では「Night Package」の設定も。こちらはホイール、ミラー、例のバンパーの縦長パーツがブラック仕上げに。更にウインカーもダークカラーとありますね。リアプライバシーガラスも装備と。2,261EUR。
The night package with wheels in black gloss machined, darkened lights, selected parts in obsidian black painted (exterior mirrors, spare wheel ring, design elements in bumpers) and a more individualization enables the tinted rear Windows G-class.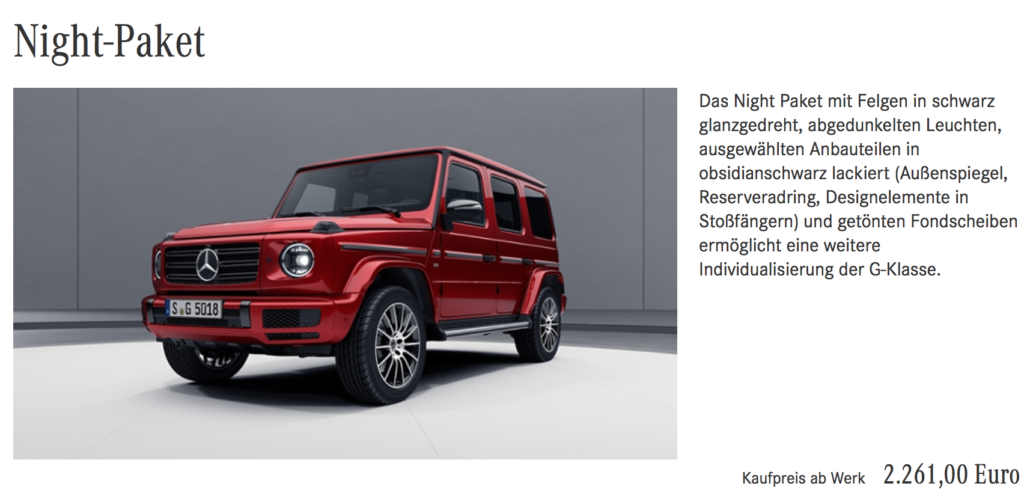 内装はやはり2種類のオプションがあって、ダイアモンド・キルティングのナッパレザーは予想通り「Exclusive Interior Plus」でしたね。10,489EUR。
ただしExclusive Interior Plus で2トーンを選択するとダッシュボード下部も白になるのでちょっと派手感は出ますね。Plus なら黒一色が良いかも。
This exclusive Interior PLUS from the designo manufacture finished the entire interior of the inner sky of microfibre DINAMICA to the seat unit with diamond quilting and perforation, vollbelederten doors and instrument panel from finest exclusive designo leather nappa.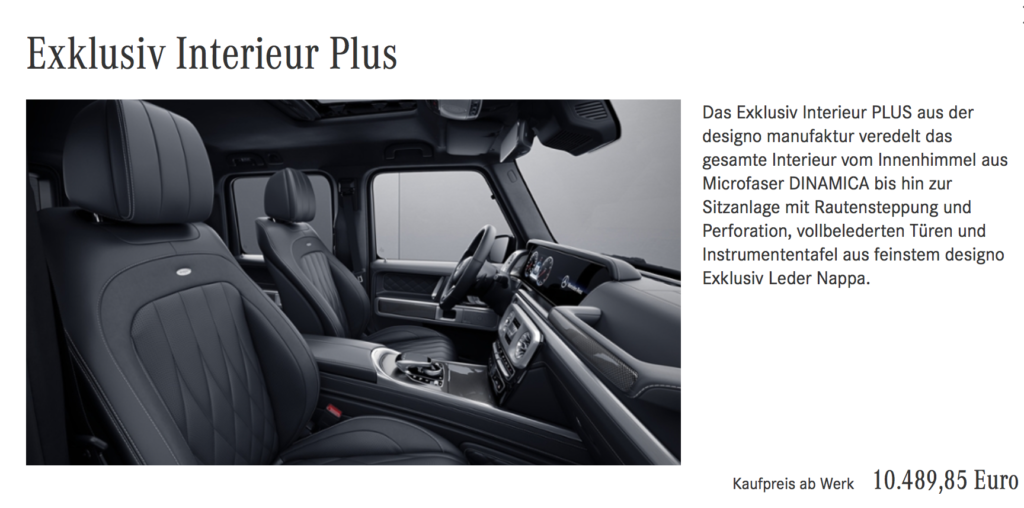 こちらは普通の Exclusive Interior。ダイアモンドキルティングにはならずに標準のシートデザインのナッパ仕様。さらにこの中で2トーン仕様も選択可能。こちらは2トーンでもダッシュボード下部やセンターアームレスト周囲は黒のままなので、白黒でピアノウッドにすれば良さそうです。5,944EUR。
Exclusive two-tone designo factory seats with contrast stitching combined with special features, like instrument panel, door mittelfeldern be there the inner sky from microfibre DINAMICA, who be there and air vents use highest in silvershadow Quality claims.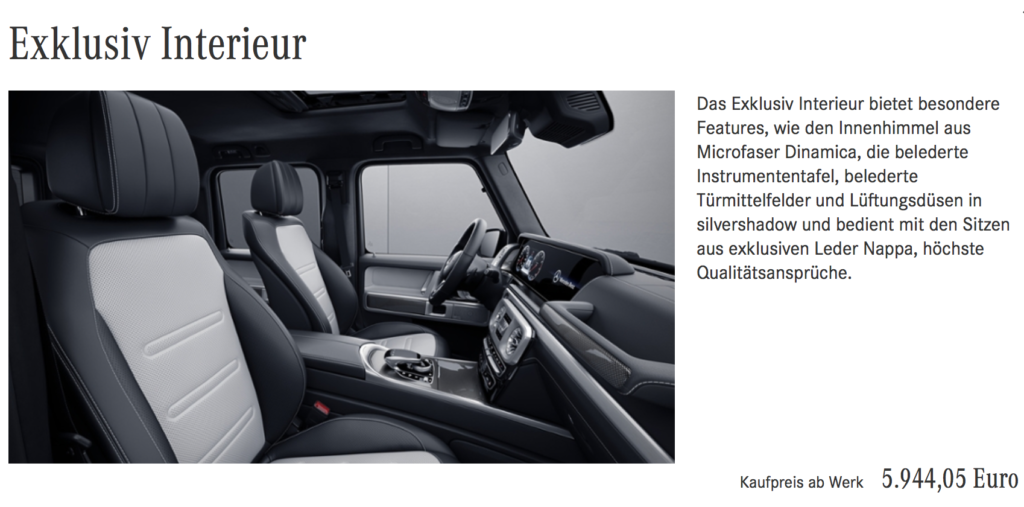 つまりマットブラックの個体は「外観AMG LINE+Exclusive Interior Plus」の仕様。そしてエメラルドグリーンの個体は「外観ノーマル+Exclusive Interior」という訳ですね。なるほど、スッキリしました。
「AMG LINE+Exclusive Interior Plus(Espres + MacchiatoBeige)」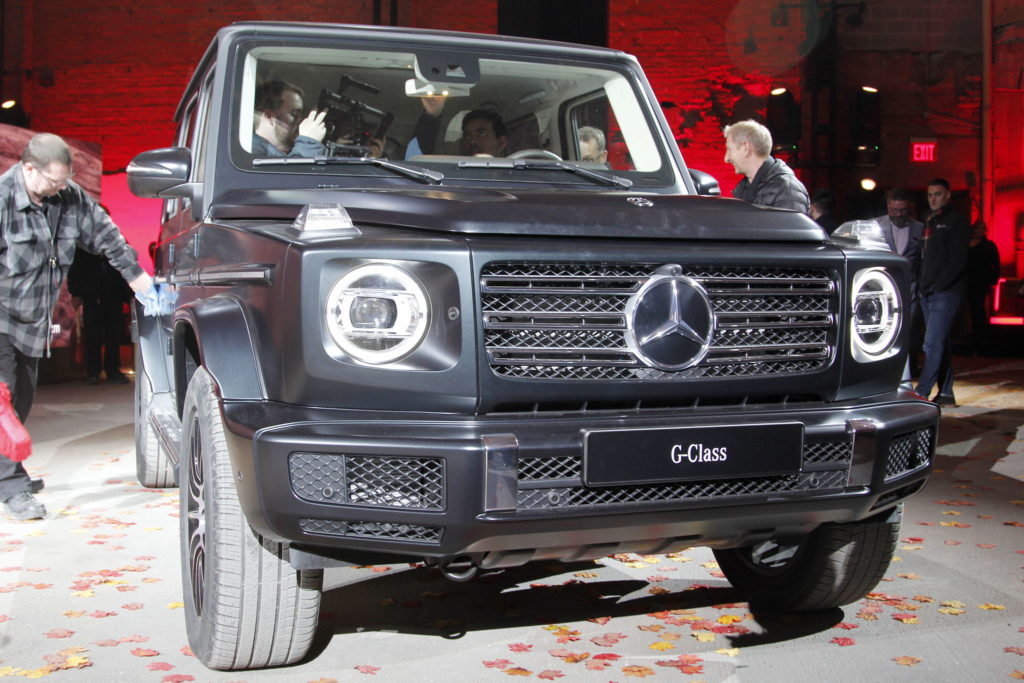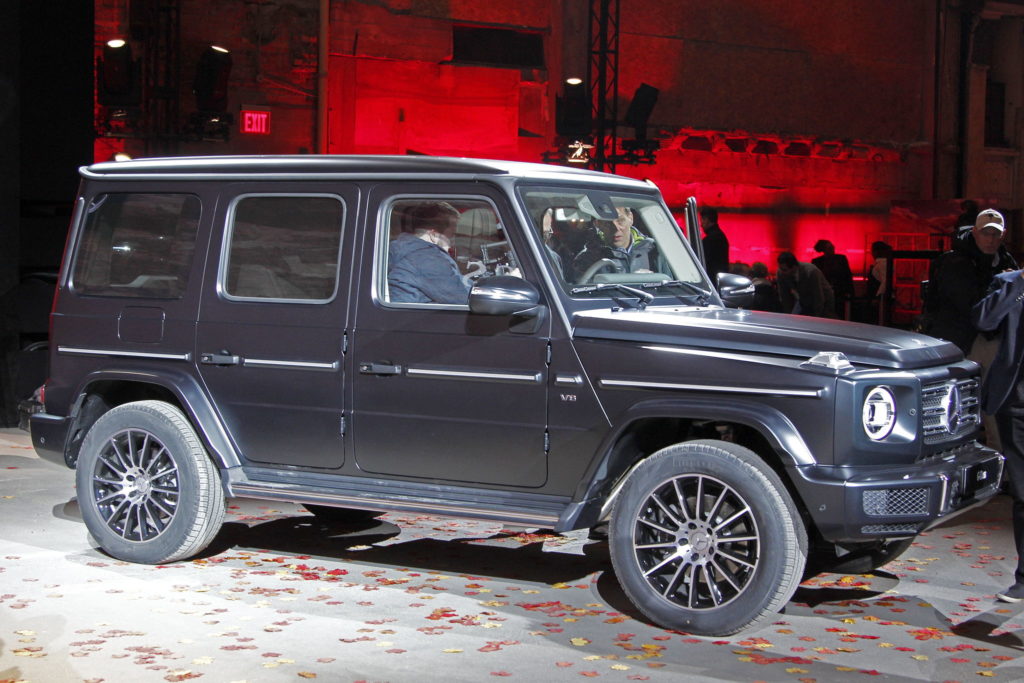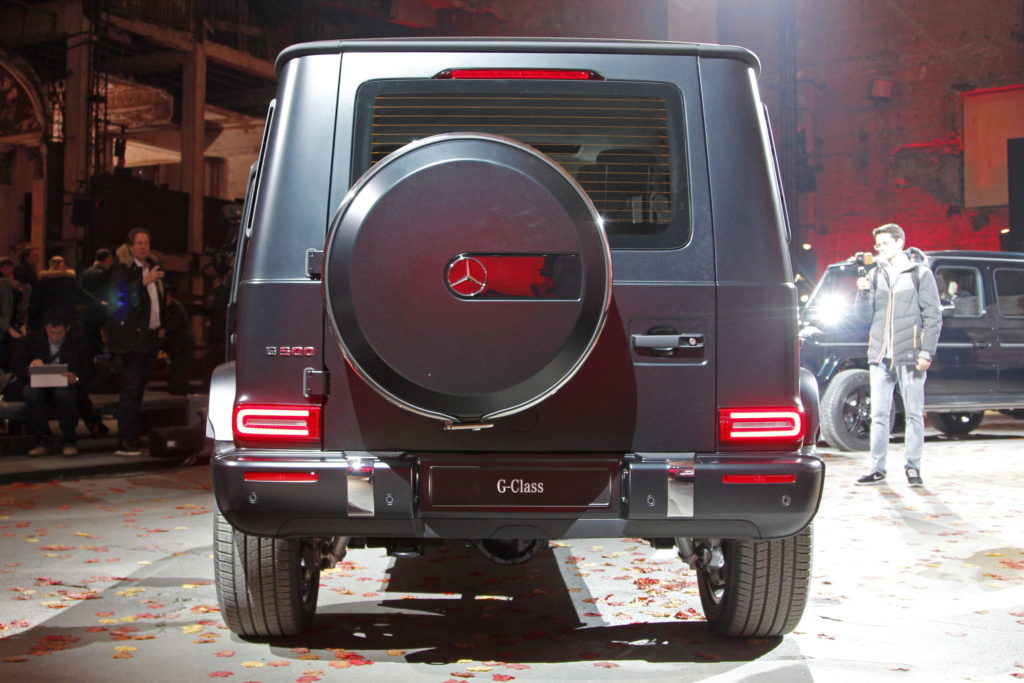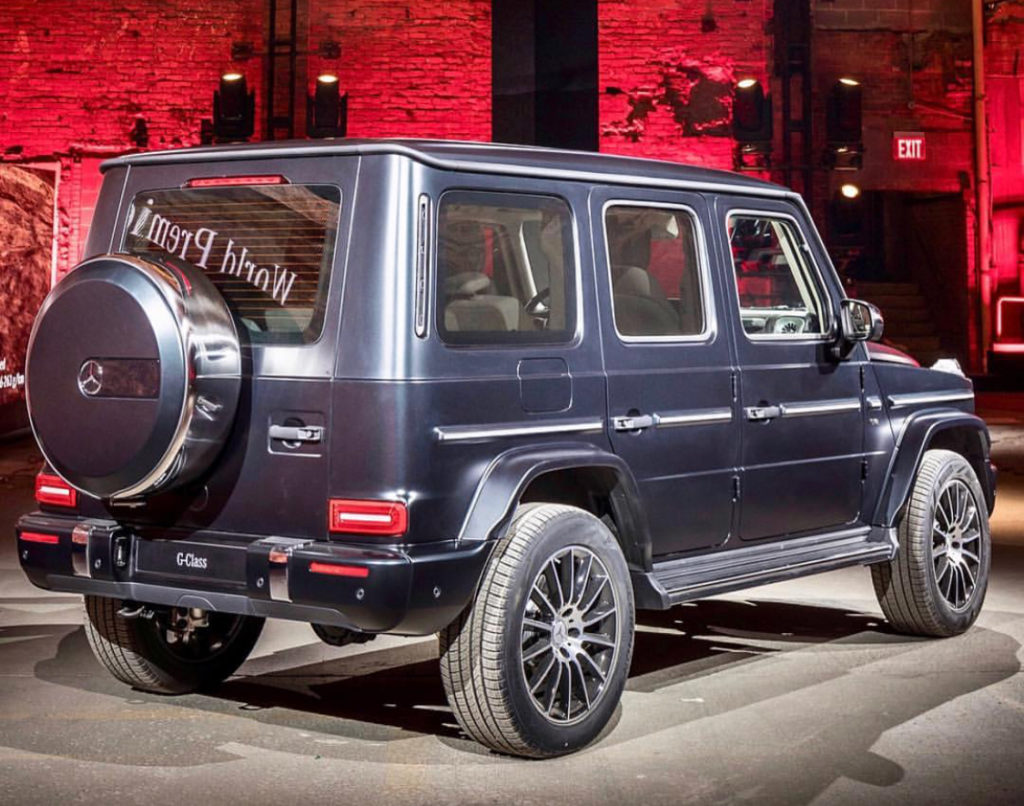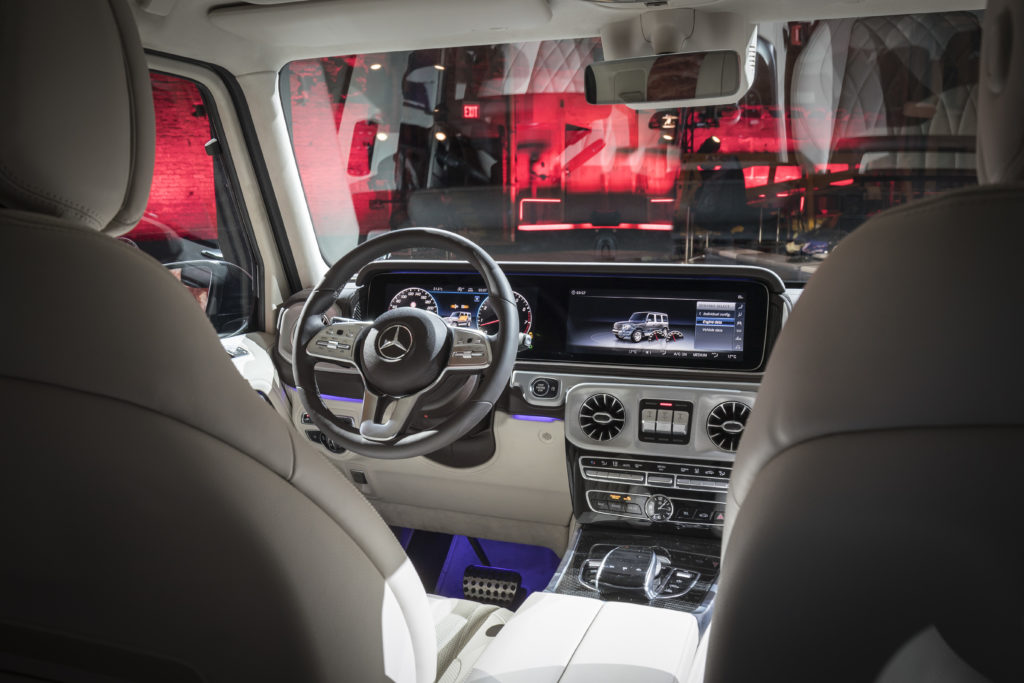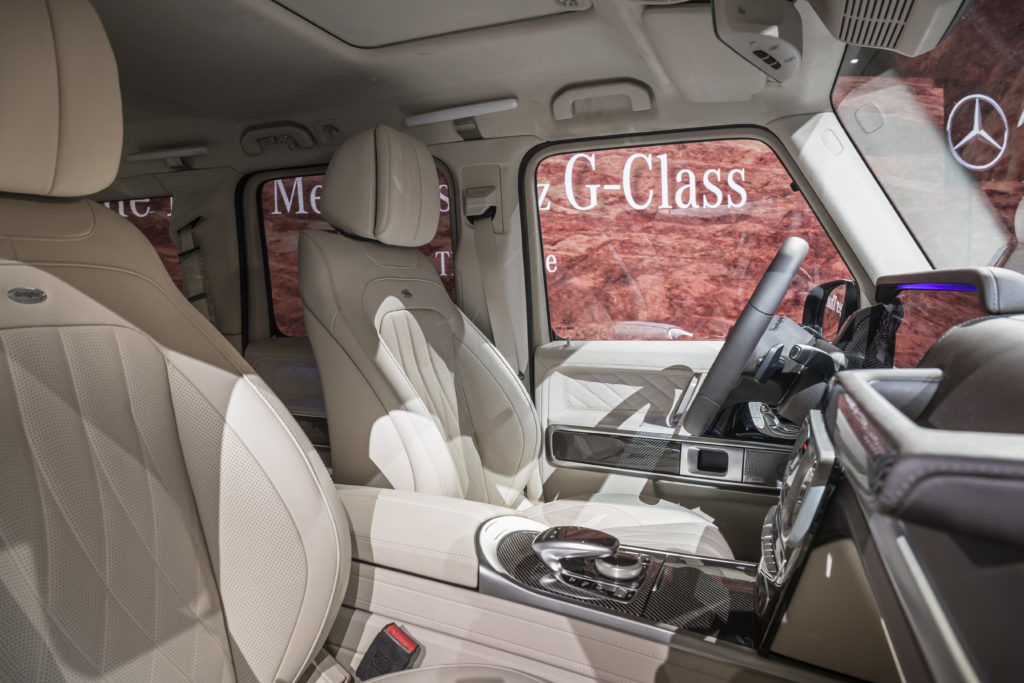 「外観ノーマル+Exclusive Interior(Saddle Brown x Black)」