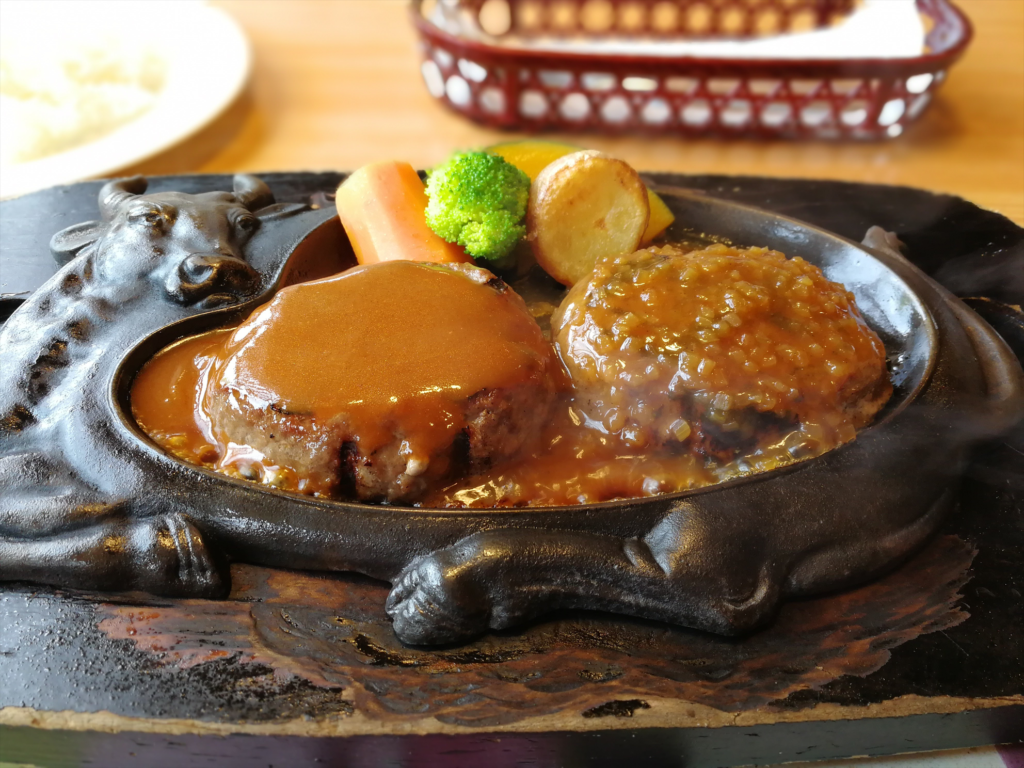 Family restaurants are popping up all over the Shizuoka area.
However, I'm obsessed with this hamburger taste and there are a lot of people coming from Tokyo, at times waiting up to an hour even on weekdays. Although I've not had the chance to go that often, I made my excuses and went there for the first time since I had work out at the foot of Mt. Fuji.
Although it was Sunday and went before it opened, I was queuing for an hour and already had a ticket. Amazing … Well, it's kind of bad that there seems to be quite a few sightseeing groups (like 10 people!) one after the other (even though the line is long they won't leave even if they've finished eating!)
We finally sat down, and naturally ordered the 'Genkotsu Hamburger' rice and salad set. It come with both types of demi-glace and onion sauce.
The hamburger arrived as I finished eating the salad. Two round hamburgers are placed in front, grilled and brought to the boil on a griddle plate. I remember this style was like the old 'Gold Rush' in Shibuya. Which reminds me, the demi-glace sauce is also like 'Gold Rush'. The bitter onion is Japanese-style and feels like Ponzu.
The hamburger was more chewy than I thought. It's certainly delicious but is it worth the hour wait at noon?
I can't wipe away the feeling of juicy 'Gold Rush'. It feels like Osaka's 'Big Joe' will win out in the end as a family restaurant hamburger, even though it's just my own opinion. So, I miss that flickering feeling of junk food from 'Gold Rush'. And maybe the 'Tsubame Grill' hamburg steak as a hamburger steak is better. But apparently it's something different.
Be that as it may, it would be hasty to judge them all at once. Let's go back soon.