2020.03.04
"A splendid presentation" by Tatsuhiko Akashi (MEDICOM TOY) Guest: Hiroaki Sueyasu (KIDILL Designer) [Part 1]
Sponsored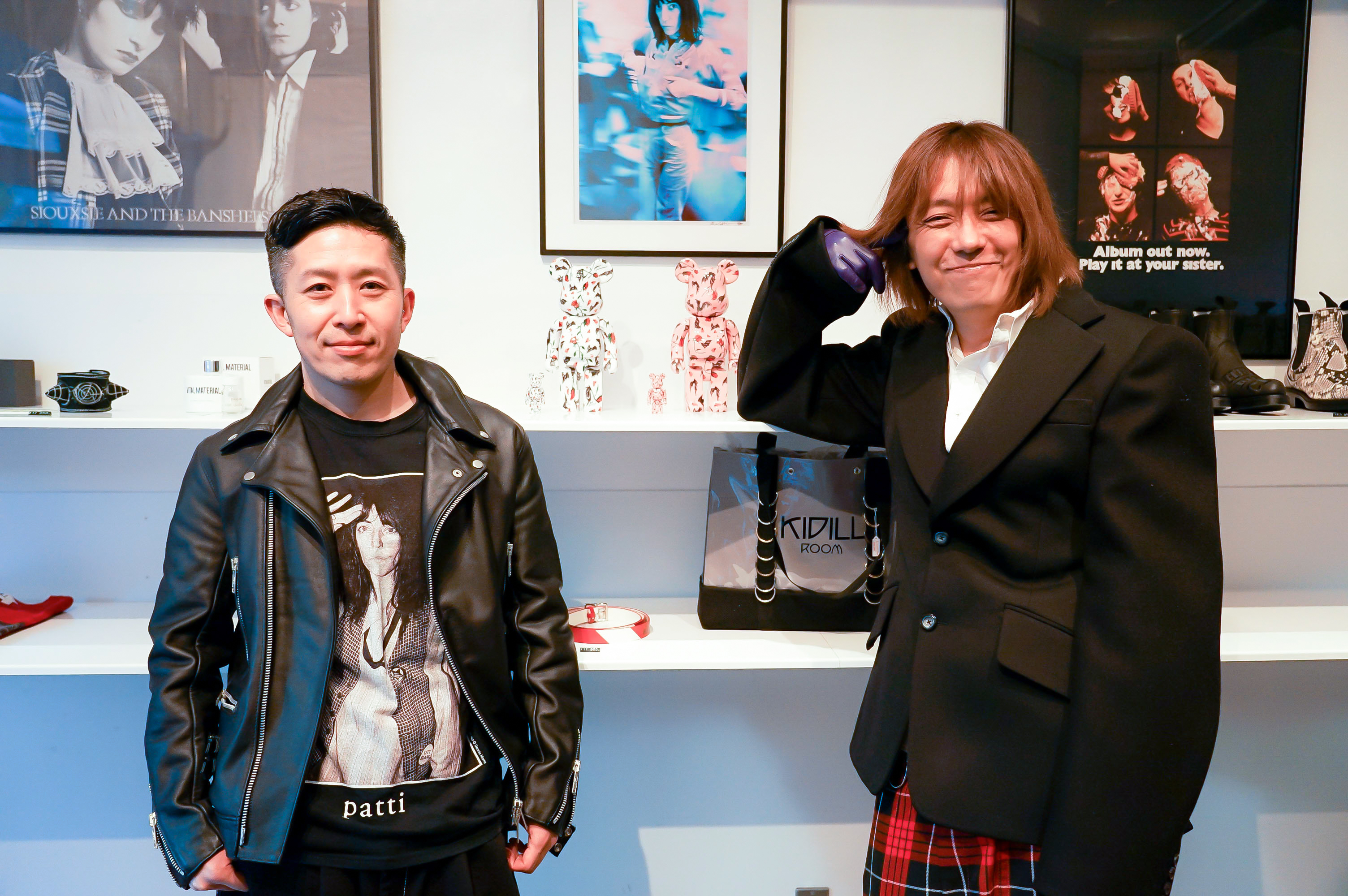 Tatsuhiko Akashi, CEO and president of MEDICOM TOY Co., sets up sessions for deep talks with guests and presents on the theme of "creating something cool together!" We have invited Hiroaki Sueyasu, the designer of the top-class fashion brand KIDILL, to give a presentation on the unknown history of the brand. Let's find out the twist ending of this presentation!
​Today's guest: Hiroaki Sueyasu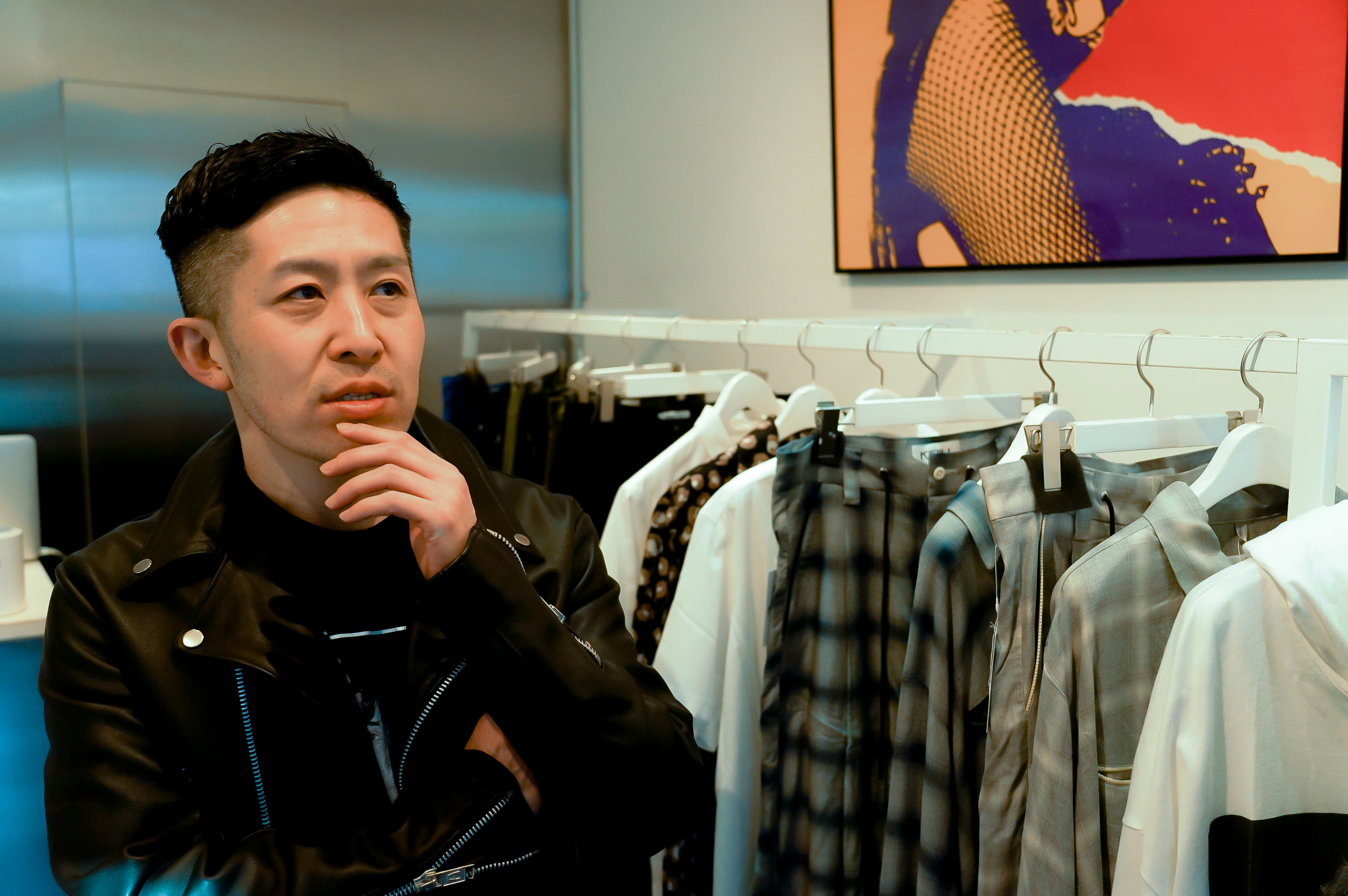 Profile
​Graduated from Omula Beauty and Fashion College in 1996, and moved to England in 2002. He taught himself to make clothes and started his own brand "HIRO" in 2004. In 2014, he launched the brand KIDILL, with "KIDILL" being a created word that means "purity in the midst of chaos." Based on his own experience of London punk, hardcore punk, post-punk, grunge, and other subcultures of the 90's, Sueyasu created a line of clothes to fit the modern spirit of today's delinquents. In 2017, he won the Tokyo Governor's Award in the professional category of the Tokyo New Designer Fashion Grand Prix.​​​​​​​​​​​​​​​​​​
"Here's an episode straight out of England for all the aspiring designers out there!" (Akaji)
"Oh no, I'm an awful example to follow. (laughs)" (Sueyasu)
Akashi:Today, we have KIDILL designer Hiroaki Sueyasu in the studio as a guest.
Sueyasu:Thanks for having me.
Akashi:I recently had the pleasure of creating a new BE@RBRICK , which will be revealed very soon, to coincide with the release of KIDILL's Spring / Summer 2020 collection. I first heard about KIDILL at a PR01. press room. I was asked by a top executive if I could come visit them, and when I went there, he said, "Akashi, try this on!" And then, suddenly, they made me put on a Gobelin wolf pattern top and bottom.
Sueyasu:That was our very first collection, a one-patterned wolf set made in the Gobelins style.
Akashi:"I really like it. Where is it from?" I asked. "It's a brand called KIDILL," they said. Then I got really curious, checked out their website, and I found a strange article of clothing made of cut-off denim sewn onto knitwear. I really wanted it! But it was sold out, so I sent an email to the email address on the official website saying, "Excuse me, I really want that knit cardigan." I'm probably a very annoying customer. (laughs)
Sueyasu:No, no. (laughs) I'm really grateful for the effort!
Akashi:Then Mr. Sueyasu himself replied, "I'm sorry, but we don't have any more of that product because it's from last season." After that, I paid a visit to their exhibition.
Sueyasu:It was then that I met Akashi for the first time and was surprised to hear that he was the CEO of MEDICOM TOY.
Akashi:MEDICOM TOY had just started a new cat-themed BE@RBRICK series called "NY@BRICK", and KIDILL's had their iconic three-eyed bear and cat, so I proposed we do something together, marking our first time doing a joint work.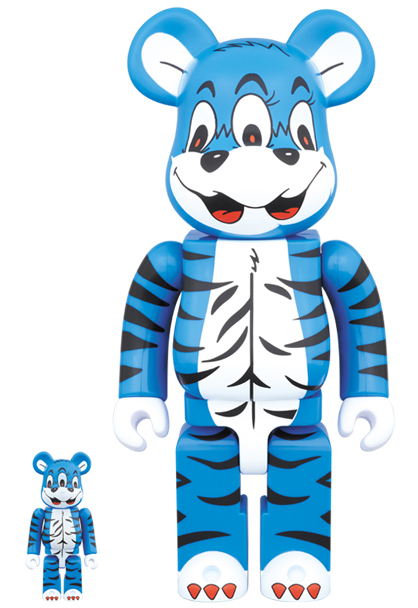 BE@RBRICK KIDILL BEAR
100% & 400%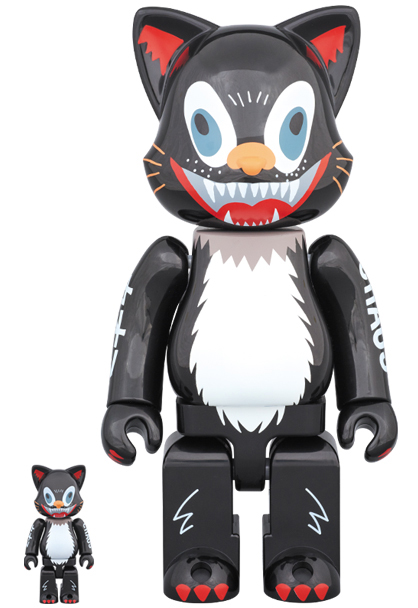 NY@BRICK KIDILL CAT
100% & 400%
(Released February 2018, currently sold out)
BE@RBRICK TM & (C) 2001-2019 MEDICOM TOY CORPORATION. All rights reserved.
NY@RBRICK TM & (C) 2016-2019 MEDICOM TOY CORPORATION. All rights reserved.

Akashi:Of course, BE@RBRICK and NY@BRICK collectors loved them, but the most interesting response came from the 3rd and 4th generation designers, who were like, "What!? You're working with KIDILL!?"
Sueyasu:Oh really!?
Akashi:Many people started wondering if they can also do the same. So I started to wonder, is Sueyasu actually also a designer of designers? Let me ask a bit about your career. What was it like when you first debuted your brand?
Sueyasu:I started in London in 2004, so I've been making clothes for quite a while. I started out with the brand name HIRO, where I was just making clothes as a hobby, but that had somehow turned into three whole years.
Akashi:Three years as a hobby!? That's amazing.
Sueyasu:I had to return to Japan in 2008 due to visa problems, so I continued with the brand even after returning. HIRO brand clothing had a specific audience, and I figured that so long as there were some people who understood the style and made purchases, I'd be fine. However, one day I decided that this wasn't going to work, so I decided to end the brand after ten years. Then, in the 11th year, I changed the brand name to KIDILL and started again from scratch.
Akashi:What made you decide to start a brand in the UK instead of Japan?
Sueyasu:​​It was simply the influence of punk music and UK culture. I loved British clothes lines like Alexander McQueen and Vivienne Westwood, so I thought I'd live there for a while. I had worked as a hairdresser for five years at that point already, so I earned my living as a hairdresser and made clothes in my spare time as a hobby. Little by little, I started spending more time on clothes and less on hairdressing.
Akashi:Please share a story or two from those days for all of our aspiring designers out there that also want to go to England someday.
Sueyasu:Oh no, I'm an awful example to follow. (laughs) I didn't go to any big school like Central Saint Martins (*1) or anything. It was all self-taught for me.​​
​​​ (*1) Central Saint Martins. One of the colleges at the University of the Arts London. Many renowned designers graduated from this school.
Akashi:And yet you were still making clothes.
Sueyasu:​​What can I say.......it's all in the heart. (laughs) I didn't know how to make clothes, so for the first two years or so, I was just altering existing clothes. All I could do then was buy a pair of Levi's and modify them in whatever way I could.
Akashi:What kind of customers bought from the HIRO brand back then?
Sueyasu:During my first season, a buyer from a boutique called CANNABIS ordered all the items from my first collection, saying, "I want the whole collection in my shop, so please don't sell them to anyone else." And the following season the store LOVELESS came to me saying "Alright, we'll also buy everything."
Akashi:Come to think of it, at the time, there were some pretty elaborate blousons at LOVELESS that went for about 300,000 yen a piece. I wanted them so badly, but when I went to buy one, they were all sold out.
Sueyasu:All sold out on the first day.
Akashi:The HIRO line was super cool. Of course, KIDILL is really cool too.
Sueyasu:I sewed everything with my own two hands back then. Did all the printing myself too. I think there was a certain charm to this line because you can't mass produce those items.
Akashi:After all, in the fashion culture of the 2000's, there were those who remade old clothing into amazing one-off pieces, such as HIRO and Libertine (*2).
(*2) Fashion brand in LA started by Johnson Hartig and Cindy Greene. They launched their collection in 2001 with clothes that were remade from old articles of clothing. They boldly deconstructed articles of clothing to breathe new life into them, and their collaboration with contemporary artist Damien Hirst was a hot topic.
Sueyasu:Anyway, remaking clothes was all the rage. I think you are familiar with Nagi Noda (*3)?
(*3) Born in 1973, graduated from Joshibi University of Art and Design. She started her own design company Uchu Country in 2003 and was involved in the directing of promotional videos, commercials and CD jackets. In 2007, she launched the fashion brand "broken label" with artist Mark Ryden. The toy Hanpanda, which was half bear and the other half a different animal, was a hit. She passed away in 2008.​​
Akashi:Yes. About 15 years ago, we made BE@RBRICK and Hanpanda figurines together.
Sueyasu:Nagi came all the way to my atelier in London because she wanted to see my remade clothes. We became good friends and she bought a lot of my clothes. She even wore my clothes on the cover of a book.
Akashi:I think her sense of style really matched the colors of the clothes from back then. I imagine there were a lot of mixed feelings in the early days of the brand. I understand that you started with making clothes for a specific audience in limited batches, and then moved on to KIDILL with the idea of making clothing more appropriate for fashionistas. But how was it all in practice?
Sueyasu:Many things change, including the designers themselves. Don't you agree? Now that I'm over thirty, I felt like I want to get more into textiles, and maybe my creative aspirations changed as well.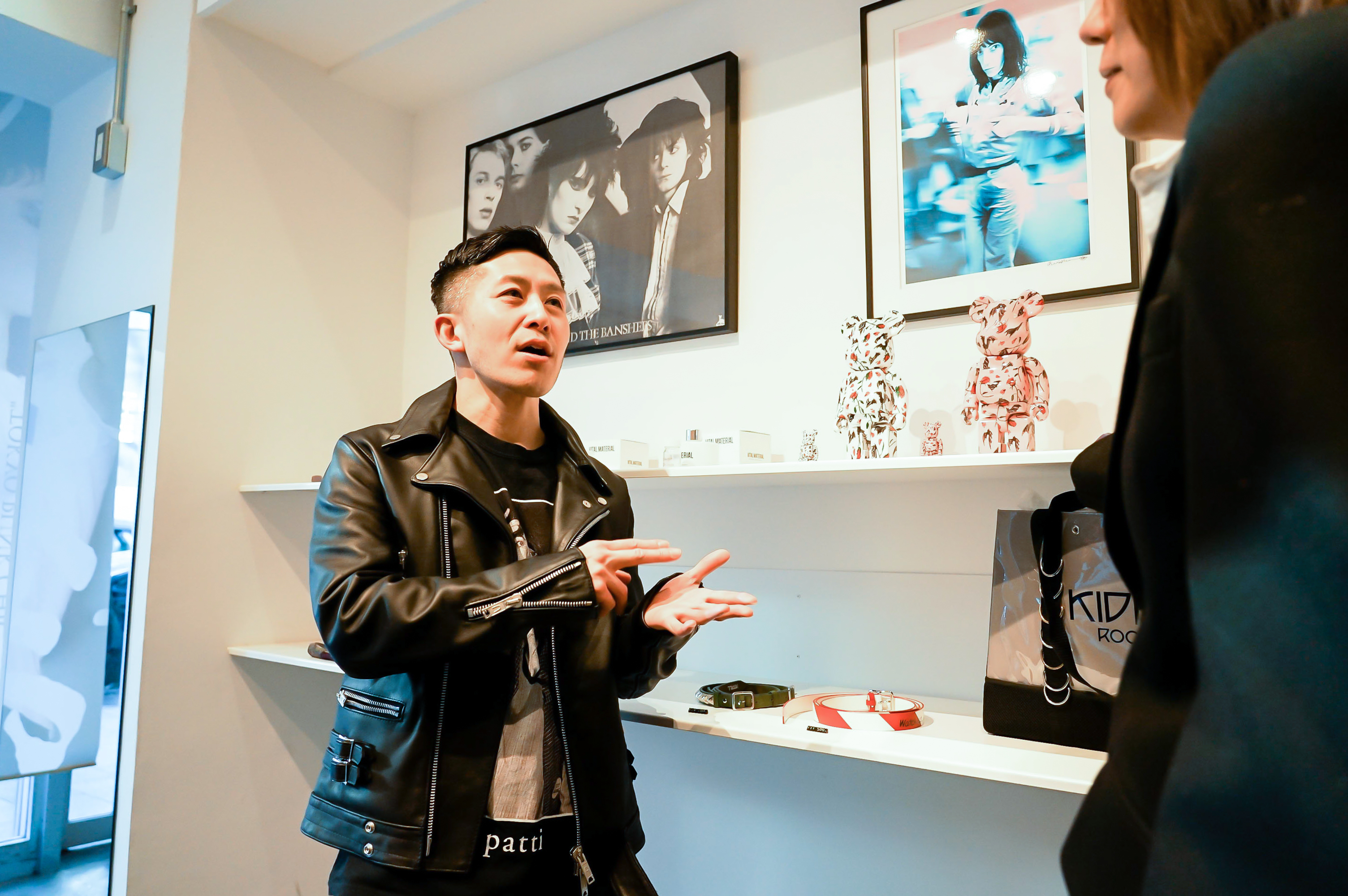 Akashi:KIDILL's first and second seasons had a relatively tailored approach, didn't they?
Sueyasu:At the time, I was still simply making what I myself wanted to wear, but I realized that this wasn't going to be enough, and that the different articles of clothing had to have different strengths to be understood overseas. That's when I started making clothes like this separately.
Akashi:A line you would wear yourself and a line of proper showpieces.
Sueyasu:Ever since I changed my creative approach, my brand got very popular abroad. And import stores like TRADING MUSEUM COMME des GARCONS also purchased from me.
Akashi:I often see KIDILL clothes on international e-commerce sites as well.
Sueyasu:But it's not easy separating these two lines of thought when making clothes. I chose Public Image Limited (*4) as the theme for one of the collections. I really liked punk and rock, so I completely got in the mindset trying to incorporate this part of culture into my clothes. Everything changed for the better when I did this.
(*4) British rock band formed in 1978. Abbreviated as PIL. John Lydon (vocals), who had left the Sex Pistols, invited Jah Warble (bass) and Keith Levene (guitar) to join him in this band. The band went on hiatus in 1992 but got back together in 2009.
Akashi:So it started with PIL, then moved on to The Damned, Siouxsie and the Banshees, and then Bauhaus (*5) as the theme for Spring/Summer 2020.
​​​​(*5) British rock band that debuted in 1979. This immensely popular band pioneered the gothic rock scene with their theatrical stage presence, and the members got back together multiple times after their breakup in 1983. The KIDILL Spring/Summer 2020 men's collection is an official collaboration with Bauhaus vocalist Peter Murphy. The photos used for the collection were taken by Sheila Rock.​​​​
Sueyasu:I really do love this culture, and it reflects in the clothes I make. 
"These days, I'm paying particular attention to Amimono☆Horinouchi." (Akashi)
"I know about him too, I'm following his instagram." (Sueyasu)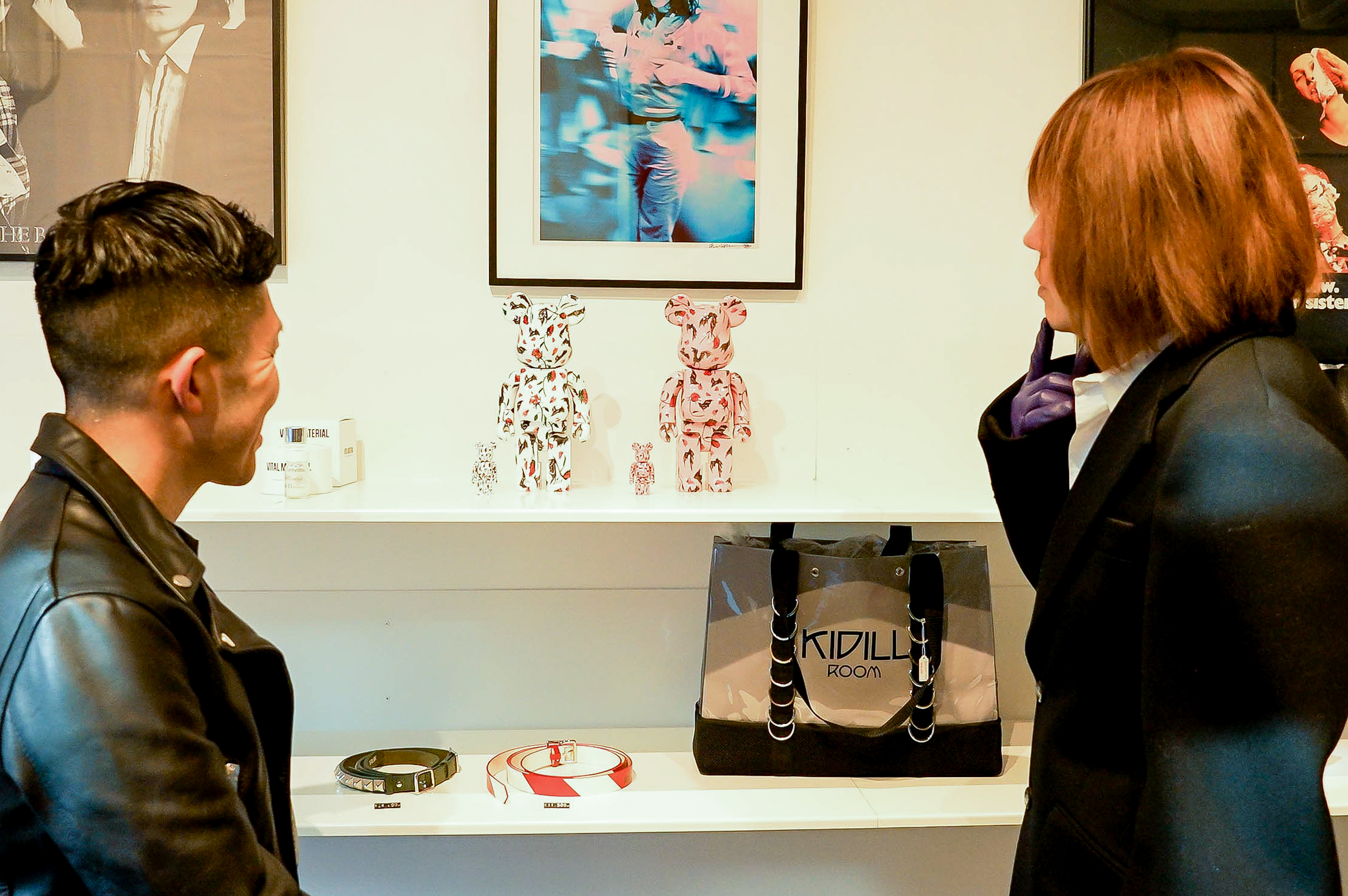 Akashi:And now, on to discussing just what we can do together with KIDILL. One idea I had was this. Our company has this brand called KNIT GANG COUNCIL, and there is also this knitting designer called Amimono☆Horinouchi (*6).
(*6) Born in 1967 in Kanagawa Prefecture. After graduating from Kuwasawa Design School, Horinouchi worked as a graphic designer for a living while creating one-off knitted works. He has gotten popular in recent years, having designed sweaters for Yasuyuki Okamura to be used as tour merchandise and after collaborating with MEDICOM TOY to create the KNIT GANG COUNCIL line of sweaters. https://www.amimono.tokyo/
Sueyasu:I know about him too, I'm following his instagram. I am familiar with his works.
Akashi:I knew you would. So I was thinking about a collaboration between KNIT GANG COUNCIL and KIDILL.
Sueyasu:Let's do it!
Akashi:And this was your splendid presentation today. (laughs) I think the two would be a very good match.
Sueyasu:His works really are amazing. Does he make them all by himself?
Akashi:That's right. Each piece is made by hand. Some of the more famous pieces are the Seiko Matsuda, Tanokin Trio, and Yasushi Yokoyama sweaters. Also, most ordinary people wouldn't know what's so funny about seeing Mataro riding on Little Ghost Q-Taro's back, it gets that bad. (laughs) It's a bit of a twisted punk kind of style. And we don't have a license for these characters because he is making these all as a hobby.
Sueyasu:Won't that get you in trouble?
Akashi:Ko Machida saw our sweater using the "Meshi Kuuna!" CD jacket design and commented that it was "very well made." After that, we got permission from Tokuma Japan to display it at our official exhibition. He was originally a graphic designer, and much like you, he didn't have a background in fashion. He didn't study anywhere, he's entirely self-taught.
Sueyasu:All that work was self-taught!? That must take forever to make. Looking at the photos, the finish is incredibly precise right? You'd think it was all done with a machine.
Akashi:A very sophisticated machine.
Sueyasu:Are the sweaters different from the kind made in a factory?
Akashi:When I showed him the factory, he told me, "I don't want to make something so difficult." (laughs) Sweaters with the movies "The Shining" or "A Clockwork Orange" as the motifs and such.
Sueyasu:Are those also made by Horinouchi? I knew that they were sold by MEDICOM TOY, but I saw the two little girls standing there and was like, what kind of weird place is this?
Akashi:Horinouchi produced these, so I thought that your sense of style and his techniques would be a good combination. For example, we're releasing the KIDILL BE@RBRICK really soon right? (*7) I thought maybe, you know, we could make like a mohair stole using the BAT & ROSE pattern from our collaboration with the Japanese illustrator Eri Wakiyama, who is working out of New York.​​
BE@RBRICK KIDILL × ERI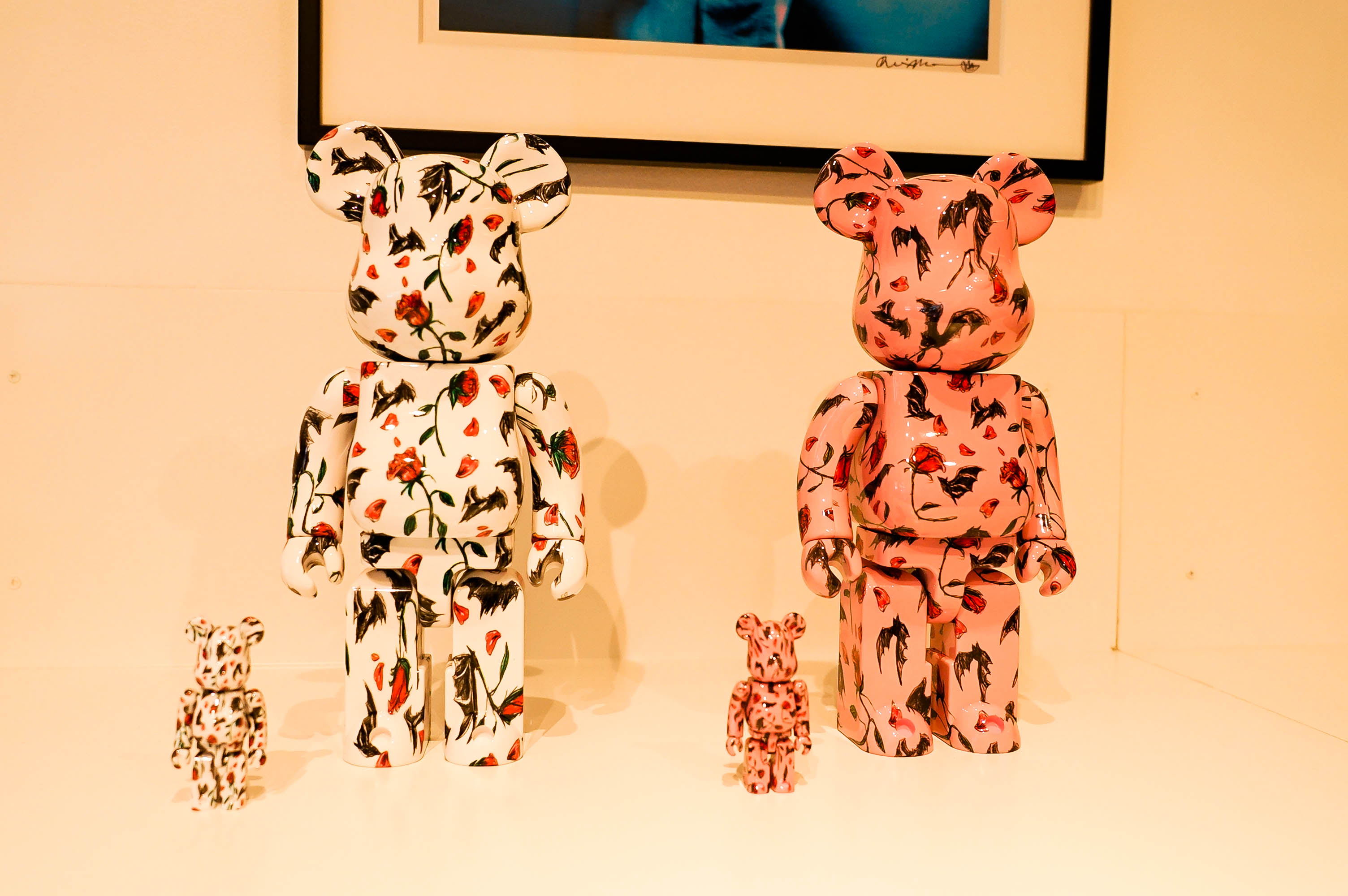 WAKIYAMA BAT & ROSE Pink 100%& 400%
BE@RBRICK KIDILL x ERI WAKIYAMA BAT & ROSE White 100%& 400%
BE@RBRICK TM & © 2001-2019 MEDICOM TOY CORPORATION. All rights reserved.
(*7)
● Height of 70mm / 280mm
●Simultaneous release of the BAT & ROSE BE@RBRICK from KIDILL 2020 SS! Textile design: Eri Wakiyama
● Scheduled for release in January 2020 at KIDILL, MEDICOM TOY, and other stores. ¥16,500 (tax included)
* The photo is for promotional purposes. The final product may differ from the image.
Contact / MEDICOM TOY User Support TEL: 03-3460-7555
BE@RBRICK TM & (C) 2001-2019
MEDICOM TOY CORPORATION. All rights reserved.
Sueyasu:It's really cute. Very lavish and I want it already.
Akashi:​​Making what people want is the important thing. It'll catch the eye of STYLEVOICE.COM readers, and I thought it would also be a great opportunity to publicize the KIDILL brand name. So, let's started at once. What say we aim to launch next fall or winter? I'm sure I'll have many more ideas to shoot by you, so please bear with me.
Sueyasu:By all means.
Akashi:I'm really looking forward to next season's collection.
Sueyasu:Our next season is going to be awesome. I was super excited to finally be able to work with you.
Akashi:Oh, is that so? ...... I'm sorry, can I hear a little more from you? (laughs)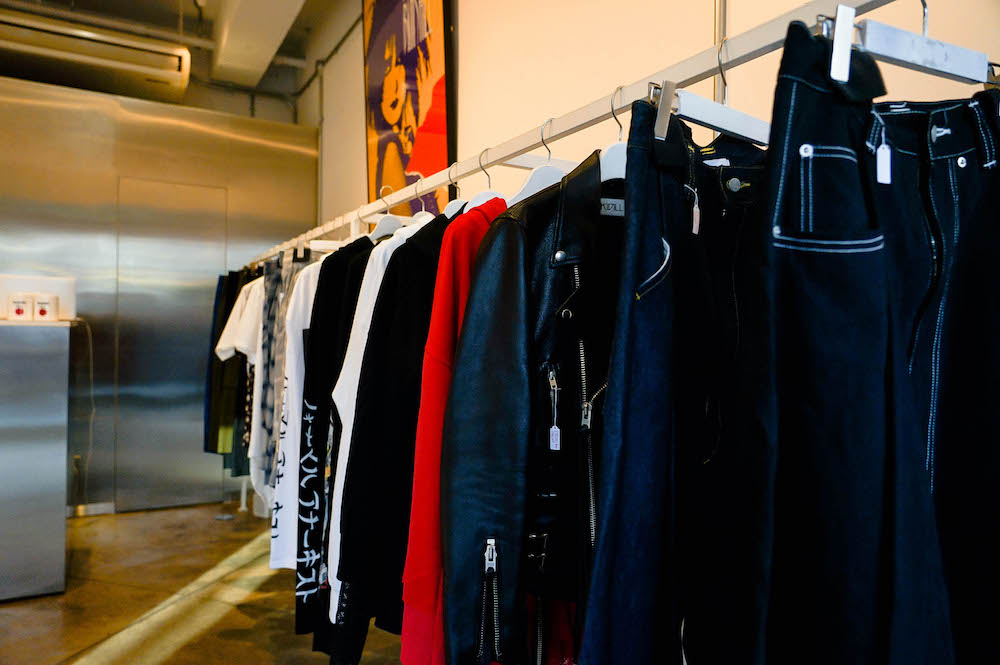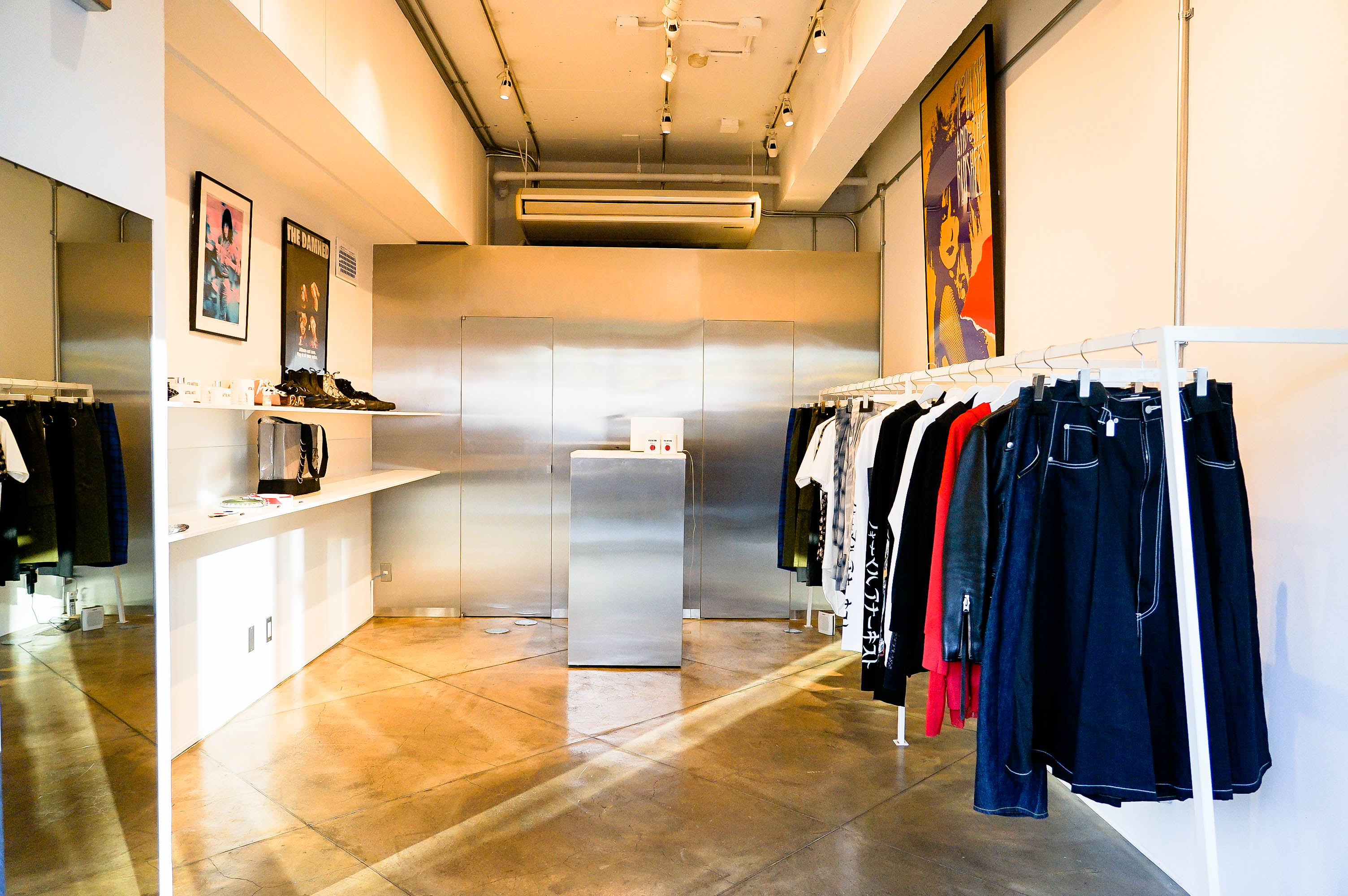 KIDILL ROOM
U-natura #101, 6-19-16, Jingumae, Shibuya-ku, Tokyo
TEL: 03-6427-2237
Open: 12:00 to 20:00
URL:​ ​http://kidillroom.com/
<Contributors>
PHOTO&EDIT: Daisuke Udagawa (M-3)
TEXT: Kunihiko Shinno