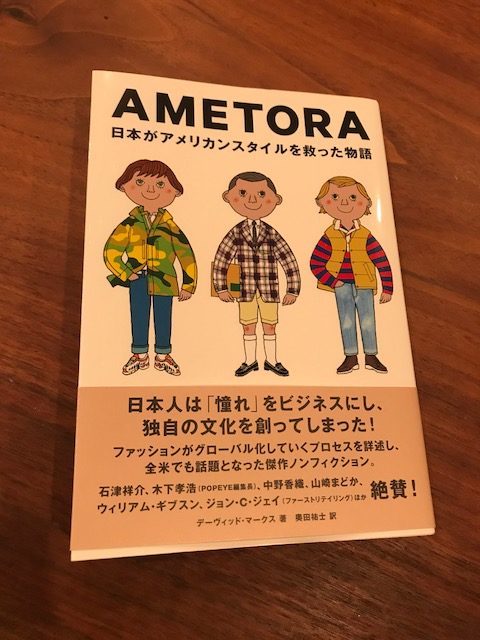 Recommended by a friend, somehow or other I started reading 'Ametora'.
Analyzed by an American, Ametora (American Traditional) has taken root in Japan. When the Japanese language version came out last year with such recognition somehow, I thought it was not enough to read in a rush, and made light of it at the time.
It was pretty interesting.
Author David Marks is a graduate of Harvard University, a member of the Super Elite who later graduated from Keio University.
I also thought fashion is for the Super elite, and that I was late reading (I'm no academic, lol)
Beginning from IVY represented by VAN, the story became the uniform of the Japanese representatives of the Tokyo Olympic Games, and the genesis of mens fashion magazines represented by 'Menzu Kurabu' and 'Heibon Panchu'.
This is a story I've read in various literature, so reading it again is a bit annoying.
Then towards the middle of the Harajuku gold rush period of Pink Dragon in the '80s.
Not only fashion, but sounds, the Regent style, bars. Boyish items are analyzed pretty well, and it was exciting reliving the time when I was a junior high school student.
After that,
it's the birth of a Select Shop
and DC brand boom.
Then,
Behind the scenes Harajuku are written down carefully beginning with the story of a teenage Hiroshi, and immediately began reading more quickly.
Vintage culture that Japan produced,
Replica Jeans,
Ametora exports,
and so on.
What I felt after reading was the history of men's fashion which also values such a cultural background is extremely valuable.
Different fashions blow-up, from the DC boom, to Italian designers, MODS, French brands, Classico Italy, and so on, but then swing back, which is why American Traditional exists thereafter.
Once again I've learned something from an author more interested in Japan than Japanese people.
That is what it feels like anyhow.
Japan is an interesting place not only fashion, and I need to know more about Japan. I really think so.