2016.02.23
Experts that love Levi's® discuss "The Future of Denim Culture."
Sponsored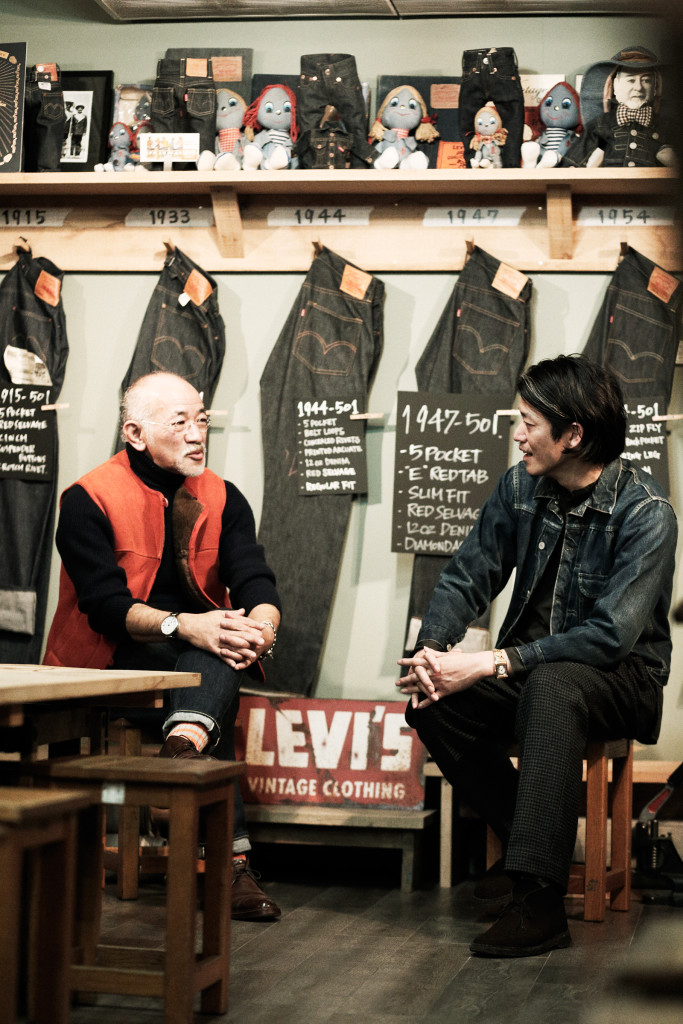 5-pocket work pants are the origin of Levi's®. While they have been loved by workers for being hard-wearing work attire, they became worn as fashion wear after the war and brought about a wide variety of culture. For example, in '50s 'Rockabilly' culture 'Greasers' would dress in solidarity, while the Ivy League boom of the '60s, saw students from respectable families obsess about it, and in the Flower movement of the '70s, youngsters also known as hippies were proponents of peace, appealing for freedom while wearing Jeans. And now it has become more diverse, with denim loved across a variety of scenes. Two old friends and aficionados with a very deep understanding of denim, Yosuke Otsubo (Levi's® Vintage Clothing) and Masahiko Sakata (Archive&Style) go deep in conversation as they discuss the future of such denim culture.
Photo, Kazumasa Takeuchi | Text, Shuhei Sato | Edit, Issey Enomoto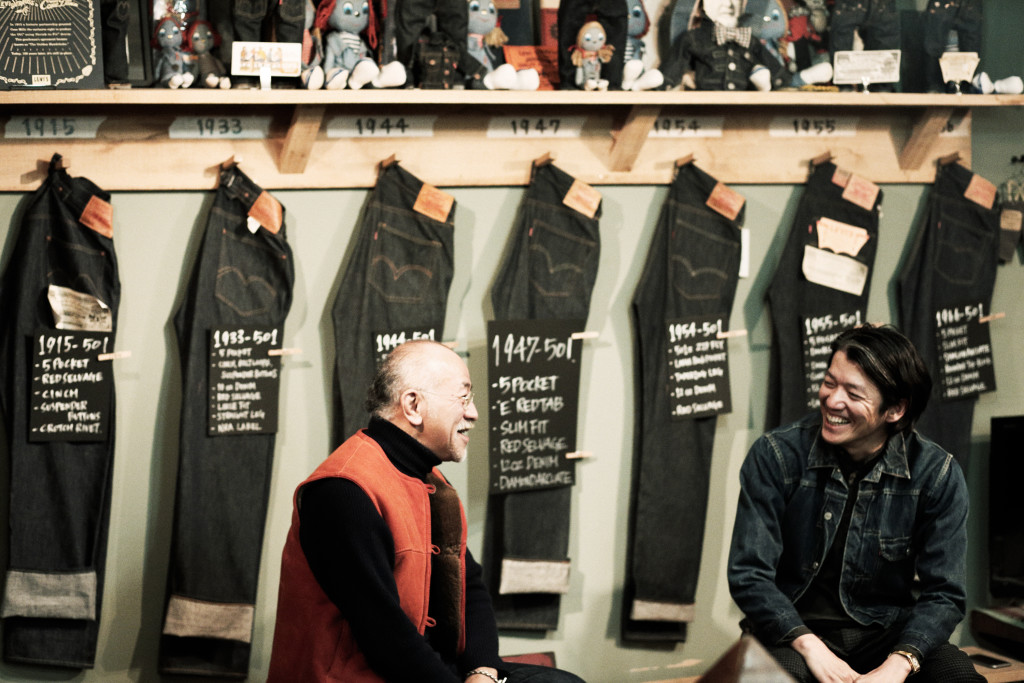 Right: Masahiko Sakata / Archive&Style
Born in 1970. While serving as director of a number of well known brands, he also served as owner of the vintage shop "Archive&Style" between 2006 and 2013, also famous for its large amount of used clothing.
Left: Yosuke Otsubo / Levi's® Vintage Clothing Sales & Marketing Director
Born in 1956. Towards the end of the '70s he went to the United States, after which he became involved with a number of popular brands, participating in launching the premium section of Levi's®. He currently oversees the sales and marketing for Asia, Africa and the Middle East.
The 30-inch waist is popular, yet making them is not necessary (Otsubo)
—— First of all, and I've asked you this before, what is the attraction of Jeans for you both?
Sakata : I would have say how Jeans are worn. Wearing your own outfit that has been customised is also really interesting, as it is not easy to wear, say, a uniform with individuality. I mean it is very profound to introduce an element of difference in an outfit that's also worn by everyone else.
Otsubo : Your absolutely right. You may say Levi's® in a word is 501®, but there are also a lot of other different things, from Levi's® Vintage Clothing rolling out past products through to the modern, with 501®CT developed in Red Tab. For example, while the 30-inch waist popular, making them is not exclusive, as I would hope people would enjoy them whatever the size. I think it is definitely fun that way. Personally that I want the jeans I wear in the Spring, Summer Autumn and Winter to vary with each shape. Because the volume of each top part changes, the overall balance feels bad when they're the same thing, right.
Sakata : I understand. I also want the tone of indigo to change, even with boots or sandals it changes the length, you know.
Otsubo : The pursuit of that is what attracts me to denim.
The situation right now feels the late '90s, with the same atmosphere (Sakata)
Sakata : By the way, what Jeans are you wearing today? They looks a bit different?
Otsubo: I think these were custom ordered in Levi's® Shinjuku tailor shop. They're the 1966 501® vintage model that have been tapered even further. Since the selvage part is quite wide, they give a lighter tone when you roll them up.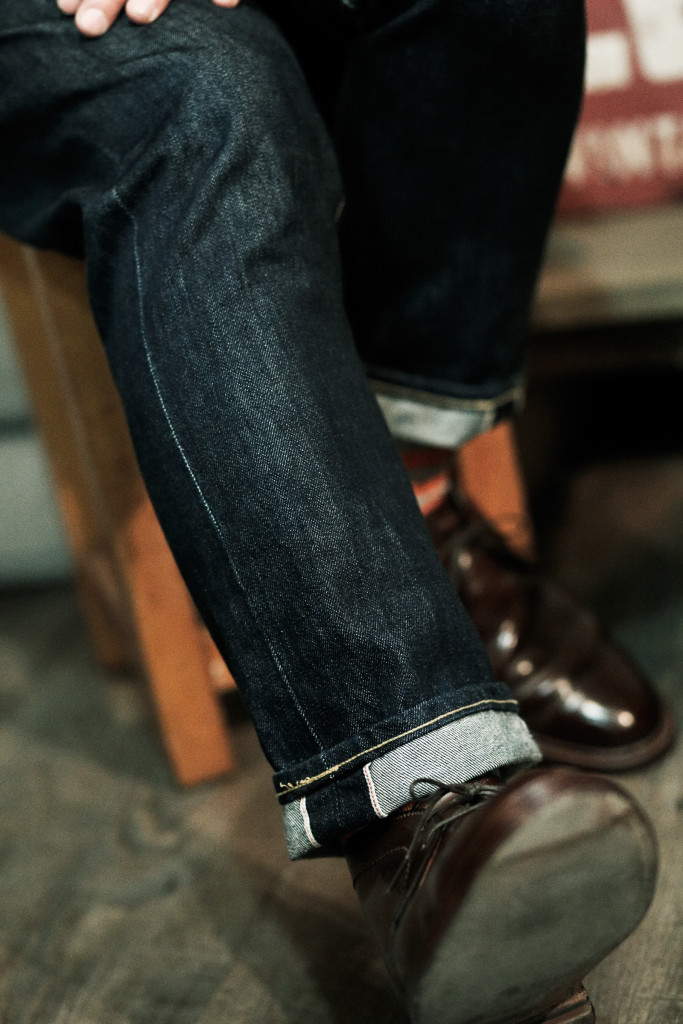 Sakata : I also custom-ordered at Levi's® Shinjuku the other day.
Otsubo: Thank you very much. What did you order?
Sakata : It was the same as you, a well-tapered 1933 vintage model 501® and asked for the shape to be like a pair of Jodhpurs. Actually, I've been thinking a lot about Levi's® RED (※1) again. Our current denim situation feels the same as is did in the late '90s, with the same atmosphere. Now the Rugged style has calmed down, you might hear words like 'Normcore' or 'Minimum'. The impression is that more and more people prefer simpler denim, like Acne. On the other hand, vintage clothing back then became less of a thing with minimalist denim from the likes of Helmut Lang and APC beginning to emerge. There in, Levi's® RED came out and was a shock coming from the same manufacturer. So, I ended up with a twist that has a small amount of drape to it, given that denim doesn't incorporate this kind of nuance. I think the custom service is excellent. It is nice that there is technology that matches the sensibility of Shinjuku's manager Yamamoto.
※1 — Levi's® RED … the concept line that began in 1999. Even while paying homage to vintage clothing with the use of draping, it also showed the possibility of new denim. Suspended in 2007, it was revived in 2014.
Otsubo: Yeah right, because she is passionate, and because of her sense I'm showing her my archive and asking her to study as much as possible. You said that you also found Levi's® RED to be shocking. Well, I had the same feeling before that, when the Orange tab came out around the time of the Flower movement (※2). Few adults wore the authentic straight-leg 501® back then, and the younger generation wore the Orange tab in unison. For example, the super slim 606 or 646 bell-bottoms evolved there, and their free-thinking led to the feel and appearance of Levi's® RED. Of course, the feeling makes perfect sense of the current move towards 'Normcore', right.
※2 — Orange tab … The Red tab became Orange in 1973. It was a dedicated fashion label, represented by the Slim 606 and 646 Bell-bottoms.
A time when it is more important "how you dress" than "what you wear" (Otsubo)
—— Thats right, though there's definitely a layer of something missing in 'Normcore'. Could you say the next stage in denim is moving towards 'Customise'?
Otsubo: Now is the time when it's more important "how you dress" rather than "what you wear". For example, the Levi's® Vintage Type 1 denim jacket (506XX) has a 'separate' specification. Because Selvage denim is limited in width, extremely large sizes cannot be made without joining fabric together in the middle of the back. A while ago it was not that popular but in recent years there has been a resurgence due to an increasing number of people wearing oversized denim jackets. In fact, the Type 2 jacket (507XX) also has a separate specification, which I finally found last year.
Sakata: Even when there are times you want to wear something oversized, you also want a perfect fit. Not just with the jacket. The interesting part of jeans is how the balance of their length varies overall. Up until recently, I was wearing 'shrink-to-fit' 501E, but my feeling lately has been more 'thick' and 'oversized'.
Otsubo: Have a look at this, it is a customised pair that I particularly like.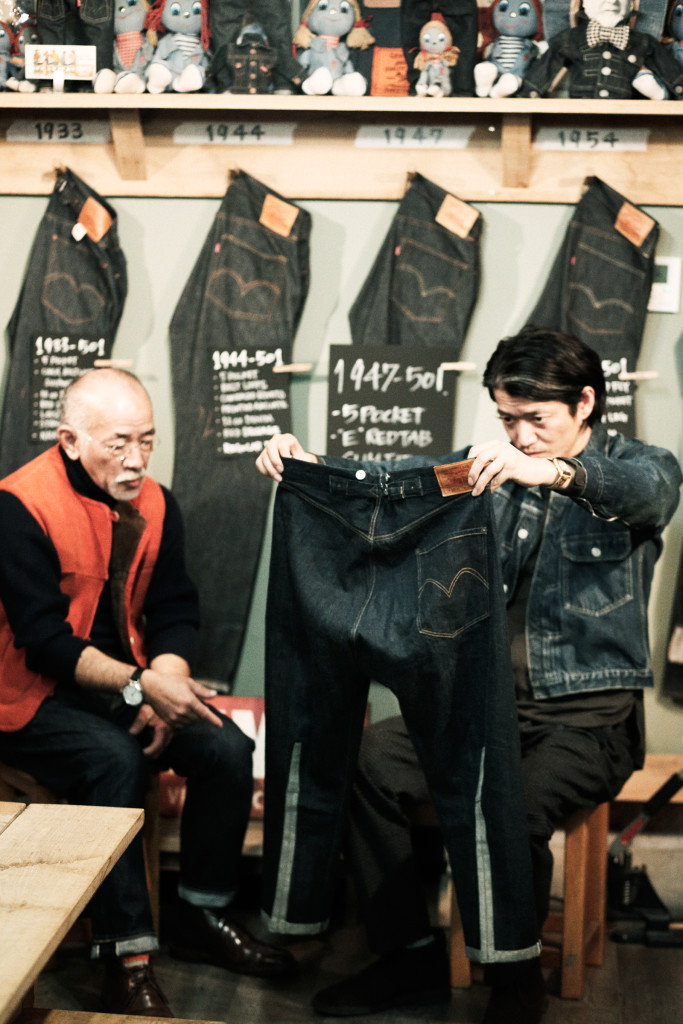 Sakata: Ah … these are really interesting.
Otsubo: They are an 1890 model, made as work wear, with a pretty thick straight shape but with a design that featured a tuck hem in the back, and tapered profile. The image is finished with a shorter profile like Jodhpurs.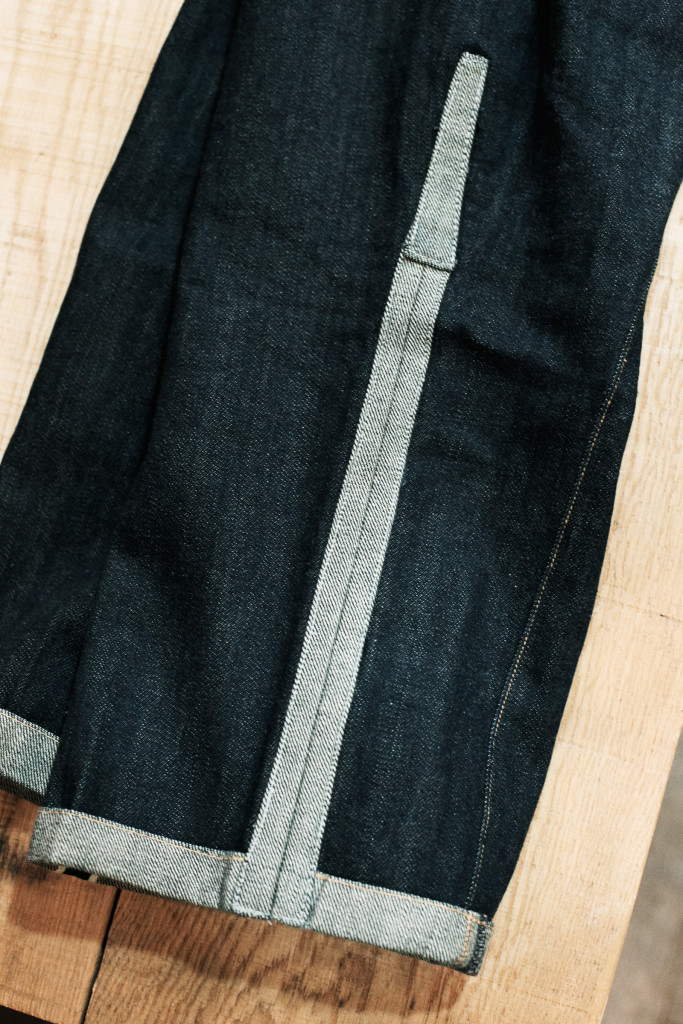 The difference between Levi's® and any other company is that it always sends out culture (Sakata)
Sakata: A moment ago we were talking about Orange tab, I personally think that the difference between Levi's® and any other company is that Levi's® can always be considered as the origin of culture. What kind of things are they up to lately?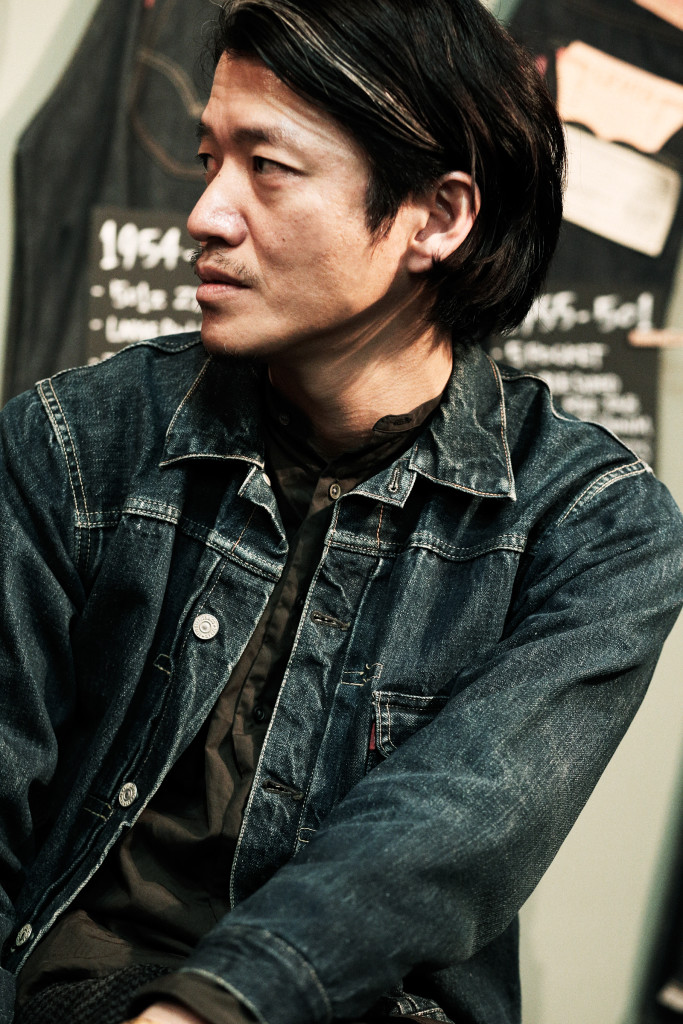 Otsubo: Well, roughly speaking there are two things. Firstly, there is Levi's® Vintage Clothing which I am in charge of. I started the current structure seven years ago, when I joined the company. Until then, I had been doing the planning for Europe, Japan and the United States, and this was one opportunity. This project re-examines the Levi's® archive, and the concept will draw out its history over time. On the other hand, since company policy is to innovate, I also want edgier stuff to always be proposed.
I want to get across the idea that a difference can be made with one size (Otsubo)
—— Earlier, Sakata was saying that "the appeal of the 501® is that they were always 'standard', in an age of many minor changes". As Levi's® is always evolving, which Levi's® model will become the current 'standard'?
Otsubo: Generally speaking, that would be difficult to say, but I guess it would be the 501®CT. CT is an abbreviation of 'Customised' & 'Tailored'. If the hem of the royal 501® has been tapered then this is the next denim icon that will reflect the voice of our time. Leading on from what we said before about the way to wear, I would suggest wearing a size down, 1 to 2 inches less than usual, true-to-size jeans worn 1 to 2 inches larger than standard will begin looking more relaxed. Even with the same 501®CT, it is possible to express yourself with one size. I think the origin of the fashion is for it to be worn and feel positive, and having confidence is important even if you're wearing something 'standard'.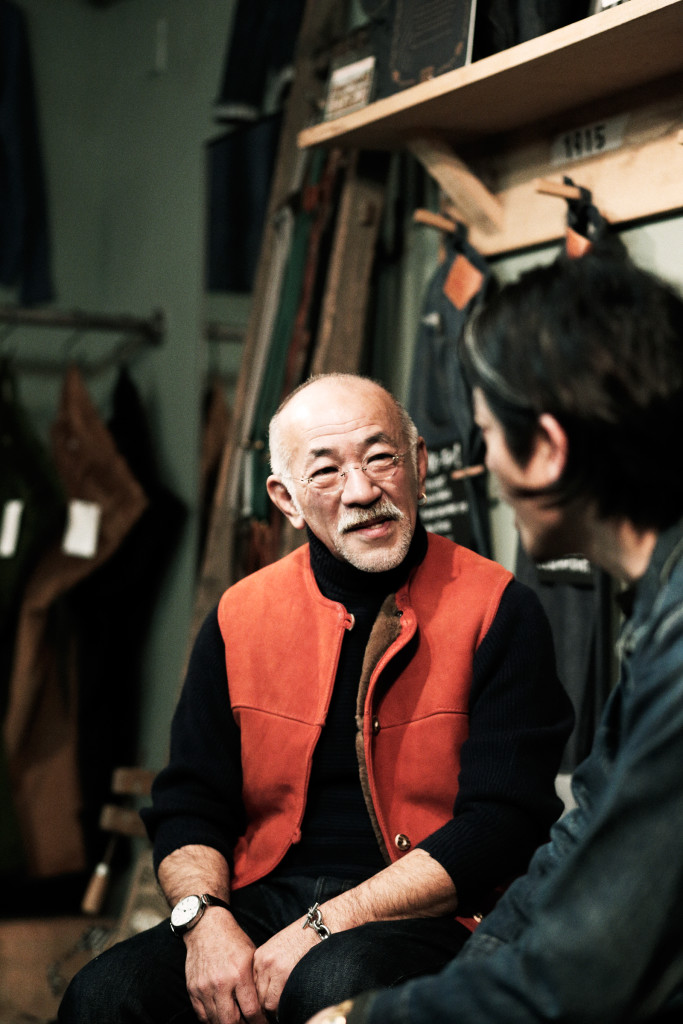 Sakata: Even just hearing about Levi's® Vintage Clothing today, theres Levi's® RED and Levis®CT as well. I think we've pulled out a few things that make Levi's® attractive. In the '60s, there was campus wear with denim pique for instance, and there was the Orange tab hinting at Hippie culture generation in the '70s, where standard and innovative things have always seemingly been combined.
Otsubo: Thank you. Levi's® have put out a number of classics, but all without singing the praises of a single designer. We stand in a completely different position to the fashion culture of Milan and Paris for example, with strictly casual wear we are sticking with daily wear. Please stay tuned as we plan to continue this interesting challenge from now on.
Levi Strauss Japan