2017.11.28
Slumbers: Several things I heard from Hiroshi Fujiwara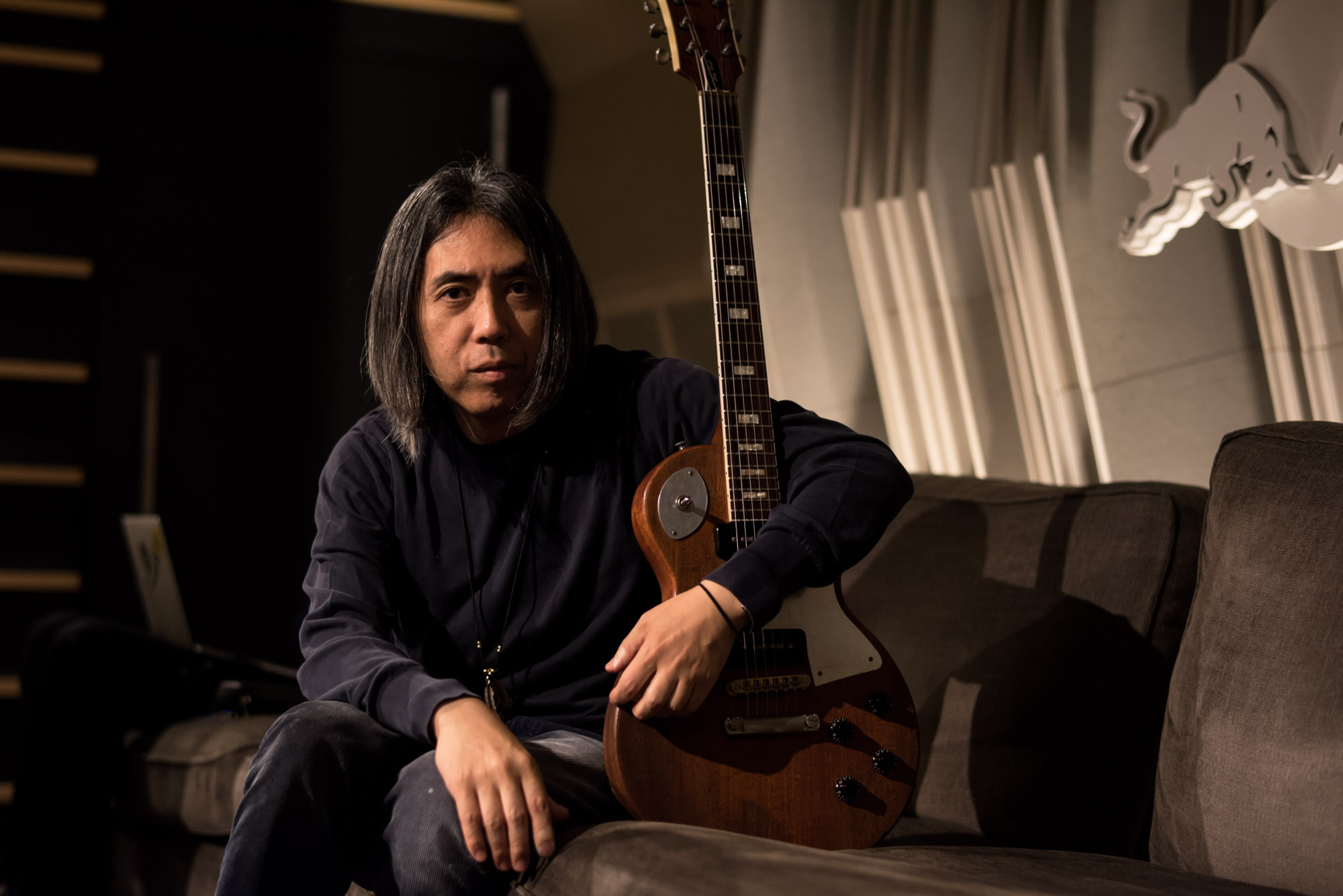 When I heard Hiroshi Fujiwara was recording music, I had the opportunity to visit the RedBull Studio in Shibuya around the start of the summer. It was wonderful to hear a new album being recorded, but honestly, was amazed that he planned to release it by the end of the year. "I've also written a Christmas song so absolutely must put it out by then." Hiroshi seemed difficult to find time to enter the studio during in between his usual busy schedule of going back and forth around the world as usual.
Yet he made good on his promise. The album was finished before anyone realized and immediately delivered one day in November. The title is written as 'slumbers', and looks magic.
2017 seems like it was a lively year for Hiroshi Fujiwara and his followers. The collection with Louis Vuitton collection and fragment design suddenly announced came as a real shock, and there was also a live tour around Kyoto, Kanazawa, Nagoya, and Tokyo in the summer. And the new album 'slumbers' that will come out,  brings the year to an end.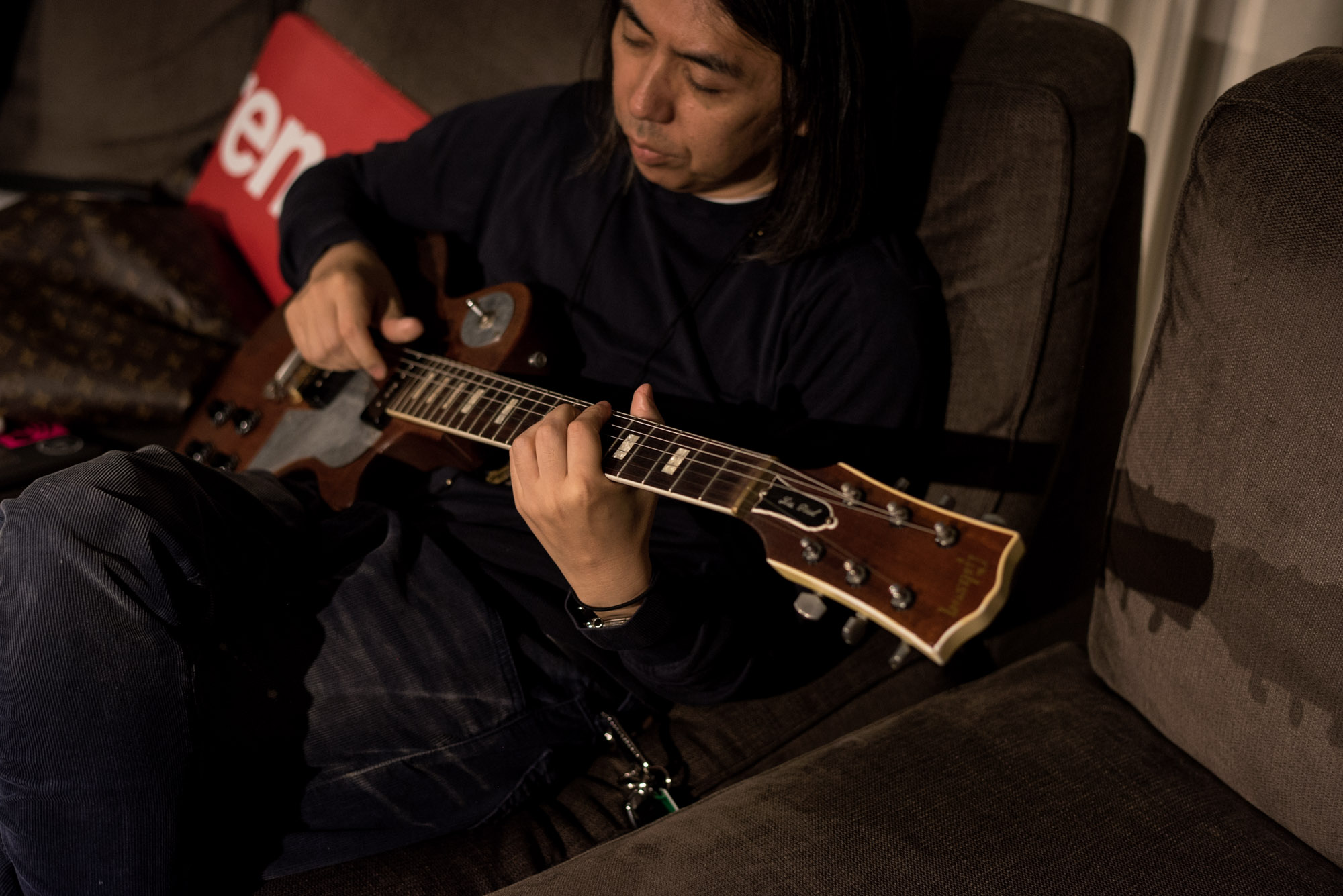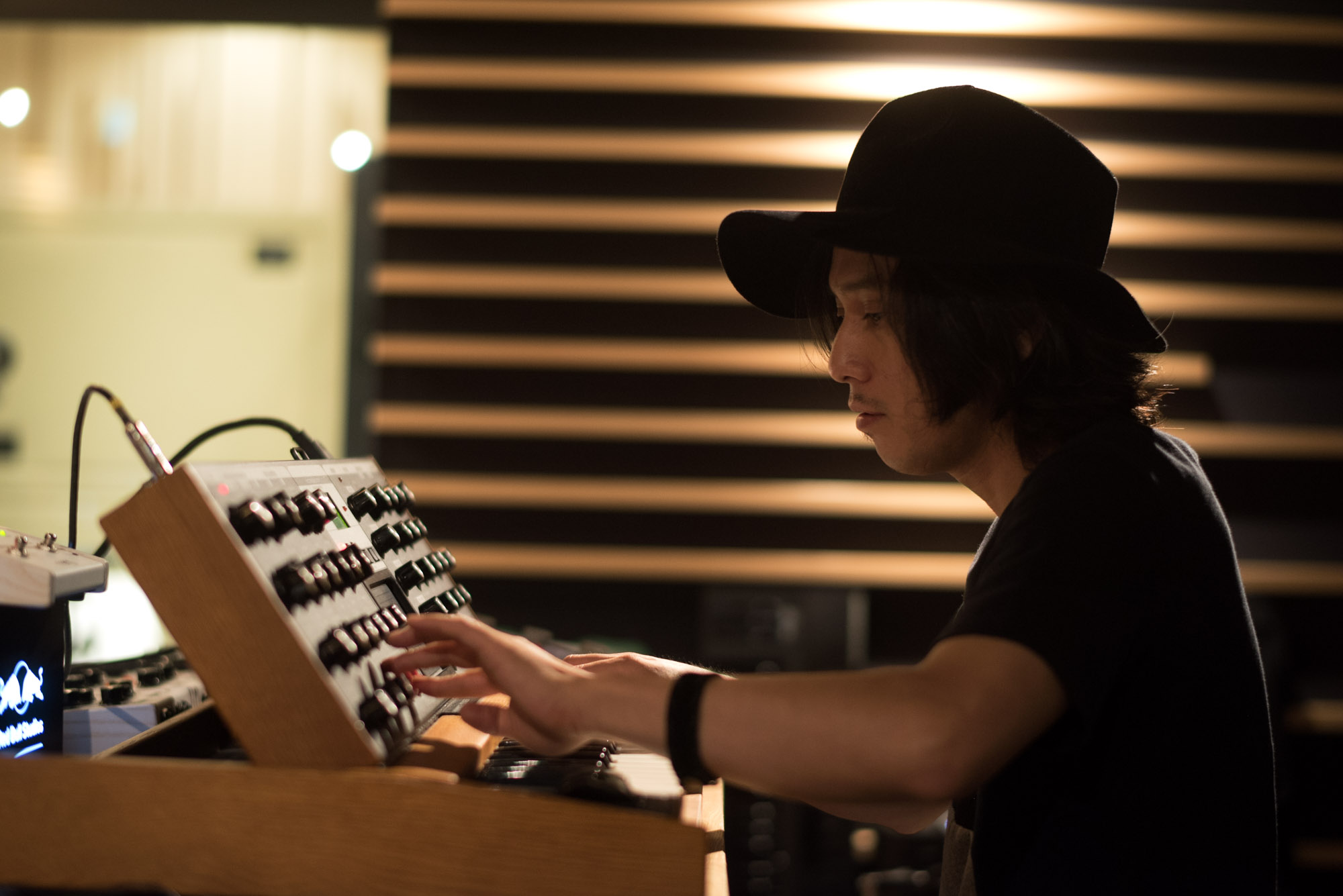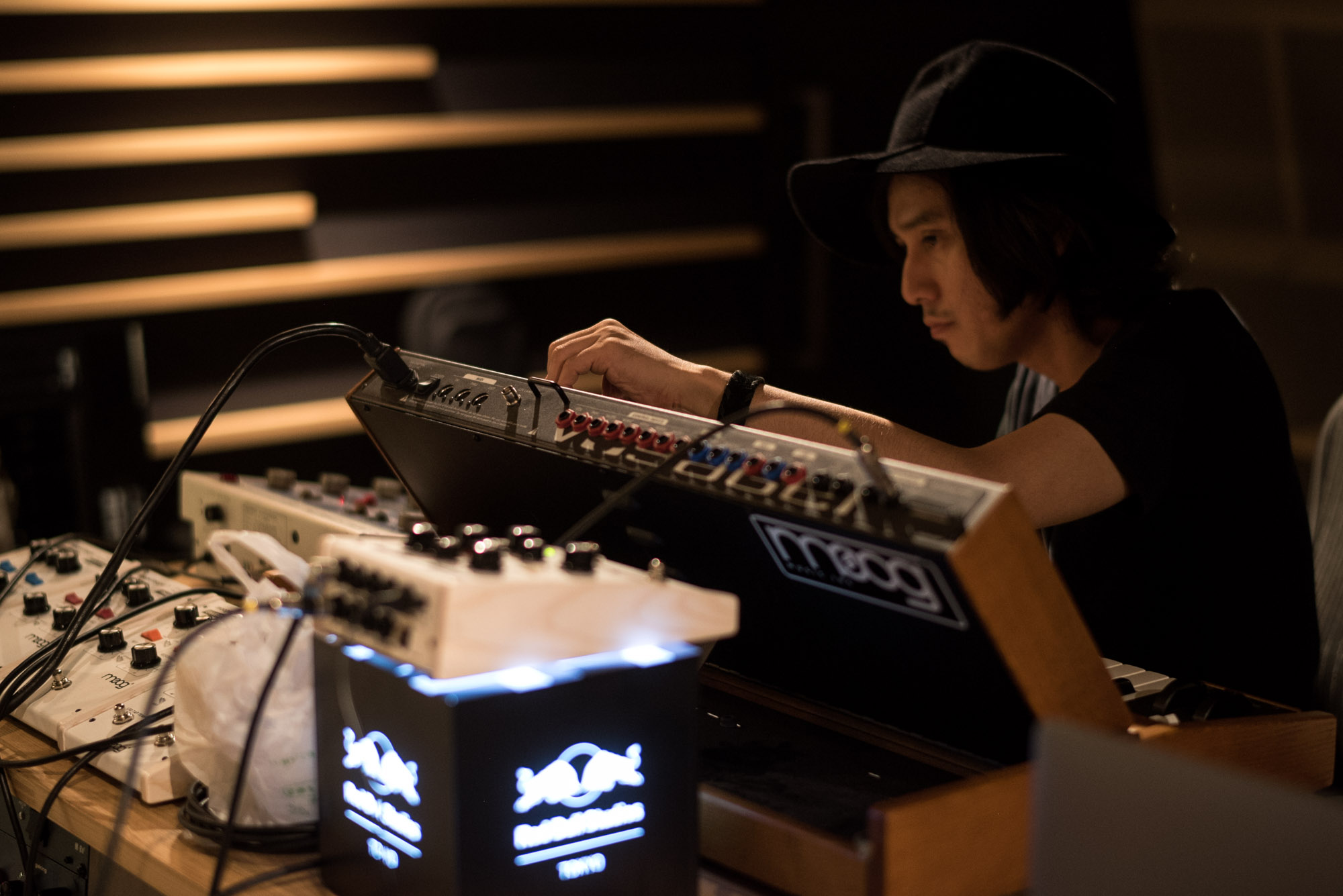 "I've been writing some pieces of music for quite a while. It was good because I entered the studio so early on."
While some of the new songs were road tested as soon as possible in the summer, they were all arranged by Shunsuke Watanabe, and reborn as floaty pop songs and given a real smooth edge.
Hiroshi Fujiwara's encounter with producer Shunsuke Watanabe happened when he formed the duo AOEQ as a keyboardist with YO-KING. After that, he was placed in charge of arranging 'Colour' from his previous album 'Manners'. Hiroshi said he really loved the song's melancholic mood, but this time he invited him in as overall producer of the album.
He takes pride in saying that "an important factor in the success of this one is that I chose Shunsuke as a producer at the start."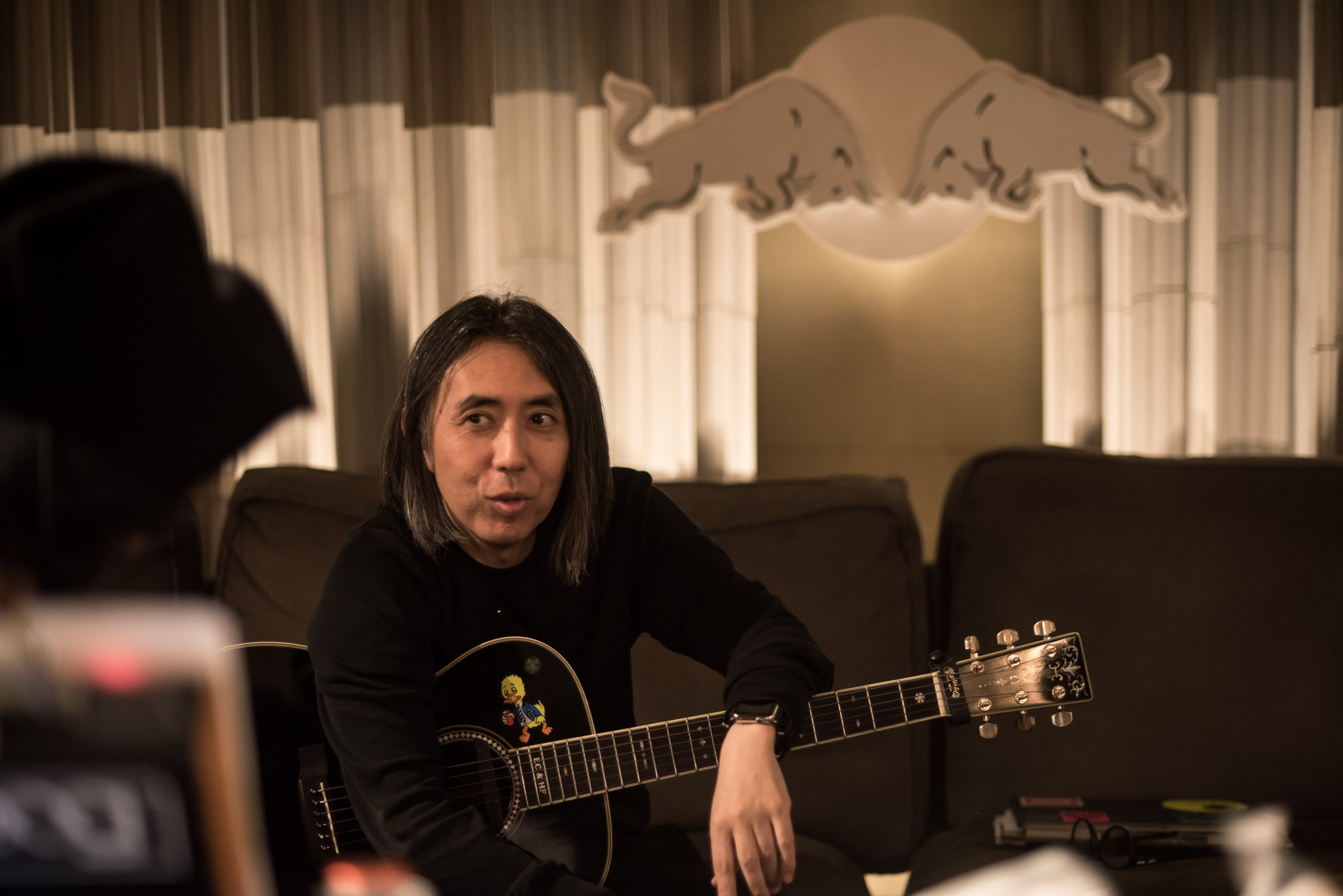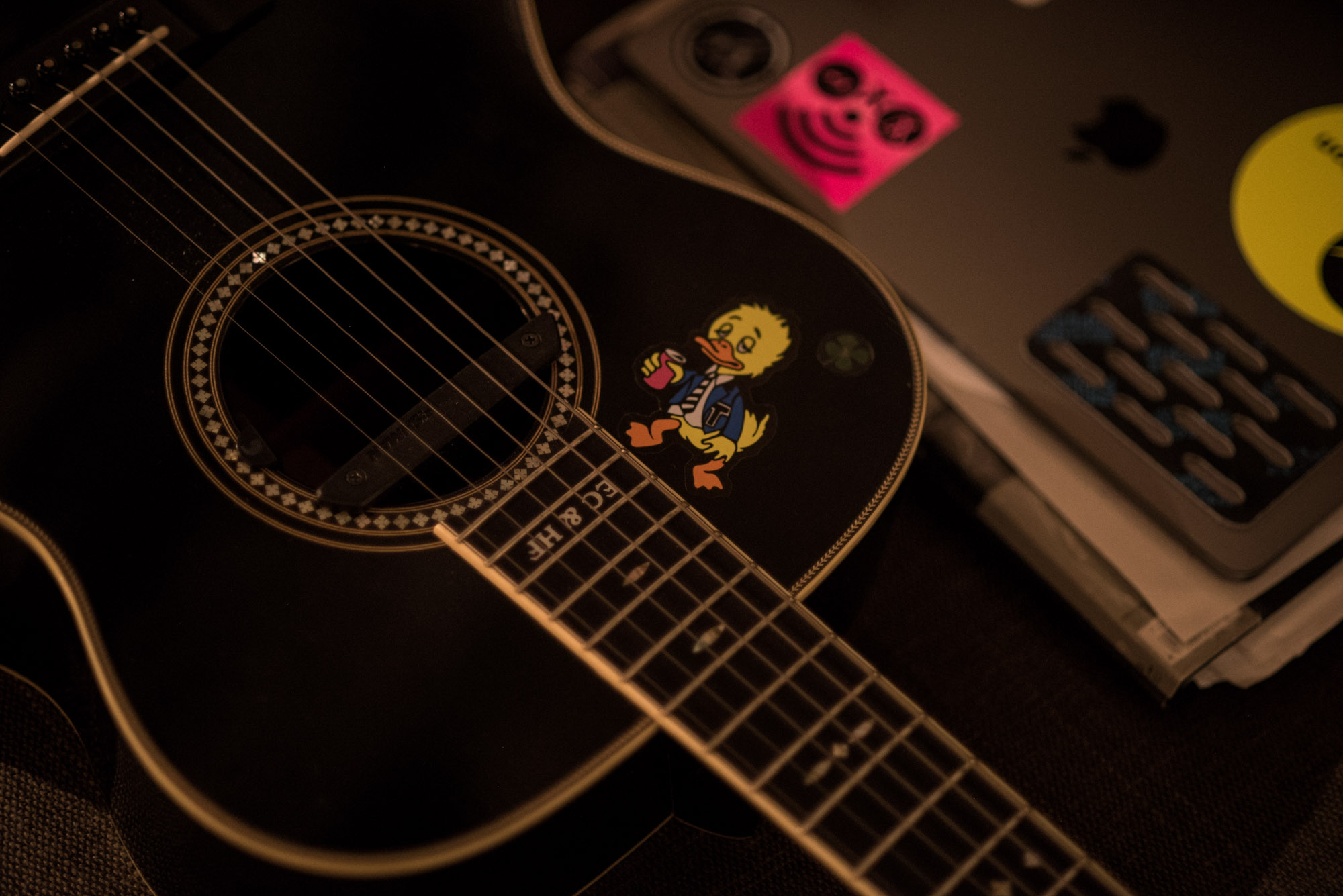 With the mellow mood adorning the opening of WALKING MEN, I never realized it was a song about zombies.
"I was nice having Yuki write the lyrics because the very first line at the beginning of the album "Hello, I'm happier and happier" is not something I would really say."
He also praises Sakiko Hirano for "her masterful choice of words" with the Leica episode, the dog launched into outer space from Russia. Sentimental lyrics sang for an eternity "without a future" are really impressive.
I wonder if there are quite a few things in this album's lyrics from the past to the future not limited to this song, that make you feel a passage of time?
He says the Christmas song titled 'GINZA' was perhaps a little romantic.
"There's a motown song I originally wrote when I was in AOEQ, and added Christmas lyrics with advice from YO-KING."
With the changing city, you can't go wrong with the place of your imagination, reflecting on the Ginza of old I'm aware of with words like "a tunnel to the past", or "there are no cinemas now". Speaking of Ginza, I also remember the fact that THE PARK•ING GINZA in the basement of the Sony Building closed this March.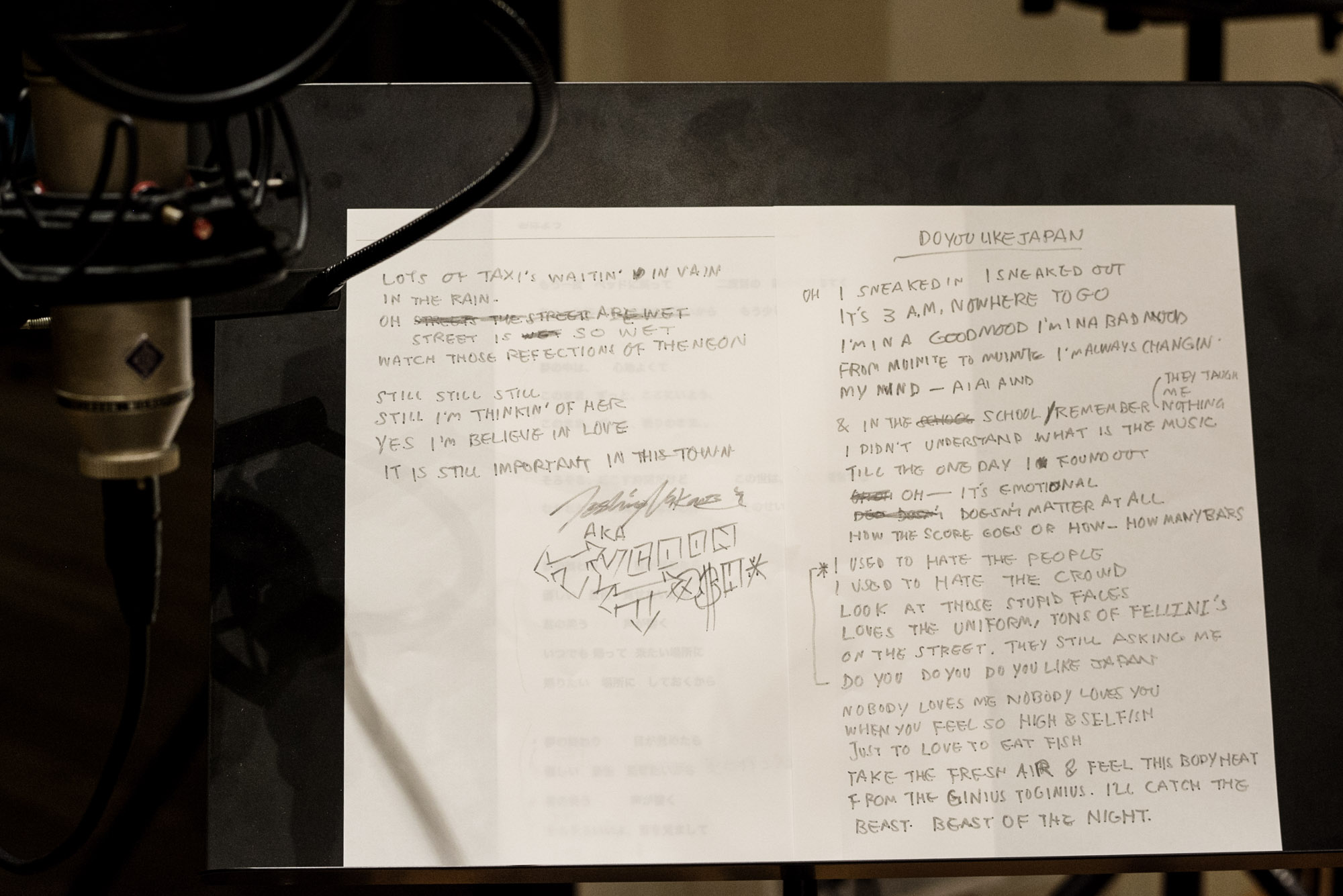 The first time I snuck into the recording studio that summer afternoon, the song that Hiroshi was singing was "Do You Like Japan?" by Toshio Nakanishi's unit MELON. I stepped into the sound booth with my camera, I couldn't help being surprised when I moved around the back of Hiroshi. He was glancing down to handwritten lyrics placed on the music stand, signed there with the sitgitaure of TYCOON TO$H.
Hiroshi said Toshio Nakanishi, who really misses and known since the '80s who"was like a lifelong idol", suddenly passed away around February. He told me about what became the last time the two spoke.
"Detz (Matsuda) discovered Toshi (Nakanishi) had said "I want Hiroshi to cover 'Do you like Japan?'" in some interview about a year ago. I was thinking about covering it when Toshi was hospitalized. After we spoke when I went to visit, he wrote the lyrics down clearly in bed asking if I understood what he'd written. Remembering moments like that, the very last time, about a week before he died, really moves me to tears."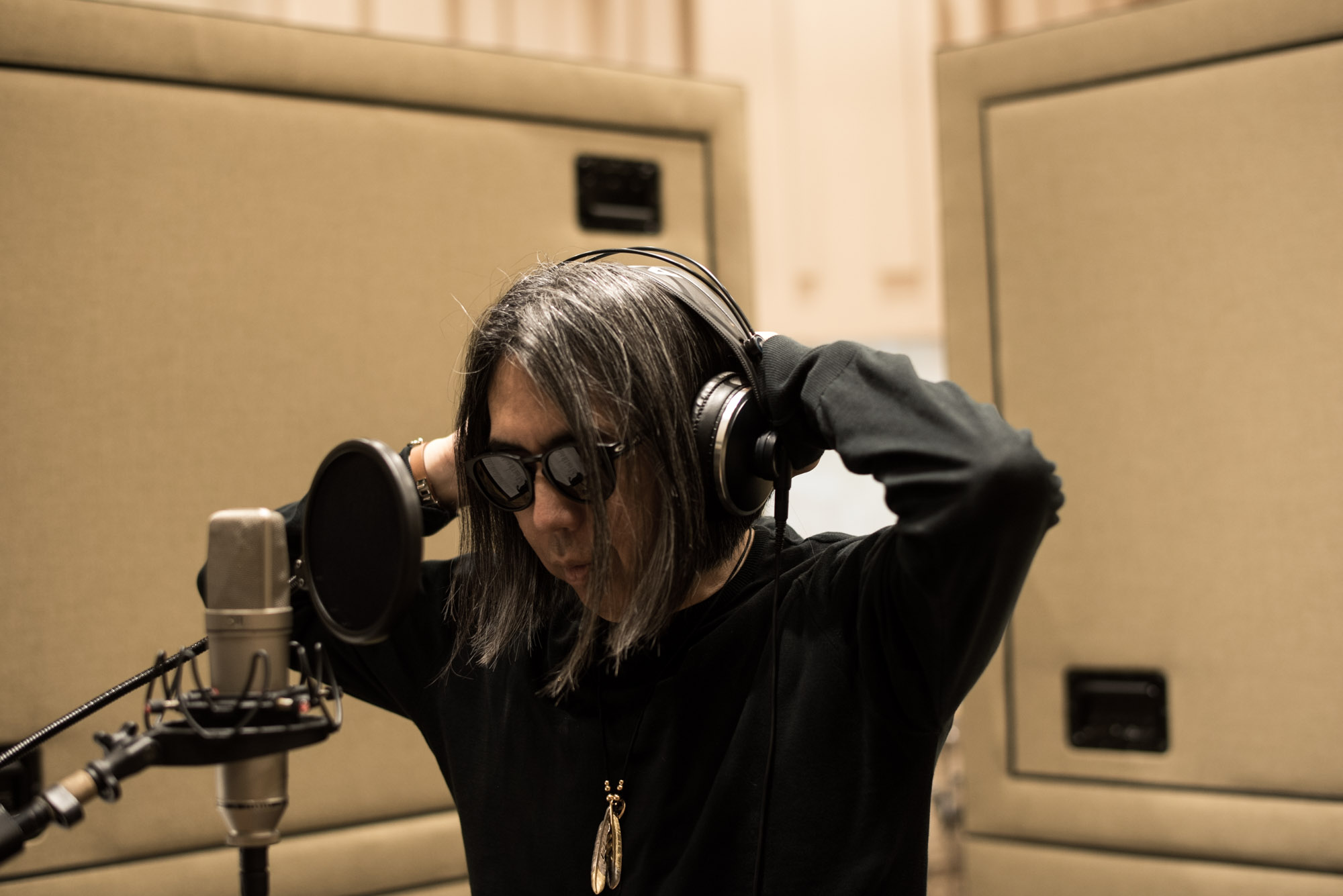 Hiroshi was in the recording booth singing when I visited the studio another afternoon. He repeatedly sung the song in falsetto on the mellow track with complete sincerity. I was ashamed that I only heard "you are asleep and dreaming" like a love song, only chasing the surface of words over and over again, words that I later discovered were written by Hiroshi himself.
'That song, it's actually about Asamoto (Hirofumi). After he lost unconscious (in an accident) there were live gigs held for him like benefit events, and the song was written back then. Asamoto was in hospital for a long time, and eventually died without waking up, but I remember being shocked when I went to see him. There was never anyone there when I would visit. It seemed as if he was really just sleeping and felt as like he might wake up at any moment. So I wrote lyrics with the thought "isn't it almost time for you to wake up?" in the back of my mind. Maybe in a world like this he wouldn't wake up, and because being like that keeps him someplace safe, the hope he should wake up seems more of wish."
That song is called 'GDMG'.
After listening to these different moments related to the album from Hiroshi's own mouth, along with the album title 'Slumbers', it sounds like he's laid down an album of big tributes.
Sleeping may be too depressing a metaphor for death but, the word 'madoromi (slumber)' to begin with has always felt out of step with short-sleeper Hiroshi who for a long while said, "time asleep is dead time", or, "time spent sleeping is a waste of time". The gentle piano and dub of 'WEST' enticed me to catch forty-winks with the sound of such suspicions repeating over and over again behind me. And while listening to that sound echoed in my dreams, I catch a glimpse of what this album really means.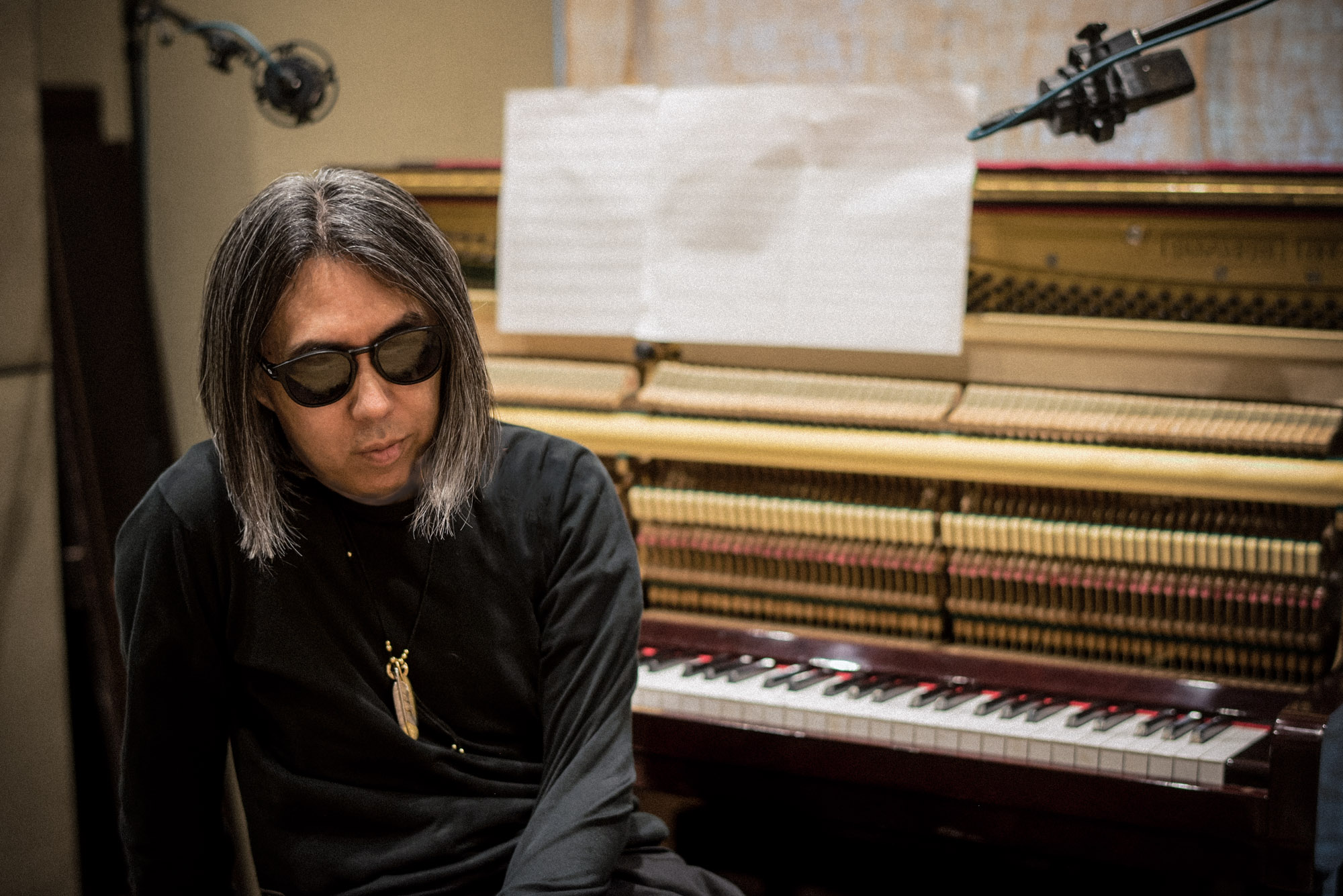 Words and photos: Shoichi Kajino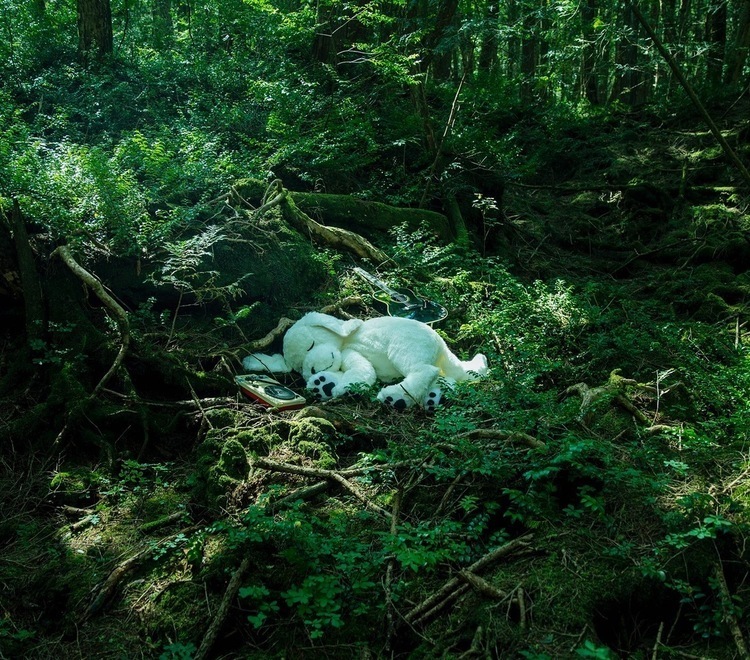 Hiroshi Fujiwara, 'Slumbers'
Normal edition CD: ¥3,024 (incl. tax) VICL-64883
Deluxe version CD: ¥4,536 (incl. tax) VIZL-1267
Released November 29th, 2017 (Wednesday)
Hiroshi Fujiwara, "WALKING MEN" from 'Slumbers' (teaser)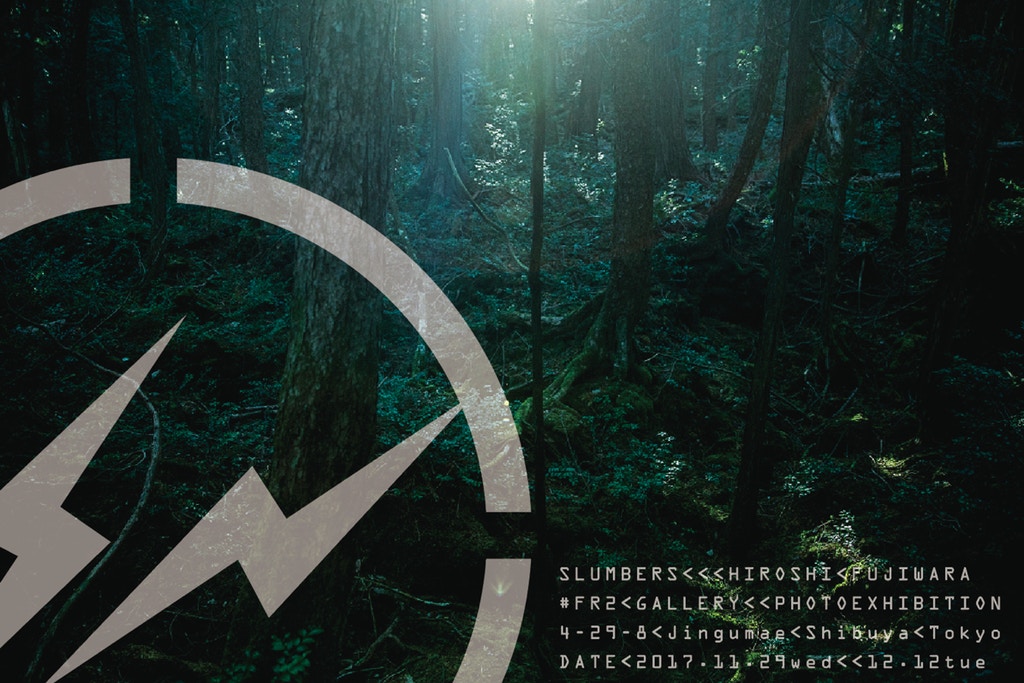 'Slumbers' photo exhibition at #FR2 Gallery
4-29-8 Jingumae, Shibuya-ku, Tokyo
Nov, 29 (Wed.) – Dec 12 (Tues.), 2017, (12:00–19:00)